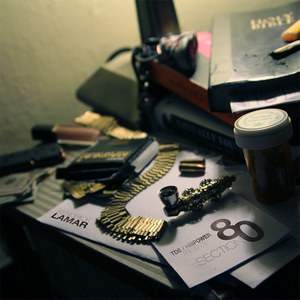 Section.80 is the debut studio album by American hip hop recording artist Kendrick Lamar, released exclusively through the iTunes Store on July 2, 2011, under Top Dawg Entertainment. The album features guest appearances from GLC, Colin Munroe, Ashtro Bot, BJ the Chicago Kid, Schoolboy Q, Ab-Soul and vocals from late singer-songwriter Alori Joh. The production was mainly handled by Top Dawg in-house producers from production group Digi+Phonics, along with THC, Tommy Black, Wyldfyer, Terrace Martin and J. Cole. The concept album features lyrical themes delivered by Lamar such as racism and medication tolerance, and was well received by contemporary music
Read Full Bio
Section.80 is the debut studio album by American hip hop recording artist Kendrick Lamar, released exclusively through the iTunes Store on July 2, 2011, under Top Dawg Entertainment. The album features guest appearances from GLC, Colin Munroe, Ashtro Bot, BJ the Chicago Kid, Schoolboy Q, Ab-Soul and vocals from late singer-songwriter Alori Joh. The production was mainly handled by Top Dawg in-house producers from production group Digi+Phonics, along with THC, Tommy Black, Wyldfyer, Terrace Martin and J. Cole. The concept album features lyrical themes delivered by Lamar such as racism and medication tolerance, and was well received by contemporary music critics.

The album's lead single "HiiiPoWeR", was released April 2011. Section.80 sold 5,400 copies in the US solely based upon digital downloads within less than a week, debuting and peaking at number 113 on the US Billboard 200 chart with minimal mainstream media promotion and coverage - however some sources suggest the album entered at number 104. Within a two-week period the album sales had totalled to 9,522. As of October 2012 the album has sold 78,000 copies.
Genre not found
Artist not found
Album not found
Search results not found
Song not found
Gather 'round
I'm glad everybody came out tonight
As we stand on our neighborhood corner
Know that this fire that's burning represents the passion you have
Listen
Keisha, Tammy, come up front
I recognize all of you
Every creed and color
With that being said
FUCK your ethnicity
You understand that?
We gon' talk about a lot of shit that concerns you
All of you
(Now everybody throw your hands up high
If you don't give a fuck
Throw your hands up high [x2])
Now I don't give up a fuck if you
Black, White, Asian, Hispanic, Goddammit
Yellow P, Sugar P, Fuck your ethnicity, nigga
Fire burning inside my eyes
This the music that saved my life
Y'all be calling it hip-hop
I be calling it hypnotize
Yeah, hypnotize
Trapped my body but freed my mind
What the fuck is you fighting for?
Ain't nobody gonna win that war
My details be retail
Man, I got so much in store
Racism is still alive
Yellow tape and colored lines
Fuck that, nigga look at that line
It's sold out first day
Getting off work
And they wanna see Kendrick
Everybody can't drive Benz's, and I been there
So it make it my business
Stay giving my full attention, 10-hut!
Man, I gotta get my wind up
Man, gotta get down with God
Cause I got my sins up
Matter of fact, don't mistake me
For no fucking rapper
They sit backstage and hide
Behind the fucking cameras
I mosh pit
Had a microphone and I tossed it
Had a brain, then I lost it
I'm out of my mind, so don't
You mind how much the cost is
Penny for my thoughts
Everybody, please hold up your wallets
Yeah man, I'm the mailman
Can't you tell, man?
Going postal, never freeze up
When I approach you
That's star struck and roast you, oh my..
HiiiPower
Now I don't give up a fuck if you
Black, White, Asian, Hispanic, Goddammit
Yellow P, Sugar P, Fuck your ethnicity, nigga
I'm tired of y'all
Cause everybody lied to y'all
Do you believe it?
Recognize them false achievements
It's treason and I'm Tylenol
I knock out when you knock it off
Knock on the doors of opportunity
I'm too involved, I'm no activist
I'm no Einstein before calculus
I was kicking in Math
Dropping that science
Like an alchemist, and I be
Kicking that ass
Lyrically, I'm UFC, if a UFO
Had came for me
I'mma come back with the head of an alien
Don't alienate, my dreams
Get it right, get a life
I got 2
That's a metaphor for the
Big shit I do, boy
TMI, TSA, man I'm fly
Put wings on my back
That a plane or angel? Both
Like a pilot with a halo – whoa
Gross
I don't mean, nothing
So many things come through
Them, Him, Her, You
Hmm, Hmm, Hmm, Hmm
I'm just a messenger
Yeah I know life's a bitch
Get the best of her
Put them 3′s up
They notice that we up
HiiiPower and the power and the people
And if they don't believe us
They'll die
Now I don't give up a fuck if you
Black, White, Asian, Hispanic, Goddammit
Yellow P, Sugar P, Fuck your ethnicity, nigga
Lyrics © O/B/O APRA AMCOS

Lyrics Licensed & Provided by LyricFind
To comment on specific lyrics,
highlight them