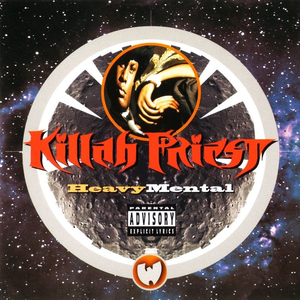 Killah Priest is a tangential associate of the Wu-Tang Clan. The Brooklyn native made his first recorded appearances on records by such Wu side projects and solo albums as the Gravediggaz, Ol' Dirty Bastard's Return to the 36 Chambers, and, most importantly, Genius/GZA's seminal Liquid Swords. His contributions became legendary and paved the way for the release of his acclaimed debut album, Heavy Mental, in the spring of 1998.

Born in Brooklyn, New York and raised in Bedford-Stuyvesant and Brownsville
Read Full Bio
Killah Priest is a tangential associate of the Wu-Tang Clan. The Brooklyn native made his first recorded appearances on records by such Wu side projects and solo albums as the Gravediggaz, Ol' Dirty Bastard's Return to the 36 Chambers, and, most importantly, Genius/GZA's seminal Liquid Swords. His contributions became legendary and paved the way for the release of his acclaimed debut album, Heavy Mental, in the spring of 1998.

Born in Brooklyn, New York and raised in Bedford-Stuyvesant and Brownsville, Killah Priest became infatuated with hip-hop as a child, listening to old-school and new school acts like Eric B. & Rakim alike. He also was influenced by local rappers, like GZA and Onyx's Suave, who would often play local parties. Killah Priest began working on his rhyming and eventually earned a considerable reputation in Brooklyn , but instead of pursuing his musical career further, he took a sabbatical in order to educate himself, primarily about religion and history.

Killah Priest returned to rapping in 1995, appearing on several Wu projects. All of his cameos were noteworthy, but his role on Liquid Swords earned special attention. By the end of 1996, he formed his own side project, the Sunz of Man. In 1997, GZA suggested to Geffen that they sign Killah Priest, and the label took his advice.

Killah worked on the album with True Master and 4th Disciple, two producers associated with the Clan. The resulting album, Heavy Mental, was dense with religious imagery and filled with evocative sounds. It received excellent reviews upon its March 1998 release and was a respectable commercial success, debuting at number 24 on the pop charts.

Killah Priest issued his second album, View from Masada, in the spring of 2000, further bolstering his status as one of the most compelling solo artists in the Wu-Tang stable. After that he has released more projects such as Priesthood and Black August.
Genre not found
Artist not found
Album not found
Search results not found
Song not found
(Are you trying to tell me that you will fight against me?)
Oh you will win that too
For if you fail to silence me you know what I will do
(What will you do physician?)
I will go among the people
And try to answer the questions that burn in their hearts
The questions that I've asked myself for all my life
Wherever I've wandered in the world and which were answered for me
By a dying man I will wear the clothes of a slave
And kick the sandles from my feet, and speak to the wives
As they fry their fish before their mud huts by the river
To the porters on the docks, to the smiths by their belows
To the slaves under the yolks, and I will say
Lyrics © CARLIN AMERICA INC
Written by: DAVID JOLICOEUR, KELVIN MERCER, PAUL HUSTON, VINCENT MASON JR.

Lyrics Licensed & Provided by LyricFind
To comment on specific lyrics,
highlight them