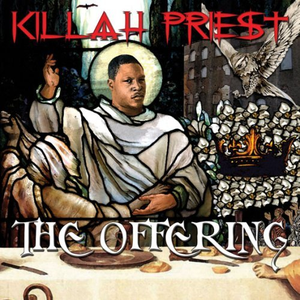 Killah Priest is a tangential associate of the Wu-Tang Clan. The Brooklyn native made his first recorded appearances on records by such Wu side projects and solo albums as the Gravediggaz, Ol' Dirty Bastard's Return to the 36 Chambers, and, most importantly, Genius/GZA's seminal Liquid Swords. His contributions became legendary and paved the way for the release of his acclaimed debut album, Heavy Mental, in the spring of 1998.

Born in Brooklyn, New York and raised in Bedford-Stuyvesant and Brownsville
Read Full Bio
Killah Priest is a tangential associate of the Wu-Tang Clan. The Brooklyn native made his first recorded appearances on records by such Wu side projects and solo albums as the Gravediggaz, Ol' Dirty Bastard's Return to the 36 Chambers, and, most importantly, Genius/GZA's seminal Liquid Swords. His contributions became legendary and paved the way for the release of his acclaimed debut album, Heavy Mental, in the spring of 1998.

Born in Brooklyn, New York and raised in Bedford-Stuyvesant and Brownsville, Killah Priest became infatuated with hip-hop as a child, listening to old-school and new school acts like Eric B. & Rakim alike. He also was influenced by local rappers, like GZA and Onyx's Suave, who would often play local parties. Killah Priest began working on his rhyming and eventually earned a considerable reputation in Brooklyn , but instead of pursuing his musical career further, he took a sabbatical in order to educate himself, primarily about religion and history.

Killah Priest returned to rapping in 1995, appearing on several Wu projects. All of his cameos were noteworthy, but his role on Liquid Swords earned special attention. By the end of 1996, he formed his own side project, the Sunz of Man. In 1997, GZA suggested to Geffen that they sign Killah Priest, and the label took his advice.

Killah worked on the album with True Master and 4th Disciple, two producers associated with the Clan. The resulting album, Heavy Mental, was dense with religious imagery and filled with evocative sounds. It received excellent reviews upon its March 1998 release and was a respectable commercial success, debuting at number 24 on the pop charts.

Killah Priest issued his second album, View from Masada, in the spring of 2000, further bolstering his status as one of the most compelling solo artists in the Wu-Tang stable. After that he has released more projects such as Priesthood and Black August.
Genre not found
Artist not found
Album not found
Search results not found
Song not found
[Intro: Killah Priest]
He rules in the neighborhood... he rules
Uh, try on your robe, man.. yeah it fits
It fits you too, I like this, emperor, uh
Priesthood, The Offering is now brung to them
Show us how you do this talent, what the fuck is this, man
It's like this, look
[Killah Priest]
Nonchalantly, I plant the words in the brain like ganja seeds
Horizontally, the way I write Gandhi
Beneath of palm trees, calm breeze
Like the summer in the late '40's,
Before the mob kick in the door of the Don, squeezing automatic Tommy's
A blazing glory, that's how he lays
A lamp shade, Duke Ellington played
The screen starts to fade, cut, end of story
Yo, the next one opens up, soda cups, a bottle of Grey Goose
And a room full of applejack hats cocked ace deuce,
Sam Remo lace boots tapping the floor, a lit cigar
Goons got my pops held up with gats to his jaw
He said "where is the child, said to come from the Nile
Now in the B.K.'s", he paused, as he breaks
Did a line... "Not to be sublime, but the kid is ahead of his time
He turns Kool-Aid into red wine,
Besides that he professes he should be the next king of B.K.", sniff
"Besides Kane, BIG and Jay,
GZA was underrated
But still, the 'Words from the Genius' was the best stated"
I ain't scared to say it, back in the days, we had groove
Like the Dis Masters, rest in peace Mike Ski
Part time hustler, grew to me
Divine Sounds, Disco Richie and Shelton D.
I take it back what people do for money, money, money, money...
[Chorus 2X: Hell Razah]
Pay your tides and your offerings
This goes out to my niggas in them closed coffins
O.G.'s who was coke snorting, on death row, dead men walking
And them mothers never had abortions
[Killah Priest]
I come to bring ya'll ass whippings
Rappers, dish y'all disaster, as is written, he is risen
With Mack slugs, AK shells, of mask and gloves
The May Day Hell, a basket thug
And hallow be thy tip, anoint your forehead and empty a clip
For the average I spit, and I hold my pen, like a syringe
Inject my paper, with the thoughts of a gangster
Scene 3, bullets sail through his tuxedo
He fall for dead in the corner of the cathedral
Doves flock to the ceiling chirping, the murder of a Godfather
It's just my version of Tide Turban
Rest upon the God stone,
Science studies the structures of my jaw bone,
It's similar to the great pharaohs
But I dealt with the streets and space travel
Big Priest from the ace apple
[Chorus 2X]
[Outro: Killah Priest]
See the Offering is... pureness... straight up hip hop
That's what I'm giving, you know?
Yo, hold up, man, yo, Priest, what happened to peace?
Oh, oh yeah... peace, peace, peace, peace, peace....
Words of the Don... Leo Angel...
Contributed by Christian T. Suggest a correction in the comments below.
To comment on specific lyrics,
highlight them