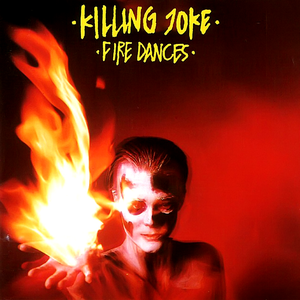 Fire Dances is the fourth studio album by English post-punk group Killing Joke and the first to feature new bass player Paul Raven. It was released in July 1983. The album was remastered and reissued in 2008, with eight bonus tracks. The bonus tracks include the non-album single "Me or You?"/"Wilful Days", an alternate version of "Dominator" (B-side to "Let's All Go (to the Fire Dances)"), an unreleased early version of "The Gathering" and four tracks from a John Peel session from 1983. Review After stalling a bit with their 1982 album "Revelations", Killing Joke nearly split up, with lead
Read Full Bio
Fire Dances is the fourth studio album by English post-punk group Killing Joke and the first to feature new bass player Paul Raven. It was released in July 1983.

The album was remastered and reissued in 2008, with eight bonus tracks.
The bonus tracks include the non-album single "Me or You?"/"Wilful Days", an alternate version of "Dominator" (B-side to "Let's All Go (to the Fire Dances)"), an unreleased early version of "The Gathering" and four tracks from a John Peel session from 1983.

Review
After stalling a bit with their 1982 album "Revelations", Killing Joke nearly split up, with lead singer Jaz Coleman disappearing to Iceland in order to "survive the apocalypse."

By the time Coleman returned to the band, bassist Youth was gone and replaced by Paul Raven, a perfect fit who would stay on board as the band found its way up the charts over the next few releases. As a reaction to all these comings and goings, this is a decidedly tribal album that opens with a track called "The Gathering," follows it with the "join the mob" anthem "Fun & Games," and features words like "we" and "us" throughout the album. The ultimate communal moment, "Let's All Go (To the Fire Dances)," is also the key track, with guitarist Geordie Walker bouncing between crunching barre chords and a Duane Eddy-on-steroids riff while Raven and drummer Paul Ferguson throb like a veteran rhythm section. Even if Coleman's lyrics are filled with venom as always, he's rounding up allies to fight the system here and considering the idea of connecting with his audience rather than just confronting them.

"Fire Dances" bridges Killing Joke's primal past with their more melodic, accessible future and without compromising any of their thunder.

Personnel
Jaz Coleman - vocals, synthesizer
Kevin "Geordie" Walker - guitar
Paul Raven - bass guitar
Paul Ferguson - drums, vocals
Genre not found
Artist not found
Album not found
Search results not found
Song not found
Jump to: Overall Meaning | Line by Line Meaning
We go - to the gathering
We go - to the common feeling
We go - anyway we can
We go - to the basic man
We go - get back my senses
We go - with a basic man
We go - and a basic feeling
We go - to the gathering
We go - to the gathering
We all go to the gathering
Overall Meaning
The lyrics of Killing Joke's song The Gathering are reflective of the basic human desire to belong and connect with others. The repetition of "We go" creates a sense of urgency and determination, as if the speaker is driven to find a sense of community no matter what obstacles they may face. The mention of the "basic man" and "basic feeling" suggests a primal, instinctual urge to connect on a fundamental level that transcends the complexities of modern society. This sentiment is echoed in the final line of the song, "We all go to the gathering," emphasizing the universal nature of this longing for connection.
One interesting aspect of this song is its use of repetition and simplicity to convey a complex emotional message. The minimalistic lyrics and repetitive structure create a powerful sense of urgency and desire to connect with others. Additionally, the song's driving beat and tense guitar riffs create a sense of momentum and excitement that further underscores this theme of seeking out community.
Another interesting facet of this song is its place in the post-punk movement. Killing Joke was known for their experimental sound and socially conscious lyrics, and The Gathering is a prime example of their blend of punk, funk, and industrial music. The song's unconventional structure and use of repetition and tension helped to establish Killing Joke as a pioneer of the post-punk genre.

Line by Line Meaning
We go - to the gathering
We are headed towards the coming together of people
We go - to the common feeling
We're seeking a shared emotional experience
We go - anyway we can
We go in any way possible to reach our destination
We go - to the basic man
We are going to encounter humanity in its simplest form
We go - get back my senses
We go in order to regain our emotional and mental equilibrium
We go - with a basic man
We go along with someone who represents the most essential qualities of humanity
We go - and a basic feeling
We go towards a simple, primal emotion
We go - to the gathering
We're making our way to where people are coming together
We go - to the gathering
We're headed towards the shared experience of people coming together
We all go to the gathering
As a collective, we are moving towards the gathering
Lyrics © Universal Music Publishing Group
Written by: JEREMY COLEMAN, PAUL FERGUSON, PAUL VINCENT RAVEN, KEVIN WALKER

Lyrics Licensed & Provided by LyricFind
To comment on or correct specific content,
highlight it