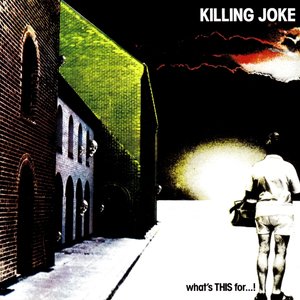 Killing Joke is an English post-punk group which formed in October 1978 in Notting Hill, London, England. Founding members Jaz Coleman (vocals, keyboards) and Geordie Walker (guitars) have been the only constant members.

A key influence on industrial rock, their early music was described by critics Stephen Thomas Erlewine and John Dougan as well as industrial metal and "quasi-metal, dancing to a tune of doom and gloom," which gradually evolved over the years
Read Full Bio
Killing Joke is an English post-punk group which formed in October 1978 in Notting Hill, London, England. Founding members Jaz Coleman (vocals, keyboards) and Geordie Walker (guitars) have been the only constant members.

A key influence on industrial rock, their early music was described by critics Stephen Thomas Erlewine and John Dougan as well as industrial metal and "quasi-metal, dancing to a tune of doom and gloom," which gradually evolved over the years, incorporating elements of electronic music, synth-pop, gothic rock, and alternative rock, though always emphasizing Coleman's "savagely strident vocals."

Finding modest commercial success, Killing Joke have influenced many later bands, such as Nirvana, Ministry, Amen, Lamb of God, Nine Inch Nails, Napalm Death, Amebix, Big Black, Godflesh, Tool, Prong, Metallica, Primus, Jane's Addiction, Soundgarden, Foo Fighters, Faith No More, Blacklist, Shihad and Korn, all of whom have at some point cited some debt of gratitude to Killing Joke.
Genre not found
Artist not found
Album not found
Search results not found
Song not found
The Fall Of Because
Killing Joke Lyrics
Jump to: Overall Meaning | Line by Line Meaning
Look at the faces
Whose is the meaning
Forget the passion
Feeding the dead
The fall of because

Look at the faces
It's cold outside
You're on your own
Staying indifferent
The fall of because

It's cold outside
Losing my fear
No more passion
Passion is fed
Because
The fall of because
Overall Meaning
The lyrics to Killing Joke's song The Fall of Because are open to interpretation but one possible meaning is that the song is about individuals losing their passion and becoming indifferent to what is going on around them. The line "Look at the faces, who is the meaning" suggests that the characters in the song are searching for significance or direction. However, the next line "Forget the passion, feeding the dead" implies that their passion has died and they are now just going through the motions, ignoring their true desires. The line "The fall of because" could mean that the purpose or reason for their actions has been lost.
The second stanza continues this theme of apathy and indifference. "It's cold outside, you're on your own" suggests that the world can be a cruel and lonely place, and that the characters in the song are isolated. The repetition of "The fall of because" reinforces the idea that they have lost their sense of purpose or direction. The final stanza suggests a remedy for this malaise: "Losing my fear, no more passion, passion is fed, because". It could be interpreted as the songwriter saying that by overcoming his fear and rekindling his passion, he has regained his sense of purpose and meaning. However, the repeated line "the fall of because" suggests that achieving this is easier said than done.

Line by Line Meaning
Look at the faces
It's cold outside
Whose is the meaning
You're on your own
Forget the passion
Losing my fear
Feeding the dead
Passion is fed
The fall of because
Because
Lyrics © Universal Music Publishing Group
Written by: JEREMY COLEMAN, MATTHEW FERGUSON, MARTIN GLOVER, KEVIN WALKER

Lyrics Licensed & Provided by LyricFind
To comment on or correct specific content,
highlight it