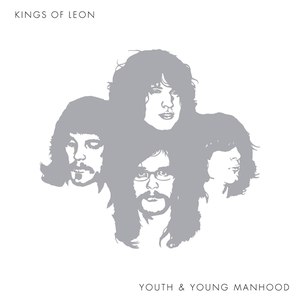 The debut album by Kings of Leon takes its name from a Pentecostal Bible verse. The album was recorded in Malibu and Nashville with Ethan Johns. The album was critically acclaimed and a hit in the UK and Ireland, but failed to make an impact elsewhere in the world. It has since sold 1 million copies. "Molly's Chambers," "Wasted Time" and "California Waiting" were all released as singles. "Spiral Staircase" featured on the PS3 game MotorStorm. "Holy Roller Novocaine" was featured in the movie Talladega Nights: The Ballad of Ricky Bobby. "Red Morning Light" was also featured on a Ford
Read Full Bio
The debut album by Kings of Leon takes its name from a Pentecostal Bible verse. The album was recorded in Malibu and Nashville with Ethan Johns. The album was critically acclaimed and a hit in the UK and Ireland, but failed to make an impact elsewhere in the world. It has since sold 1 million copies.

"Molly's Chambers," "Wasted Time" and "California Waiting" were all released as singles. "Spiral Staircase" featured on the PS3 game MotorStorm. "Holy Roller Novocaine" was featured in the movie Talladega Nights: The Ballad of Ricky Bobby. "Red Morning Light" was also featured on a Ford Focus commercial, and as the opening song in FIFA 2004 by EA Sports.

Caleb Followill since expressed regret for re-recording "California Waiting" in the faster form it appears here compared to the slower EP version. Some versions of the album include alternate versions of "Dusty" and hidden track "Talahina Sky".
Genre not found
Artist not found
Album not found
Search results not found
Song not found
You know you could've been a wonder
Takin' your circus to the sky
You couldn't take it on the tight rope
No you had to take it on the side
You always like it undercover
Tucked in between your dirty sheets
But no one's even done nuttin' to ya
In between the hollers and the screams
And I said nah nah hey hey
Another dirty bird ain't givin' out a taste
In the black of the night till the red morning light
You got your cozy little corner
All night you're jammin' on your feet
Hangin' out just like a street sign
And put a twenty dollar trick
I hear you're blowin' like a feather
And then they rub it in your face
Oh once they've had all their fun hun
You're at the bottom of the cage
And I said nah nah hey hey
Another dirty bird ain't giving out a taste
In the black of the night till the red morning light
And I said nah nah hey hey you're givin' all your cinnamon away
That's not right
Hey hey another dirty bird ain't givin' out a taste
Uh hey keep on givin' away and givin' it away (givin' it away)
Hey hey you're givin' all your cinnamon away
Hey hey you're givin' all your cinnamon away
Ah hey hey
Another dirty bird ain't giving out a taste
In the black of the night till the red morning light
And I said nah nah hey hey you're givin' all your cinnamon away
That's not right
And I said nah nah hey hey
Another dirty bird ain't giving out a taste
In the black of the night till the red morning light
And I said nah nah hey hey you're givin' all your cinnamon away
Lyrics © BMG Rights Management, Universal Music Publishing Group, Warner Chappell Music, Inc.
Written by: Ivan Nathan Followill, Anthony Caleb Followill, Angelo T. Petraglia

Lyrics Licensed & Provided by LyricFind
To comment on specific lyrics,
highlight them