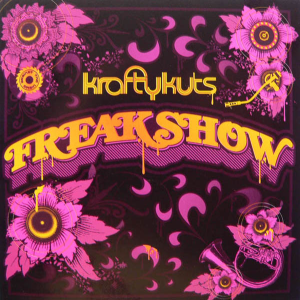 Debut album from Krafty Kuts as a solo artist. Was received with critical acclaim and some negative reviews because it didnt fall into the "Old style Krafty Kuts" sound. Considering Krafty never ever wants to be labelled this Album is an amazing testement to one of Breakbeat's best.
Genre not found
Artist not found
Album not found
Search results not found
Song not found
We have lyrics for these tracks by Krafty Kuts:



At Night I am bad girl, cross me just try Soldiers roll in…
Bring the Noise Bass! How low can you go? Death row, what a brother…
Dangerous Hey, another one of them Flipmode joints Busta Rhymes y'all,…
Dude Descending A Staircase We got a party right here Bacardi or beer Whatever is your…
Funky Jam Oh, oh, get a little funky Oh, oh, get a little…
Get a Life Are you a total addict? see-see-see-see-see-see-see-see-see…
I Wish I wish I was a little bit taller I wish I…
I'll Take You There Oh mmm I know a place Ain't nobody…
In Love With You I'm in love with you I know I saw you yesterday But…
It's Bigger Than Hip Hop It's still bigger than hip-hop, hip-hop, hip-hop hip It's b…
KRS-One Attacks Justin is the pimp on the block He smacks and…
Nas Is Like Freedom or jail, clip's inserted, a baby's being born Same t…
Poppa Large I get in shape and do my physical fitness Your head's…
Searching Searching searching Searching searching Searching searching …
Shotgun I said shotgun shoot 'em 'fore he run now do…
What I'm After That's what I'm after tell me what I'm after (I'm after…

The lyrics can frequently be found in the comments below, by filtering for lyric videos or browsing the comments in the different videos below.