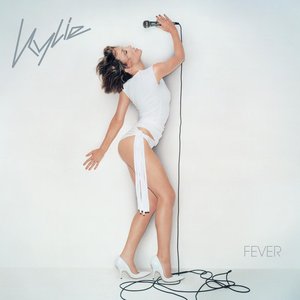 Fever is the eighth studio album by Australian singer Kylie Minogue. It was released on 1 October 2001 by Parlophone. Minogue began work on the album in 2001, working with famous songwriters and producers like Cathy Dennis, Rob Davis, and Tom Nichols, moving into a "sexier" and "groovier" form of dance music. The album received mostly positive reviews from critics, with most noting the dance and electric elements on the album and calling it edgier than Light Years. After its release, the album reached number one in Australia, Austria, Germany, Ireland, and the United Kingdom while peaking within the top
Read Full Bio
Fever is the eighth studio album by Australian singer Kylie Minogue. It was released on 1 October 2001 by Parlophone. Minogue began work on the album in 2001, working with famous songwriters and producers like Cathy Dennis, Rob Davis, and Tom Nichols, moving into a "sexier" and "groovier" form of dance music. The album received mostly positive reviews from critics, with most noting the dance and electric elements on the album and calling it edgier than Light Years. After its release, the album reached number one in Australia, Austria, Germany, Ireland, and the United Kingdom while peaking within the top twenty-five of other countries, including an unusually high peak for Minogue in the US with number three.

The album's first single, "Can't Get You Out of My Head", peaked at number one in fifteen countries, including a number seven on the United States' Billboard Hot 100 and a Platinum certification there, becoming Minogue's biggest worldwide hit to date. The second single, "In Your Eyes", reached number one in Australia and number three in the UK, while peaking within the top twenty-five in other countries. The next single was "Love at First Sight", which reached number twenty-three in the US, two in the UK, and three in Australia, while becoming a top forty hit in the rest of the world. The final single was "Come into My World", peaking at number four in Australia and number eight in the UK, while only managing a number ninety-one in the US.
Minogue promoted the album in a series of live performances, including her most expensive tour to date, the KylieFever2002 tour. In the US, the album received a Platinum certification from the Recording Industry Association of America (RIAA) and it has sold over 1.1 million copies according to Nielsen SoundScan. Fever also earned Minogue a Grammy Award for Best Dance Recording for the song "Come into My World".
To date Fever has sold over eight million copies worldwide.
Genre not found
Artist not found
Album not found
Search results not found
Song not found
Give it up, give it up
I just can't get enough
More, more, more, more, more
Here am I with my desire
Feel it burning just for you
My, oh my, this love divine
Is talking me to somewhere new
Just slide
Get your body down, down, down
And glide
I gotta feel you all around
Boy, you got me wanting more, more, more
Give it all up for love, babe
You got me saying more, more, more
Wind me up, wind me up
You know I want you more, more, more
Gotta give it all up for love, babe
Keep it saying more, more, more
Baby, just fill me up to the top
Till I can't take no more
Here am I and deep desire
I got a little spot for you
Make me sigh with sheer delight
As baby, you caress and soothe
Just slide
I want to feel you down, down, down
And glide
You know, I need you all around
Oh, you got me wanting more, more, more
Give it all up for love, babe
You got me saying more, more, more
Wind me up, wind me up
You know I want you more, more, more
Gotta give it all up for love, babe
Keep it saying more, more, more
Baby, just fill me up to the top
Till I can't take no more
Till I can't take no more
Give it up, give it up
I just can't get enough
So give me more, more, more, more, more
Give it up, give it up
I just can't get enough
So give me more, more, more, more, more
Just slide
Get your body down, down, down
And glide
I gotta feel you all around
Boy, you got me wanting more, more, more
Give it all up for love, babe
You got me saying more, more, more
Come on, now, burn me up, burn me up
You know I want you more, more, more
Gotta give it all up for love, babe
You got me saying more, more, more
Baby, just fill me up to the top
Till I can't take no more
More, more, more, more
Give it up, give it up
I just can't get enough
So give me more, more, more, more, more
Give it up, give it up
I just can't get enough
So give me more, more, more, more, more
Come and give me more, more, more
More, more, more, more, more, more
Lyrics © Universal Music Publishing Group, Sony/ATV Music Publishing LLC
Written by: TOMMY DANVERS, LIZ WYNSTANLEY

Lyrics Licensed & Provided by LyricFind
To comment on specific lyrics,
highlight them