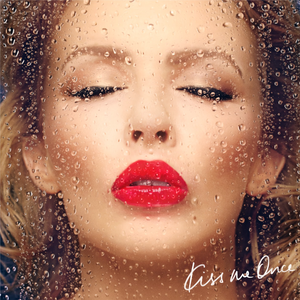 Kiss Me Once is the twelfth studio album by Australian recording artist Kylie Minogue. It was released by Parlophone on 14 March 2014, her first studio album release since Aphrodite (2010), and first album under the management of Jay Z's Roc Nation. The album is Minogue's first release under Warner Music Group worldwide, after the company purchased Parlophone. In North America, it was released by Warner Bros. Records, while in the United Kingdom under Parlophone. Upon its release, Kiss Me Once was met with generally positive reviews from music critics, many whom complimented Minogue's return to mainstream dance music and
Read Full Bio
Kiss Me Once is the twelfth studio album by Australian recording artist Kylie Minogue. It was released by Parlophone on 14 March 2014, her first studio album release since Aphrodite (2010), and first album under the management of Jay Z's Roc Nation. The album is Minogue's first release under Warner Music Group worldwide, after the company purchased Parlophone. In North America, it was released by Warner Bros. Records, while in the United Kingdom under Parlophone.

Upon its release, Kiss Me Once was met with generally positive reviews from music critics, many whom complimented Minogue's return to mainstream dance music and felt it lived up to expectations. However, critics were divided in the content; many praising it a solid record, while some felt it was dated and that she tried too hard, along with its lack of innovation from Minogue's perspective. Commercially, Kiss Me Once had performed moderately worldwide. In Minogue's native Australia, the album entered at number one on the Australian Albums Chart, becoming her fourth number one album. In the United Kingdom, the album faced strong competition with George Michael's Symphonica, and eventually went to number one with Minogue at number two on the UK Albums Chart. Globally, however, the album performed moderately, peaking in the top 20 in countries including Switzerland, New Zealand, Germany, France and The Netherlands. It peaked at number thirty-one on the US Billboard 200, considerably lower than Aphrodite.

Currently, two singles and one promotional single were released from Kiss Me Once. "Into the Blue" was the lead single and performed moderately worldwide, charting in France, Switzerland and Spain. In Australia, the song was her first lead single to miss the top twenty, peaking at forty-six. It missed the top ten in the United Kingdom, at number twelve. "I Was Gonna Cancel" was released on May 12, 2014 by Parlophone Records as the second single from the album, but was commercially disappointing peaking at fifty-nine in the United Kingdom. To further promote the album, Minogue will embark on the accompanying Kiss Me Once Tour in August 2014.

Following the release of The Abbey Road Sessions (2012), Minogue split ways with her long-term manager, Terry Blamey and signed a new management deal with rapper Jay-Z's imprint Roc Nation. Following this new deal, Minogue continued work on her twelfth studio album throughout 2013, with reports emerging in February 2013 that Minogue had been working with singer-songwriter Sia Furler.

The album was mainly recorded in Los Angeles, with further recording sessions being held in New York City and London. In March 2013, Minogue posted on Twitter a photo of a microphone with the label Stargate beneath it, indicating that she had been working with the duo on the new album. Other collaborators throughout 2013 included Darkchild, Brooke Candy, MNDR and will.i.am. The eve of Minogue's forty-fifth birthday, it was revealed that Minogue had recently recorded an "interesting" collaboration, later to be revealed as a collaboration with Enrique Iglesias. On the same day, she unveiled a promotional single, "Skirt", a buzz single for Kiss Me Once.

In May 2013, when discussing the album with Rolling Stone, Minogue stated that the album was "bringing out something different which is cool". She also recognised that she had to "do something different", but added that the album "will maintain the DNA of what a Kylie track is, because I'm on it. I like to try and move the goalpost and experiment with different sounds."

Speaking to Idolator about Sia Furler's involvement as executive producer, Minogue has said that they had worked together a couple of times, writing music. Minogue stated: "I got on with her so well. I asked her if she would executive-produce. I was hoping she would say yes. I didn't know if it was something she had done or was interested in, or if maybe she just preferred writing and doing her own music." In an interview with Billboard, Minogue expressed that she had an epiphany during her "Kylie 25" campaign in 2012, stating, "I felt like I needed a new landscape, and once you've got your feet on the ground you're raring to go. So far the support has been great, and it's just another part of this amalgamation of 'new' that I had wished for and was struck by.

The first song and first single "Into the Blue" was written by Kelly Sheehan, Mike Del Rio and Jacob Kasher. The song incorporates instrumentation from strings, guitars and synthesizers; as well as being generalized as part of the electronic dance music genre, it has been called "a winner of a pop song which has a damn catchy, lightly brushed with electronic dance music sound that deep down is pretty much a classic Kylie Minogue pop tune. It will make you dance even if you're not a 40-something gay man or a handbag disco 30-something woman." The second song, "Million Miles" written by Peter Wallevik, Daniel Heløy Davidsen, Cutfather and Chelcee Grimes, begins with guitars. The musical composition was compared to material from her 2000 effort Light Years. Samesame.com.au said "Kylie purrs in the middle bridge and delivers her own unique brand of PG temptress in a way no other can." The lyrical content concerns sex with someone without any emotional connection. "I Was Gonna Cancel" was labelled the most "interesting" track on the record, and was written and produced by Pharrell Williams, Minogue's first collaboration with him. Minogue described the circumstances which inspired the writing of the song: "I had two days with him and did two songs, one of which is on my album and it's called 'I Was Gonna Cancel' - because I was having the worst day. Everything was too much. So my second day going in I was literally talking to myself saying, 'Keep it together, this is a very important day, it's Pharrell.' And I burst into tears as soon as I got there. That's why he wrote 'I Was Gonna Cancel' as I didn't feel like going, but had to." Musically, the song is influenced by electro-funk music and has been compared to The Neptunes. The fourth track "Sexy Love" written by Peter Wallevik, Daniel Heløy Davidsen, Wayne Hector, Autumn Rowe, Cutfather, is "disco-tinged and with a hint of slap bass"; Minogue sings "You look so sexy in my head, you looks so sexy in my bed". The Guardian compared Minogue's performance to Barbadian singer Rihanna, but her image was perceived as "fun". The song has been frequently referred to as the "offspring" of her previous singles "Love at First Sight" (2002) and "Wow" (2008).

"Sexercize" was written by Sia Furler, who served as executive producer on the album along with Minogue, and is inspired by dubstep music. Compared again to Barbadian-American singer Rihanna, the song was also compared to tracks from her tenth studio album X (2007). "Feels So Good" is a remake of "Indiana" written by Tom Aspaul and is "the sort of feather-light modern dance pop that Kylie does so well. The general air of luxuriousness is the perfect compliment to Kylie's airy vocals." "If Only" is an electronic-inspired ballad that was said to be "overproduced". The song "Les Sex" (written by MNDR's Amanda Warner and Peter Wade Keusch) was noted by The Guardian as the best song on the album and was recommended by many music critics as a possible future single. The title song, "Kiss Me Once" was appreciated by music critics for its lyrical content, which talks about the celebration of romance rather than sex, a common theme on the album. The album's only duet "Beautiful", with Enrique Iglesias, "fits in well, thanks to the electronic sheen of the production and vocals performances in which both singers sound like robots slowly powering down." In an interview with The Huffington Post, Minogue said about the recording; "Sadly we didn't record together I remember I was in Paris... and at the end of the day the email came through with that song and it just made everything slow down and I really had visions of the song. It's very moving and I really wanted to be on it. Definitely. I was a little fearful that he might change his mind!". The closing song "Fine" was the only song co-written by Minogue herself, and "perfectly bookends opener 'Into the Blue''s strain of self-help realism, with Kylie delivering lines such as 'You're going to be fine,' and 'It's going to be okay, a brighter day will come.'"Musically, "Fine" incorporates "'90s house, processed hand claps, and a rousing empowerment theme. A perfect bookend for an album celebrating the finer things in life. 'Turn your face into the sun, sun, sun' rouses a euphoric Kylie and with an energy such as this, it's hard to ignore the word of Minogue."

The lead single, "Into the Blue", premiered in the United Kingdom on BBC Radio 2 on 27 January 2014. The song was released on 28 January 2014 in most countries. The music video, directed by Dawn Shadforth, was released on 3 February 2014 and features French actor Clément Sibony. The single debuted at number 12 on the UK Singles Chart. It has also charted in the United States, reaching number one on the Hot Dance Club Songs chart. The follow-up single was "I Was Gonna Cancel", written and produced by Pharrell Williams, released on 22 April 2014. The music video for the song was directed by Dimitri Basil and premiered on 16 May 2014. On 6 June 2014, Kylie confirmed "Sexy Love" as the third single from Kiss Me Once, on Australian radio station Fox FM. It was released to Australian radio that same day.

"Sexercize" was the album's first promotional single. The song reached number 30 on the U.S. Billboard Hot Dance Club Songs. As part of Minogue's "Audio-Visual Experience" a short film was released on 18 March 2014. It was directed by Roman Coppola and Chandelier Creative, and inspired by Kenneth Anger's 1965 short film Kustom Kar Kommandos. The official video for the song, a homage to Olivia Newton-John's video for her song "Physical", was directed by photographer Will Davidson. It was released on YouTube on 19 March. On 20 March, Minogue launched the "sexercize.tv" website, created to showcase "Sexercize" through the eyes of other collaborators such as Hattie Stewart x Chandelier, VFiles x Cody Critcheloe, Starsky + Cox, Mat Maitland x Jean Paul Gaultier, Gregoire Alexandre x Le Specs, Reilly x Dolce & Gabbana, National Geographic x Chandelier, Roman Coppola x Maserati, Will Davidson and Minogue.

Kiss Me Once debuted at number two on the UK Albums Chart with 29,251 copies sold in its first week, becoming Minogue's fifteenth top ten album. In Oceania, the album debuted at number one in Australia with first-week sales of 8,166 copies, where it became her fourth number-one album. The album slipped to number six in its second week with sales of 2,261. The album debuted at number thirteen in New Zealand, but fell off the chart after one week, becoming her third studio album to spend a sole week in the chart. In Japan, the album entered the Oricon Weekly Albums Chart at number forty, selling 3,088 units in its first week.

In the United Sates, the album opened at number thirty-one with first week sales of 12,000 copies, making it Minogue's third highest charting album on the Billboard 200. Her previous studio album, Aphrodite, had sold 18,000 in its first week. The album also debuted at number three on the US Dance/Electronic Albums and twenty-six on the Tastemaker Albums Chart. As of June 2014, Kiss Me Once has surpassed sales of 200,000 copies.

The track listing for the album was announced on 26 January 2014. The standard edition has 11 tracks, while the special edition includes 2 bonus tracks and a bonus DVD. The Japanese editions include "Sparks" (the B-side of "Into the Blue") and an exclusive Yasutaka Nakata remix of "Into the Blue" (on the standard edition only).
Genre not found
Artist not found
Album not found
Search results not found
Song not found
I drew the smile upon my face
I paved the road that would one day leave me lonely
No angels too good to fall from grace
If she lets go of whatever keeps her holy
But I'm still here holding on too tight, to everything that I left behind
I don't care if the world is mine
'Cause this is all I know
When I got my back up against the wall
Don't need no one to rescue me
'Cause I ain't waiting up for no miracle
Yeah, tonight I'm running free
Into the blue, into the blue
With nothing to lose, into the blue
I'm not ashamed of all my mistakes
'Cause through the cold
I still kept the fire burning
These memories that I can't erase
Always remind me I'm on an endless journey
But I'm still here holding on too tight
To everything that I left behind
I don't care if the world is mine
'Cause this is all I know
When I got my back up against the wall
Don't need no one to rescue me
'Cause I ain't waiting up for no miracle
Yeah, tonight I'm running free
Into the blue, into the blue
With nothing to lose
Into the blue
I'll go where nobody knows
Wherever the wind is blowing
Even if I'm alone
When I got my back up against the wall
Don't need no one to rescue me
'Cause I ain't waiting up for no miracle
Yeah tonight I'm running free
Into the blue, into the blue
With nothing to lose
Into the blue
Lyrics © Universal Music Publishing Group, Sony/ATV Music Publishing LLC
Written by: KELLY SHEEHAN, JACOB KASHER HINDLIN, MARCO LISBOA, MIKE DEL RIO

Lyrics Licensed & Provided by LyricFind
To comment on specific lyrics,
highlight them