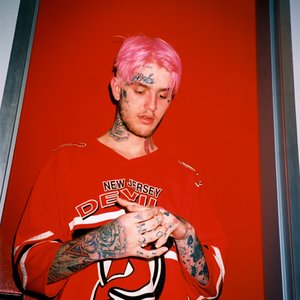 HELLBOY is the fourth & final mixtape by Lil Peep, released on September 25, 2016. The mixtape caught people's attention, pushing him into the mainstream light. The title HELLBOY is a reference to the animated movie Hellboy Animated: Blood and Iron, as Peep explains in a GQ interview. This album's title was explained by Smokeasac, who produced many songs on this album: 'I remember when we made "Hellboy". He explained to me why he chose the name. He explained that it was because he knew that "Hellboy" came off as intimidating and scary to some but it was because he
Read Full Bio
HELLBOY is the fourth & final mixtape by Lil Peep, released on September 25, 2016. The mixtape caught people's attention, pushing him into the mainstream light.

The title HELLBOY is a reference to the animated movie Hellboy Animated: Blood and Iron, as Peep explains in a GQ interview.

This album's title was explained by Smokeasac, who produced many songs on this album: 'I remember when we made "Hellboy". He explained to me why he chose the name. He explained that it was because he knew that "Hellboy" came off as intimidating and scary to some but it was because he was like a book that was only judged by its cover. "Hellboy" was actually a super hero who had a huge heart and that's exactly what Peep was, a super hero with a humongous heart.'

On September 21, 2020, Lil Peep's estate announced a re-release of HELLBOY to be released on September 25, the same date it was released four years back on SoundCloud.
Genre not found
Artist not found
Album not found
Search results not found
Song not found
Can this be him?
The one I have waited centuries to see?
How strange
So far from his path that I barely see the promise of glory
Can this be him, this Hellboy?
You don't even know what I've been through (what I've been through)
You don't gotta like me, ya bitch do (bitch do)
Blowin' up my phone like, "I miss you" (like I miss you)
You know I love you by the way that I kiss you
You don't even know what I've been through (what I've been through)
You don't gotta like me, ya bitch do (bitch do)
Blowin' up my phone like, "I miss you" (like I miss you)
You know I love you by the way that I kiss you
Leave me to bleed, I know I got you on your knees
But somethin' keeps on tellin' me
It keeps on tellin' me
Peep, leave it alone, I'm good on my own
Mama miss me at home, but I'm good on my own
Baby I'm cold, back on the road
Show after show, fuckin' ho after ho
I swear it gets so lonely sometimes
Please just hold me one time
Fuck these hoes and fuck life
I've been waitin' here all damn night
Not one call or text from you
You're the same as my ex, fuck you
Damn, bitch
You don't even know what I've been through (what I've been through)
You don't gotta like me, ya bitch do (bitch do)
Blowin' up my phone like, "I miss you" (like I miss you)
You know I love you by the way that I kiss you
You don't even know what I've been through (what I've been through)
You don't gotta like me, ya bitch do (bitch do)
Blowin' up my phone like, "I miss you" (like I miss you)
You know I love you by the way that I kiss you
Lyrics © Kobalt Music Publishing Ltd., Warner Chappell Music, Inc.
Written by: Aaron Gillespie, Christopher Dudley, Cody Littlefield, Dylan James Mullen, Grant Brandell, Gustav Elijah Ahr, James Smith, Timothy McTague, William Spencer Chamberlain

Lyrics Licensed & Provided by LyricFind
To comment on specific lyrics,
highlight them