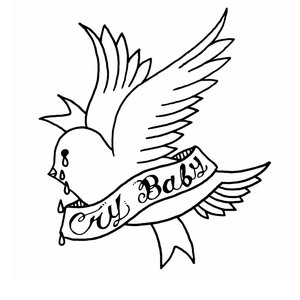 Crybaby is the fourth mixtape by American hip-hop recording artist Lil Peep. It was released on June 10, 2016 independently, and was later posthumously re-released to streaming platforms on June 10, 2020 with 10 of the original 11 tracks. "Falling 4 Me" could not be released to streaming platforms due to copyright issues with a sample used in the song. "Absolute in Doubt", featuring artist and frequent collaborator Wicca Phase Springs Eternal, was the only single to appear on the mixtape. "Crybaby", the albums first track, is a sample from Brand New's song "The No Seatbelt Song" off the album
Read Full Bio
Crybaby is the fourth mixtape by American hip-hop recording artist Lil Peep. It was released on June 10, 2016 independently, and was later posthumously re-released to streaming platforms on June 10, 2020 with 10 of the original 11 tracks. "Falling 4 Me" could not be released to streaming platforms due to copyright issues with a sample used in the song.

"Absolute in Doubt", featuring artist and frequent collaborator Wicca Phase Springs Eternal, was the only single to appear on the mixtape.

"Crybaby", the albums first track, is a sample from Brand New's song "The No Seatbelt Song" off the album "Your Favorite Weapon". Brand New is a band from Long Island, New York in which Lil Peep drew much influence from, having sampled them on four other tracks of his. Wicca Phase Springs Eternal whom is featured on the albums fourth track is Ex-Frontman of "Tigers Jaw" who had worked alongside Brand New a few times & has sampled them as well. This album is highly influenced from the pop punk era of the 2000's and is what really made it unique.

Lil Peep was known for having a signature "Crybaby" tattoo on his forehead, which signified to him reassurance to be grateful. Peep spoke about it on an interview with GQ Magazine and said: "I found myself complaining a lot, being very ungrateful for the things that I have in my life.. so I got the Crybaby tattoo on my face to remind me that I have been doing really good, and there's a lot of people on earth who would love to be in the position I'm in, so it keeps me really grateful."
Genre not found
Artist not found
Album not found
Search results not found
Song not found
Oh, Skedda!
She said I'm a crybaby, I can't be up lately
Girl, you drive me crazy, AMG Mercedes
Speedin' down the highway, lookin' at the street lights
Geekin' on a Friday, I can never sleep right
Knowin' I hurt you, I don't deserve you
I shoulda curved you, I know I'm the worst, boo
But, I could be cool too, and you got them dance moves
And I got this vibe, I swear it's perfect to ride to
I wanna die too, we all wanna die too
I got this vibe, I swear she love gettin' high too
I love gettin' high too, I wanna hide you
How did I find you? I'll be inside, I'm makin' music to cry to
Oh, it's a lonely world, I know
Gon' get a lonely girl, that's fo' sho'
Oh, I'm a lonely boy, she made a lonely boy, yeah, I know
Oh, it's a lonely world, I know
Gon' get a lonely girl, that's fo' sho'
Oh, I'm a lonely boy, she made a lonely boy, yeah, I know
She said I'm a crybaby, I can't be up lately
Girl, you drive me crazy, AMG Mercedes
Speedin' down the highway, lookin' at the street lights
Geekin' on a Friday, I can never sleep right
Knowin' I hurt you, I don't deserve you
I shoulda curved you, I know I'm the worst, boo
But, I could be cool too, and you got them dance moves
And I got this vibe, I swear it's perfect to ride to
I wanna die too, we all wanna die too
I got this vibe, I swear she love gettin' high too
I love gettin' high too, I wanna hide you
How did I find you? I'll be inside, I'm makin' music to cry to
Oh, it's a lonely world, I know
Gon' get a lonely girl, that's fo' sho'
Oh, I'm a lonely boy, she made a lonely boy, yeah, I know
Oh, it's a lonely world, I know
Gon' get a lonely girl, that's fo' sho'
Oh, I'm a lonely boy, she made a lonely boy, yeah, I know
Lyrics © Universal Music Publishing Group, THE ADMINISTRATION MP INC, Kobalt Music Publishing Ltd.
Written by: Brian Lane, Gustav Elijah Ahr, Jesse Lacey, Sherif Rashed

Lyrics Licensed & Provided by LyricFind
To comment on specific lyrics,
highlight them