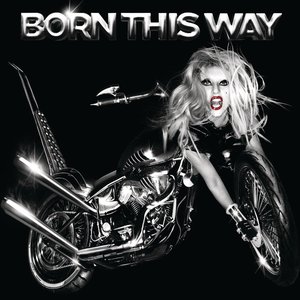 Born This Way is the second studio album by American singer-songwriter Lady Gaga, released on May 23, 2011 by Interscope Records. The album is a follow-up to her internationally-successful debut album The Fame (2008) and her biggest EP release The Fame Monster (2009). As co-producer of every track on the album, Gaga collaborated with numerous producers, including RedOne and Fernando Garibay, with whom she had previously worked, and newcomers such as DJ Snake, DJ White Shadow, Jeppe Laursen, Robert John "Mutt" Lange and Clinton Sparks. She also included artists like E Street Band saxophonist Clarence Clemons and Queen guitarist Brian
Read Full Bio
Born This Way is the second studio album by American singer-songwriter Lady Gaga, released on May 23, 2011 by Interscope Records. The album is a follow-up to her internationally-successful debut album The Fame (2008) and her biggest EP release The Fame Monster (2009). As co-producer of every track on the album, Gaga collaborated with numerous producers, including RedOne and Fernando Garibay, with whom she had previously worked, and newcomers such as DJ Snake, DJ White Shadow, Jeppe Laursen, Robert John "Mutt" Lange and Clinton Sparks. She also included artists like E Street Band saxophonist Clarence Clemons and Queen guitarist Brian May on tracks from the album.

Born This Way debuted in the top five spots of every major market, including the Billboard 200. In the United States, Born This Way sold 1.108 million copies in its first week – the largest first-week album sales in five years; an estimated 440,000 copies were sold on Amazon in two days of its first week at a price of 99 cents. Four of the album's singles – "Born This Way", "Judas", "The Edge of Glory", and "Yoü and I" – went on to chart in the top ten of the Billboard Hot 100 and "Born This Way" became the 1000th song to reach the number one spot since the inauguration of the chart in 1958.
Genre not found
Artist not found
Album not found
Search results not found
Song not found
Born This Way
Lady Gaga Lyrics
It doesn't matter if you love him, or capital H-I-M
Just put your paws up 'cause you were born this way, baby
My mama told me when I was young
We are all born superstars
She rolled my hair and put my lipstick on
In the glass of her boudoir
"There's nothing wrong with loving who you are"
She said, "'Cause he made you perfect, babe"
"So hold your head up girl and you'll go far
Listen to me when I say"
I'm beautiful in my way
'Cause God makes no mistakes
I'm on the right track, baby I was born this way
Don't hide yourself in regret
Just love yourself and you're set
I'm on the right track, baby
I was born this way (born this way)
Oh there ain't no other way
Baby I was born this way
Baby I was born this way (born this way)
Oh there ain't no other way
Baby I was born this way
Right track baby I was born this way
Don't be a drag, just be a queen
Don't be a drag, just be a queen
Don't be a drag, just be a queen
Don't be, don't be, don't be
Give yourself prudence
And love your friends
Subway kid, rejoice your truth
In the religion of the insecure
I must be myself, respect my youth
A different lover is not a sin
Believe capital H-I-M (hey hey hey)
I love my life, I love this record and
Mi amore vole fe, yah (same D.N.A.)
I'm beautiful in my way
'Cause God makes no mistakes
I'm on the right track, baby
I was born this way
Don't hide yourself in regret
Just love yourself and you're set
I'm on the right track, baby
I was born this way
Oh there ain't no other way
Baby I was born this way
Baby I was born this way (born this way)
Oh there ain't no other way
Baby I was born this way
I'm on the right track, baby I was born this way
(Way) Don't be
(Don't be)
(Way) Church
Don't be a drag, just be a queen
Whether you're broke or evergreen
You're black, white, beige, chola descent
You're Lebanese, you're Orient
Whether life's disabilities
Left you outcast, bullied, or teased
Rejoice and love yourself today
'Cause baby you were born this way
No matter gay, straight, or bi
Lesbian, transgendered life
I'm on the right track baby
I was born to survive
No matter black, white or beige
Chola or orient made
I'm on the right track baby
I was born to be brave
I'm beautiful in my way
'Cause God makes no mistakes
I'm on the right track, baby I was born this way
Don't hide yourself in regret
Just love yourself and you're set
I'm on the right track, baby
I was born this way yeah
Oh there ain't no other way
Baby I was born this way
Baby I was born this way (born this way)
Oh there ain't no other way
Baby I was born this way
I'm on the right track, baby I was born this way
I was born this way hey
I was born this way hey
I'm on the right track baby
I was born this way hey
I was born this way hey
I was born this way hey
I'm on the right track baby
I was born this way hey
Same D.N.A. But born this way
Same D.N.A. But born this way
Lyrics © Universal Music Publishing Group, Sony/ATV Music Publishing LLC, Warner Chappell Music, Inc.
Written by: Fernando Garibay, Stefani J Germanotta, Paul Edward Blair, Jeppe Breum Laursen

Lyrics Licensed & Provided by LyricFind
To comment on specific lyrics,
highlight them