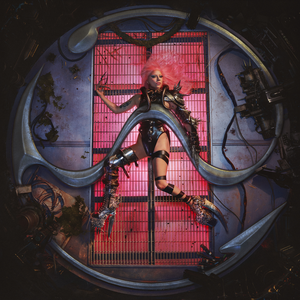 Chromatica is the sixth studio album by American singer Lady Gaga, released on May 29, 2020 by Interscope Records and subsidiary Streamline. Interscope postponed the album's release as a result of the COVID-19 pandemic. Gaga supervised the production with longtime collaborator BloodPop, Blackpink, Ariana Grande, Elton John and a variety of producers to create a concept album drawing from her dance-pop roots. Chromatica eschews the acoustic style of Gaga's previous releases, Joanne and A Star Is Born Soundtrack, for a sound gleaning vintage 1990s house music. Gaga resurfaced with a flamboyant cyberpunk-inspired persona to coincide with her experimentation. The album's
Read Full Bio
Chromatica is the sixth studio album by American singer Lady Gaga, released on May 29, 2020 by Interscope Records and subsidiary Streamline. Interscope postponed the album's release as a result of the COVID-19 pandemic. Gaga supervised the production with longtime collaborator BloodPop, Blackpink, Ariana Grande, Elton John and a variety of producers to create a concept album drawing from her dance-pop roots.

Chromatica eschews the acoustic style of Gaga's previous releases, Joanne and A Star Is Born Soundtrack, for a sound gleaning vintage 1990s house music. Gaga resurfaced with a flamboyant cyberpunk-inspired persona to coincide with her experimentation.

The album's concept explores the pursuit of healing and unwavering happiness. Through often dark introspection of the subject matter, songs on Chromatica manifest Gaga's personal views of themes inspired by failed romance and mental health struggles in her private life. Said sensibility contrasts the music's upbeat thumping instrumentation, distinguished by dense synthesizers, pulsating percussion, ringing grooves and orchestral arrangements which coalesce overarching melodic themes. Most of the recording of the songs was conducted at Henson Recording Studios and Gaga's in-home Hollywood Hills studio. Interscope advertised Chromatica through product endorsements and TV partnerships, part of a more aggressive marketing campaign adversely affected in the fallout of the COVID-19 pandemic. Nonetheless, Interscope released three singles — including the US Billboard Hot 100 top five "Stupid Love" and number one "Rain on Me (with Ariana Grande)" — and two promo tracks to bolster the album's global rollout.

Chromatica was well received by the media; among the plaudits were various end-of-2020 list appearances and a Best Pop Vocal Album nomination at the 63rd Annual Grammy Awards. Critics praised the album for its craftsmanship, though they were sometimes conflicted over the house production in their reviews. Chromatica topped the charts in most overseas markets and, by selling 274,000 album-equivalent units first week, debuted as Gaga's sixth consecutive number one Billboard 200 entry.
Genre not found
Artist not found
Album not found
Search results not found
Song not found
To comment on specific lyrics,
highlight them