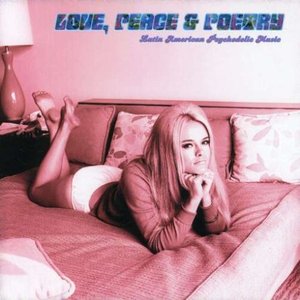 Love, Peace & Poetry: Latin American Psychedelic Music
The Idea becomes reality in 1965, Saul Cornejo guitar and vocals, Manuel Cornejo in drums and Eddy Zarauz a childhood friend on the bass Eddy made his own bass, the one he used in all the recordings and tv presentations. The Cornejo brothers had been experimenting with music since they were kids and their favorite composers were Tchaikovsky, Ravel, Gershwin, Ray Charles, Bobby Darin Leiber and Stroller. In 1962 they used to listen to Stevie wonder and the 4 seasons and little Stevie with his fabulous fingertips
Read Full Bio
The Idea becomes reality in 1965, Saul Cornejo guitar and vocals, Manuel Cornejo in drums and Eddy Zarauz a childhood friend on the bass Eddy made his own bass, the one he used in all the recordings and tv presentations. The Cornejo brothers had been experimenting with music since they were kids and their favorite composers were Tchaikovsky, Ravel, Gershwin, Ray Charles, Bobby Darin Leiber and Stroller. In 1962 they used to listen to Stevie wonder and the 4 seasons and little Stevie with his fabulous fingertips, And when the Beatles appeared they decided to form a band. They needed one more member and they found Alberto Miller who had similar musical taste and finally Alex Abad joined playing percussion instruments. The New Juggler Sound was the name they picked based on the British invasion. At that time their main influences were The Beatles, The Zombies, The Searchers, The Animals, The Kinks, and The Yardbirds. They wrote more than 100 songs in three years. During that time the band appeared in TV shows, concerts in schools, theatres, Happenings and art galleries. In 1968 they recorded a 45rpm record for RCA Victor: Baby baby/I must go and also that same year they recorded two songs in Spanish Sonrisa de Crystal and Mil Millas de Amor.At the end of 1968 Alberto Miller leaves the band . The music was going through a change in the world and so did The New Juggler Sound And their change was going to be a radical one.
And later they would also change their name to LAGHONIA it means the Agony but they added an H in the middle la agonia means the agony in Spanish. It was strange because the cicle of music was coming to and end with the inminent breakup of the Beatles. Their musical horizons were broadening and now they were looking for a guitar player that could be a part of the band's new ideas. Eddy found him and he came for an audition. David Levene was a typical lead guitar player he was a combination of Blues and psycodelia Just what the Cornejo brothers wanted to give the band new dynamics. Something like The Jimmy Hendrix Experience,Cream,Vainilla fudge,Spirit,Blues Image witch by the way were bands that the North American Levene liked very much.
The result was EXPLOSIVE!
Immediately they recorded Glue ,a song that Saul wrote when he read an article in time magazine about the latest drug craze in the US of inhaling Glue,the lyrics talk about pier pressure ,,the B side was a song called "Billy Morsa" it's a Latin shuffle with Lennon style chords, the words talk about a fictional character who was murdered in jail. The band needed someone to play the keyboards and so they called this guy they knew who played Jazz and Brazilian music they approached Carlos and asked him if he would be interested in playing with them, So the song Bahia was the first song they recorded with Carlos, The Idea for the song came when Saul was looking at an Almanac with Brazilian girls in different Brazilian cities and one of those Cities was Bahia Manuel added the Latin Rhythm and David played that Guitar solo a la Santana. and this was their first hit! The B side had a song that was written by David, Saul and Manuel. At that time David had been listening to the Beatles white Album and was very much impressed with the Solo in the song while my guitar gently weeps and you can hear that influence in Sand man.
SAUL CORNEJO guitarra y voces
MANUEL CORNEJO batería y percusión
DAVE LEVENE guitarra y voces

EDDY ZARAUZ bajo (1965 - 1970)
CARLOS SALOM teclados
ERNESTO SAMANE bajo

LAGHONIA was the only band in Peru and in South America to use the Hammond B-3 Organ Live and in recordings. Their concerts were very impressive because of the textures of sound they produced, members of other known bands in Peru such as Traffic sound and other bands used to go to their shows attracted by their esoteric and strange songs like Mary Ann or Speed fever that had polyrhythms a la Dave brubeck. They kept playing all over and moving in Saul's "Antique" 1955 Olds ,Saul was a very serious person, so one would think but his timing for Jokes was perfect,so much for serious. Also the band had hired the services of a Moving company to Move all that heavy equipment Carlos used to go were ever that Hammond went ,so he used to sit on top of the Leslie speaker making sure there was not even a scratch on that B-2. LAGHONIA was also the only Band in Peru that had Roadies and a security crew. David and Manuel were Obsessed with the Groupies, It was very hard for them to play,care for the equipment and keep so many girls happy ,but they managed. Songs like lonely people had very unusual harmonies, this one has an Hindu style ending. They remember that when they played that particular song some potheads used to put their heads so close to the speakers that the security people had to act very quickly to avoid accidents. In the studio Glue and Etcetera were recorded almost live because in those days most studios had only eight tracks so the band had to be very tight,In the song "Trouble child" you can clearly hear the influence of the Yardbirds and in the song "And I saw her walking" Motown was the source of inspiration, all the songs were recorded in 7 or 9 consecutive takes. Sometimes the band used to hang out in David's part of town were they would talk and play guitar it was one of those days while talking about life and death that they came up with the song Someday. Also one night the on their way back to their house it started to rain very hard and it never rains in Lima ,Saul and Manuel wrote the song "Everybody on Monday" a very folksy song sounds like Simon and Garfunkel and wild horses by the stones. A song that was not included in Etcetera was "Bengal tiger" dedicated to that great Feline that is in danger of extinction. And finally "No solution" Bonus track a song they played so many times and was never recorded. At the beginning of the Etcetera album Eddy and Alex left the band.Manuel, Saul, Carlos and Dave finished the album. Later on the band brokeup leaving with us those great recordings and a feeling that is very hard to duplicate.
Genre not found
Artist not found
Album not found
Search results not found
Song not found