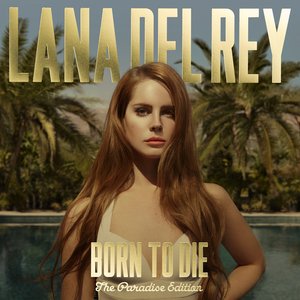 Born to Die – Paradise Edition (Special Version)
Elizabeth Woolridge Grant, better known as Lana Del Rey, is a singer-songwriter and producer from Lake Placid, New York, United States. Del Rey is known for embellishing her songs and music videos with an eerily nostalgic vibe heavy on Americana themes, including images of surfing, Coney Island, Frank Sinatra, and Marilyn Monroe. She has also listed a large number of her artistic influences, including Allen Ginsberg, Elvis Presley, Britney Spears
Read Full Bio
Elizabeth Woolridge Grant, better known as Lana Del Rey, is a singer-songwriter and producer from Lake Placid, New York, United States. Del Rey is known for embellishing her songs and music videos with an eerily nostalgic vibe heavy on Americana themes, including images of surfing, Coney Island, Frank Sinatra, and Marilyn Monroe. She has also listed a large number of her artistic influences, including Allen Ginsberg, Elvis Presley, Britney Spears, Nina Simone, Nirvana, Leonard Cohen, Bob Dylan, The Beach Boys, Antony and the Johnsons, actor and filmmaker John Waters, artists Mark Ryden and Marilyn Minter, and photographers Juergen Teller and Philip-Lorca diCorcia.

Sirens (as pseudonym of May Jailer) (2006)
"Sirens" is an unpublished album by American singer-songwriter Lana Del Rey, under the pseudonym May Jailer. Recorded in 2005, its release took place unofficially, after being cast on YouTube in May 2012.

Kill Kill (EP) (2008)
"Kill Kill" is the first extended play (EP) of American singer-songwriter Lana Del Rey. Released on October 21, 2008, through 5 Points Records, while Del Rey used the stage name Lizzy Grant. The EP contains three tracks, all of which were included in their debut album titled, Lana Del Ray A.K.A. Lizzy Grant (2010). Yayo was re-recorded and included in the singer's third EP, Paradise (2012). "Kill Kill" was the EP's only single. A video for the track was published in 2008.

Lana Del Ray A.K.A. Lizzy Grant (2010)
"Lana Del Ray a.k.a. Lizzy Grant" is the first album by American singer Lana Del Rey. The album was only released as a digital download on January 4, 2010 under the name Lizzy Grant by the independent record company 5 Points Records.
The album was digitally released through iTunes, which was sold briefly before being removed after the publisher could no longer promote the album. After releasing Born to Die (2012) under the stage name Lana Del Rey, she spoke in an interview that, in short, would like to relaunch the album.

Lana Del Rey (EP) (2012)
"Lana Del Rey EP" is the second extended play (EP) of the singer and American writer Lana Del Rey. It was released on January 10, 2012 in the United States by Stranger Records and Interscope Records. The EP has four tracks and was released to anticipate the debut of Lana Del Rey on a major label. Musically, it is an indie pop work, influenced by several genres like baroque pop and alternative hip-hop, while its lyrical content is mostly about love.

Born to Die (2012)
In June 2011, Del Rey was signed with Stranger Records and issued the "Video Games" single. In October 2011 she signed with Interscope Records. Her next album, "Born to Die", was released worldwide on 31 January 2012 under Interscope. The second single and title track, "Born to Die," was released on January 27, 2012.

Ultraviolence (2014)
"Ultraviolence" was released on June 13, 2014. The album was produced by Dan Auerbach (from The Black Keys).

Honeymoon (2015)
"Honeymoon" is the fourth studio album by Del Rey, released on Sept 18, 2015 on the UMG. It was produced by Del Rey together with Rick Nowels and Kieron Menzies.

Lust for Life (2017)
Early in 2017, Del Rey released her first single since 2015, called "Love". The track was produced by Del Rey, Rick Nowels, Benny Blanco, Emile Haynie and Kieron Menzies. The album, Lust for Life, released on 21 July 2017.

Norman Fucking Rockwell! (2019)
Mostly produced by Del Rey and Jack Antonoff, Lana released her sixth studio album "Norman Fucking Rockwell!" on August 30th 2019. The album received widespread critical exclaim, garnering the highest Pitchfork score for a solo female artist this decade with a 9.4.

Chemtrails over the Country Club (2020)
It is the seventh studio album by Del Rey, released on March 19, 2021. Initially titled White Hot Forever, the album is produced by Del Rey and Jack Antonoff and features additional production contributions from Rick Nowels whom Del Rey worked with on past studio albums.
Genre not found
Artist not found
Album not found
Search results not found
Song not found
Why, who me, why?
Feet don't fail me now
Take me to your finish line
Oh my heart it breaks every step that I take
But I'm hoping that the gates, they'll tell me that you're mine
Walking through the city streets
Is it by mistake or design?
I feel so alone on a Friday night
Can you make it feel like home if I tell you you're mine?
It's like I told you, honey
Don't make me sad, don't make me cry
Sometimes love is not enough and the road gets tough, I don't know why
Keep making me laugh
Let's go get high
The road is long, we carry on
Try to have fun in the meantime
Come take a walk on the wild side
Let me kiss you hard in the pouring rain
You like your girls insane
So choose your last words, this is the last time
'Cause you and I, we were born to die
Lost but now I am found
I can see but once I was blind
I was so confused as a little child
Tried to take what I could get
Scared that I couldn't find
All the answers, honey
Don't make me sad, don't make me cry
Sometimes love is not enough and the road gets tough, I don't know why
Keep making me laugh
Let's go get high
The road is long, we carry on
Try to have fun in the meantime
Come take a walk on the wild side
Come kiss me hard in the pouring rain
You like your girls insane
So, choose your last words, this is the last time
'Cause you and I, we were born to die
We were born to die
We were born to die
Come and take a walk on the wild side
Let me kiss you hard in the pouring rain
You like your girls insane
Don't make me sad, don't make me cry
Sometimes love is not enough and the road gets tough, I don't know why
Keep making me laugh
Let's go get high
The road is long, we carry on
Try to have fun in the meantime
Come take a walk on the wild side
Let me kiss you hard in the pouring rain
You like your girls insane
Choose your last words, this is the last time
'Cause you and I, we were born to die (we were born to die)
Lyrics © Sony/ATV Music Publishing LLC
Written by: ELIZABETH GRANT, JUSTIN PARKER

Lyrics Licensed & Provided by LyricFind
To comment on specific lyrics,
highlight them