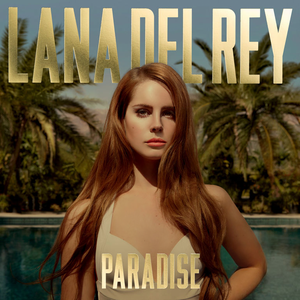 Paradise is the third EP by American singer and songwriter Lana Del Rey, released on November 9, 2012, through Universal Music. It was additionally packaged with the reissue of her second studio album, Born to Die (2012), titled Born to Die: The Paradise Edition. Del Rey enlisted collaborators including producers Rick Nowels, Justin Parker and Rick Rubin. The EP's sound has been described as baroque pop and trip hop. Upon its release, Paradise received generally favorable reviews from music critics. The extended play debuted at No. 10 on the US Billboard 200 with first-week sales of 67,000 copies. It also
Read Full Bio
Paradise is the third EP by American singer and songwriter Lana Del Rey, released on November 9, 2012, through Universal Music. It was additionally packaged with the reissue of her second studio album, Born to Die (2012), titled Born to Die: The Paradise Edition. Del Rey enlisted collaborators including producers Rick Nowels, Justin Parker and Rick Rubin. The EP's sound has been described as baroque pop and trip hop.

Upon its release, Paradise received generally favorable reviews from music critics. The extended play debuted at No. 10 on the US Billboard 200 with first-week sales of 67,000 copies. It also debuted at No. 10 on the Canadian Albums Chart and peaked within the top five of various other Billboard charts. Charting across Europe, the EP became a top 10 hit in Flanders and Poland, charting within the top 20 in Wallonia and the Netherlands.

The EP's lead single was the ballad "Ride", which became a modest hit in the United States, Switzerland, Ireland and France and reached the top 10 in Russia. "Blue Velvet" (a cover of the popular 1950s track) and "Burning Desire" were released as promotional singles. Music videos for "Ride", "Blue Velvet", "Bel Air" and "Burning Desire" were posted to Vevo and YouTube to help promote the EP.

In December 2013, Del Rey released the Anthony Mandler-directed Tropico, a short film that includes the songs "Body Electric", "Gods & Monsters" and "Bel Air". That same month, an EP of the same name was made available for digital purchase, containing the film along with the three aforementioned songs. In 2014, the EP was nominated for Best Pop Vocal Album at the 56th Annual Grammy Awards.
Genre not found
Artist not found
Album not found
Search results not found
Song not found
I've been out on that open road
You can be my full time, daddy, white and gold
Singing blues has been getting old
You can be my full time, baby
Hot or cold
Don't break me down (don't break me down)
I've been travelin' too long (I've been travelin' too long)
I've been trying too hard (I've been trying too hard)
With one pretty song (with one pretty song)
I hear the birds on the summer breeze, I drive fast
I am alone at midnight
Been tryin' hard not to get into trouble, but I
I've got a war in my mind
So, I just ride
Just ride, I just ride, I just ride
Dying young and playing hard
That's the way my father made his life an art
Drink all day and we talk 'til dark
That's the way the road doves do it, ride 'til dark
Don't leave me now (don't leave me now)
Don't say good bye (don't say good bye)
Don't turn around (don't turn around)
Leave me high and dry (leave me high and dry)
I hear the birds on the summer breeze, I drive fast
I am alone at midnight
Been tryin' hard not to get into trouble, but I
I've got a war in my mind
I just ride
Just ride, I just ride, I just ride
I'm tired of feeling like I'm fucking crazy
I'm tired of driving 'til I see stars in my eyes
All I've got to keep myself sane, baby
So I just ride, I just ride
I hear the birds on the summer breeze, I drive fast
I am alone at midnight
Been tryin' hard not to get into trouble, but I
I've got a war in my mind
I just ride
Just ride, I just ride, I just ride
Lyrics © Sony/ATV Music Publishing LLC
Written by: Elizabeth Grant, Justin Parker

Lyrics Licensed & Provided by LyricFind
To comment on specific lyrics,
highlight them