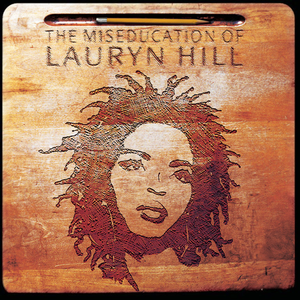 The Miseducation of Lauryn Hill
The Miseducation of Lauryn Hill is the debut solo album studio by Lauryn Hill. Released August 25, 1998, the album swept the Grammy Awards in 1999, being nominated for 10 and winning five. As of 2009, the album has sold over 19 million copies worldwide and over 10 million copies in the US alone, with the RIAA giving it Diamond status . Background In 1997, Hill began production on an album that would eventually become The Miseducation of Lauryn Hill. The title was partially inspired by The Education of Sonny Carson, a film and autobiographical novel about a troubled African
Read Full Bio
The Miseducation of Lauryn Hill is the debut solo album studio by Lauryn Hill. Released August 25, 1998, the album swept the Grammy Awards in 1999, being nominated for 10 and winning five. As of 2009, the album has sold over 19 million copies worldwide and over 10 million copies in the US alone, with the RIAA giving it Diamond status .

Background

In 1997, Hill began production on an album that would eventually become The Miseducation of Lauryn Hill. The title was partially inspired by The Education of Sonny Carson, a film and autobiographical novel about a troubled African American youth. The album includes collaborations with soul singer D'Angelo on "Nothing Even Matters", guitarist Carlos Santana on "To Zion", singer Mary J. Blige on "I Used to Love Him"; as well as then little-known John Legend playing the piano on "Everything is Everything". Songs for the album were largely written in an attic studio in South Orange, New Jersey and recorded at Chung King Studios in Jamaica. Wyclef Jean, Hill's bandmate with The Fugees, initially didn't support Hill recording a solo album, but eventually offered his production help; Hill declined his assistance.

Several songs on the album concerned her frustrations with The Fugees; "I Used to Love Him" dealt with the break-down of the relationship between Hill and Wyclef Jean. "To Zion" spoke about her decision to have her first baby, even though many at the time encouraged her to abort the pregnancy as to not interfere with her blossoming career.

The Miseducation contained several interludes of a teacher speaking to what is implied to be a classroom of children; in fact, the "teacher" was played by Ras Baraka (a poet, educator and politician) speaking to a group of kids in the living room of Hill's New Jersey home. The singer requested that Baraka speak to the children about the concept of love, and he improvised the lecture.

1998 saw the release of The Miseducation of Lauryn Hill, which was both critically and commercially successful. The landmark concept album set new records for black women, female hip-hop artists, and women in general. It sold over 423,000 copies in its first week and topped the Billboard 200 albums chart for four weeks and the Billboard R&B Album chart for six weeks; it would go on to sell more than 18 million copies over the next decade. The first single off the album was "Lost Ones" (US #27), released in Spring 1998. The second was "Doo Wop (That Thing)", which reached #1 in the billboard charts. Other singles released in support of the album were "Ex-Factor" (US #21), "Everything Is Everything" (US #35), and "To Zion".

At the 1999 Grammy Awards, Hill was nominated ten times , becoming the first female ever to be nominated ten times in one year: Hill won five Grammys including Album of the Year, Best R&B Album, Best R&B Song, Best Female R&B Vocal Performance, and Best New Artist. Lauryn Hill set a new record in the industry, as she became the first woman to win five Grammys in one night. Between 1998 and 1999, Hill earned $25 million from record sales and touring.

Hill became a national media icon, as magazines ranging from Time to Esquire to Teen People vied to put her on the cover. By the end of the year, as the album topped virtually every major music critic's best-of list, she was being credited for helping fully assimilate hip-hop into mainstream music.

In the late 1990s, Hill was noted by some as a humanitarian. In 1996 she received an Essence Award for work which has included the 1996 founding of the Refugee Project, an outreach organization that supports a two-week overnight camp for at-risk youth, and for supporting well-building projects in Kenya and Uganda, as well as for staging a rap concert in Harlem to promote voter registration. In 1999 Hill received three awards at the 30th Annual NAACP Image Awards. In 1999 Ebony named her one of "100+ Most Influential Black Americans". She was named with Congressman Jesse Jackson, Jr. and others among the "10 For Tomorrow," in the EBONY 2000: Special Millennium Issue.

In 2003, VH1 named it the 37th greatest album of all time. In 2003, the album was ranked number 312 on Rolling Stone magazine's list of the 500 greatest albums of all time. Chris Rock ranked it 23rd in his 2005 list of the Top 25 Hip-Hop Albums of all time. In 2008, Entertainment Weekly named " The Miseducation of Lauryn Hill" second on the greatest albums in the past 25 years.

Lawsuit

Though The Miseducation was largely a collaborative work between Hill and a group of musicians known as New Ark (Vada Nobles, Rasheem Pugh, Tejumold and Johari Newton), there was "label pressure to do the Prince thing," wherein all tracks would be credited as "written and produced by" the artist with little outside help. While recording the album, when Hill was asked about providing contracts or documentation to the musicians, she replied, "We all love each other. This ain't about documents. This is blessed."

In 1998, New Ark filed a fifty-page lawsuit against Hill, her management, and her record label, stating that Hill "used their songs and production skills but failed to properly credit them for the work." The musicians claimed that they either wrote or produced 13 of 14 tracks on Miseducation , despite the liner notes of the album claiming that it was "produced, written, arranged and performed by Lauryn Hill." New Ark requested partial writing credits and monetary reimbursement. The suit was settled out of court in February 2001 for a reported $5 million.

New Ark's lawyer, Peter C. Harvey, scoffed at Hill's image as a prolific songwriter. "She is not a musician, she is not a producer...I dare say if you put Lauryn Hill in a studio alone, she couldn't do it again." . In a 2005 Interview, Lauryn responded saying " I am a Songwriter, Producer and a Musician and that I gave people too much credit that they didn't truly deserve. I can do it again, because I am a Artist thats speaks from my heart and from my mind. If people benefit off my new music to come then so be it, I will only make music to give information to my own children".

As of 2009, Hill has released only one album after Miseducation - 2001's MTV Unplugged No. 2.0 - which sold a fraction of Miseducation's numbers.
Genre not found
Artist not found
Album not found
Search results not found
Song not found
Intro
Lyrics © Sony/ATV Music Publishing LLC
Written by: LAURYN HILL

Lyrics Licensed & Provided by LyricFind
To comment on specific lyrics,
highlight them