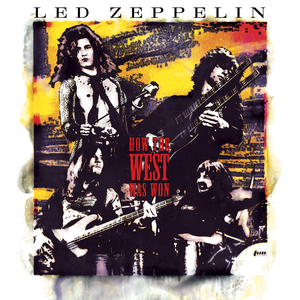 AllMusic Review by Stephen Thomas Erlewine For years, Led Zeppelin fans complained that there was one missing item in the group's catalog: a good live album. It's not that there weren't live albums to be had. The Song Remains the Same, of course, was a soundtrack of a live performance, but it was a choppy, uneven performance, lacking the majesty of the group at its peak. BBC Sessions was an excellent, comprehensive double-disc set of their live radio sessions, necessary for any Zeppelin collection (particularly because it contained three songs, all covers, never recorded anywhere else), but some carped that
Read Full Bio
AllMusic Review by Stephen Thomas Erlewine

For years, Led Zeppelin fans complained that there was one missing item in the group's catalog: a good live album. It's not that there weren't live albums to be had. The Song Remains the Same, of course, was a soundtrack of a live performance, but it was a choppy, uneven performance, lacking the majesty of the group at its peak. BBC Sessions was an excellent, comprehensive double-disc set of their live radio sessions, necessary for any Zeppelin collection (particularly because it contained three songs, all covers, never recorded anywhere else), but some carped that the music suffered from not being taped in front of a large audience, which is how they built their legacy -- or, in the parlance of this triple-disc collection of previously unreleased live recordings compiled by Jimmy Page, How the West Was Won. The West in this case is the West Coast of California, since this contains selections from two 1972 concerts in Los Angeles: a show at the LA Forum on June 25, and one two days later at Long Beach Arena. This is the first archival release of live recordings of Zeppelin at their peak and while the wait has been nigh on interminable, the end result is certainly worth the wait. Both of these shows have been heavily bootlegged for years and while those same bootleggers may be frustrated by the sequencing that swaps the two shows interchangeably (they always prefer full shows wherever possible), by picking the best of the two nights, Page has assembled a killer live album that captures the full, majestic sweep of Zeppelin at their glorious peak. And, make no mistake, he tries to shove everything into these three discs -- tight, furious blasts of energy; gonzo freak-outs; blues; and rock, a sparkling acoustic set. Like always, the very long numbers -- the 25-minute "Dazed and Confused," the 23-minute "Whole Lotta Love," the 19-minute "Moby Dick" -- are alternately fascinating and indulgent, yet even when they meander, there is a real sense of grandeur, achieving a cinematic scale attempted by few of their peers (certainly no other hard rock or metal band could be this grand; only Queen or David Bowie truly attempted this). But the real power of the band comes through on the shorter songs, where their sound is distilled to its essence. In the studio, Zeppelin was all about subtle colors, textures, and shifts in the arrangement. On-stage, they were similarly epic, but they were looser, wilder, and hit harder; witness how "Black Dog" goes straight for the gut here, while the studio version escalates into a veritable guitar army -- it's the same song, but the song has not remained the same. That's the case throughout How the West Was Won, where songs that have grown overly familiar through years of play seem fresh and new because of these vigorous, muscular performances. For those who never got to see Zeppelin live, this -- or its accompanying two-DVD video set -- is as close as they'll ever get. For those who did see them live, this is a priceless souvenir. For either group, this is absolutely essential, as it is for anybody who really loves hard rock & roll. It doesn't get much better than this.

Companies, etc.

Phonographic Copyright (p) – Atlantic Recording Corporation
Phonographic Copyright (p) – WEA International Inc.
Copyright (c) – Atlantic Recording Corporation
Copyright (c) – WEA International Inc.
Engineered At – Sarm West Studios
Mixed At – Sarm West Studios


Credits

Acoustic Guitar, Guitar, Electric Guitar – Jimmy Page
Bass, Keyboards, Mandolin – John Paul Jones
Design, Artwork By – Phil Lemon
Drums, Percussion – John Bonham
Engineer – Kevin Shirley
Mixed By – Kevin Shirley
Other (Creative Consultant) – Ross Halfin
Photography By – Rock And Roll Gallery*, Jeffrey Mayer, Star File*, Retna*
Producer – Jimmy Page
Recorded By (Original Recording At La Forum And Long Beach Arena) – Eddie Kramer
Technician (Sound Assistant) – Drew Griffiths
Vocals, Harmonica – Robert Plant
Written-By – Jimmy Page (tracks: 1-1 to 2-4, 3-1a, 3-2, 3-3, 3-4b), John Bonham (tracks: 1-3, 2-1c, 2-4, 3-1a, 3-2, 3-3, 3-4b), John Paul Jones (tracks: 1-1, 1-3, 1-4, 1-6, 1-10, 2-1c, 2-4, 3-1a, 3-2, 3-3, 3-4b), Robert Plant (tracks: 1-2 to 1-10, 2-1b to 2-3, 3-1a, 3-2, 3-3, 3-4b)

Notes
While I was searching through the archives for visual and audio material for the Led Zeppelin DVD I re-discovered these 1972 performances from the 25th June, LA Forum and 27th June, Long Beach Arena. This is Led Zeppelin at its best and an illustration of How The West Was Won. - Jimmy Page, London, March 2003

Engineered and Mixed at SARM West Studios, London.
Genre not found
Artist not found
Album not found
Search results not found
Song not found
Unfortunately, we are not licensed to display the full lyrics for this song at the moment. Hopefully we will be able to in the future. Until then... how about a random page?
[
I want to edit metadata
]
Contributed by Eva M. Suggest a correction in the comments below.
To comment on specific lyrics,
highlight them