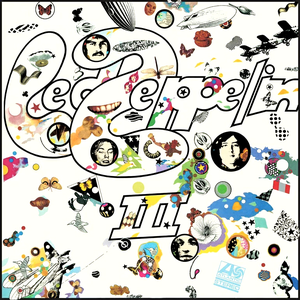 Led Zeppelin III, the third album by English rock band Led Zeppelin. It was recorded between January and July 1970 and was released October 5, 1970 by Atlantic Records. Led Zeppelin III marked a change in focus for the band from late 1960s hard rock to a more folk rock and acoustic inspired sound. These styles had been present to a lesser degree in the band's first two releases, but here it was the main style - and one that would remain prominent in the group's later albums. This change in direction endeared the band to many progressive rock fans
Read Full Bio
Led Zeppelin III, the third album by English rock band Led Zeppelin. It was recorded between January and July 1970 and was released October 5, 1970 by Atlantic Records.

Led Zeppelin III marked a change in focus for the band from late 1960s hard rock to a more folk rock and acoustic inspired sound. These styles had been present to a lesser degree in the band's first two releases, but here it was the main style - and one that would remain prominent in the group's later albums. This change in direction endeared the band to many progressive rock fans who would never have listened to Led Zeppelin's established blues and rock repertoire. With Led Zeppelin III the group's songwriting dynamic also changed, from Page's domination of the first two albums towards a more democratic affair in which all four group members offered up their own compositions and ideas - patterns that would continue in future sessions.

The album contains two songs which became key components of the band's live concert performances for many years: "Immigrant Song" and "Since I've Been Loving You". The first of these, written by Jimmy Page and Robert Plant, is about the Norse invasions of England and was inspired by the band's recent live performance in Iceland. "Since I've Been Loving You" is a classic, original blues in the key C minor featuring heartfelt interplay by all four group members. It would become a performance staple, especially from 1971 through 1973, replacing Willie Dixon's "I Can't Quit You Baby" from the first album as the band's slow blues showcase.

The album also featured the rock songs "Celebration Day" and "Out on the Tiles", and the acoustic tracks "Bron-Yr-Aur (Stomp)" and "That's the Way", the latter considered by Page to be a breakthrough for still-developing lyric writer Plant. The song "Gallows Pole" is actually an arrangement of a traditional folk song by that name, also recorded by Lead Belly some thirty years earlier.

The album finishes with "Hats Off To (Roy) Harper", a track dedicated to their influential contemporary, Roy Harper, that both honours Harper's work and acknowledges the band's roots in acoustic music.
Genre not found
Artist not found
Album not found
Search results not found
Song not found
Ah-ah, ah!
Ah-ah, ah!
We come from the land of the ice and snow
From the midnight sun where the hot springs flow
Hammer of the Gods
Will drive our ships to new land
To fight the horde and sing and cry
Valhalla, I am coming
On we sweep with threshing oar
Our only goal will be the Western shore
Ah-ah, ah!
Ah-ah, ah!
We come from the land of the ice and snow
From the midnight sun where the hot springs flow
How soft your fields so green
Can whisper tales of gore
Of how we calmed the tides of war
We are your overlords
On we sweep with threshing oar
Our only goal will be the Western shore
So now you'd better stop and rebuild all your ruins
For peace and trust can win the day despite of all your losing
Ooh-ooh, ooh-ooh, ooh-ooh
Ooh-ooh, ooh-ooh, ooh-ooh
Ahh, ah
Ooh-ooh, ooh-ooh, ooh-ooh
Ooh-ooh, ooh-ooh, ooh-ooh
Ooh-ooh, ooh-ooh, ooh-ooh
Lyrics © Warner Chappell Music, Inc.
Written by: Jimmy Page, Robert Plant

Lyrics Licensed & Provided by LyricFind
To comment on specific lyrics,
highlight them