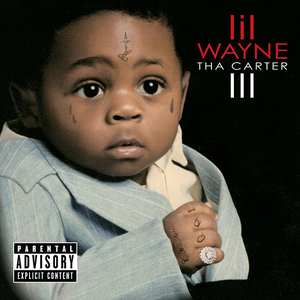 Tha Carter III is the sixth studio album by American rapper Lil Wayne, released on June 10, 2008, by Cash Money and Universal Motown. It follows a long string of mixtape releases and guest appearances on other hip hop and R&B artists' records, helping to increase his exposure in the mainstream. The album features appearances from Jay-Z, T-Pain, Robin Thicke, Busta Rhymes, and Kanye West, among others. It also features Static Major, who is credited posthumously following his death in February 2008. Amid release delays and leaks, Tha Carter III became one of the most anticipated releases of 2008. It
Read Full Bio
Tha Carter III is the sixth studio album by American rapper Lil Wayne, released on June 10, 2008, by Cash Money and Universal Motown. It follows a long string of mixtape releases and guest appearances on other hip hop and R&B artists' records, helping to increase his exposure in the mainstream. The album features appearances from Jay-Z, T-Pain, Robin Thicke, Busta Rhymes, and Kanye West, among others. It also features Static Major, who is credited posthumously following his death in February 2008.

Amid release delays and leaks, Tha Carter III became one of the most anticipated releases of 2008. It debuted at number one on the US Billboard 200, selling over 1 million copies in its first week which made it one of the fastest-selling albums in the US. It reached sales of 2.88 million copies by the end of 2008 and produced four singles that achieved chart success, including the international hit "Lollipop" and Billboard Hot 100 hits "A Milli", "Got Money", and "Mrs. Officer".

Upon its release, Tha Carter III received widespread acclaim from music critics and has since been regarded as one of Wayne's best records. It earned Lil Wayne several accolades, including a spot on Rolling Stone's list of The 500 Greatest Albums of All Time. It was nominated for Album of the Year at the 2009 Grammy Awards and won for Best Rap Album, while "Lollipop" won Best Rap Song and "A Milli" won Best Rap Solo Performance. It has been certified 6x platinum by the Recording Industry Association of America (RIAA).

Lil Wayne stated that producers would include The Alchemist, Cool & Dre, Deezle, Jim Jonsin, Just Blaze, Kanye West, Mannie Fresh, The Runners, Timbaland, Danja, and will.i.am. In an interview with HipHopCanada.com, Solitair of the Black Jays stated that he and Cipha Sounds produced a track called "Outstanding", which later eventually leaked. The Runners have stated that they have produced three tracks for Tha Carter III. Lil Wayne revealed that he has a track for Eminem, which he has yet to send to him. He described this song as the "craziest". Some believe that his request was turned down, but it most likely turned into "Drop the World" on his 2010 album Rebirth.

The album features guest appearances by Fabolous, T-Pain, Brisco, Bobby V, Babyface, Betty Wright, Static Major, Robin Thicke, Jay-Z, Juelz Santana, and Busta Rhymes. MTV reported that Wyclef Jean worked on a couple of tracks for the album and that a song featuring Justin Timberlake, Nelly Furtado, and Timbaland was likely to appear on the album. However, that Timbaland-produced track did not make the final cut. David Banner confirmed that he will be credited for five tracks on the final cut of Tha Carter III, but only one is featured on the album. After the copyright controversy of "Playing with Fire", the track was later removed and replaced with another David Banner-produced track "Pussy Monster". Swizz Beatz stated he was also working on the album
Genre not found
Artist not found
Album not found
Search results not found
Song not found
Yes sir!
They can't stop me
Even if they stopped me
Yea
I'm on it ooh I'm on it
I'm so on it and how ever you want it
You can get it tonight hoe
And all night hoe I get the beat from
(Mistro)
A fuckin' right hoe
I might go
Crazy on these niggas
Don't give a mother fuck
Run up in a nigga house and shoot his grandmother up
What! What?
I don't give a mother fuck get'cha baby kidnapped
And ya baby mother fucked
It's the Carter three bitch better put ya supper up
Hollygrove I throw it up like I'm tryin' to lose my gut
Fuck is up beat him up like a million uppercuts
Got a million duffeled up for the fuck of it
Shit get on my level you cant get on my level
You would need a space shuttle or a ladder that's forever
However I'm better if not now than never
Don't you ever fix ya lips unless you bout to suck my dick
Bitch, swallow my words taste my thoughts
And if its too nasty spit it back at me
Two more inches I'd a been in that casket
According to the doctor I could of died in traffic
Bounce right back on them bitches like Magic
Abracadabra I'm up like Viagra
I just do this shit for my click like Adam Sandler
I control hip hop and I'm a keep it on my channel
Watch me!
Bitch watch me!
Bitch watch me!
But they cannot see me like Hitler
Its the New Orleans Nightmare
Money so old its growin' white hair
Young Money baby
Yeah we right here
I'ma make sure we ball 'til we fall like tears
And mama don't cry
Ya son can handle his
I got her out the hood and put her in the hills
Yeah when I was fourteen I told my mom we would see better days
And sure enough I got Miss Cita in a better place
When I was fourteen I told my mom we would see better days
And sure enough we did exactly what I say
I tell my girl when you fuck me better fuck me good
'Cause if another girl could she gon' fuck me good
No sittin' at the table if you bringin' nothin' to it
And I get straight to it like its nothin' to it
Yea I got game like Stuart, Scott
Fresh out the E-S-P-N shop
And when Sportcenter poppin'
Every thing stoppin' but you cant fool me I know what you watchin'
Me!
You watch me
You watch me
'Cause I be
Weezy must see T.V. C3
Nigga that's me
And I'm me, I'm me
Times three, so retreat or suffer defeat
I'm back, 3-peat
C3
Lyrics © Kobalt Music Publishing Ltd., Warner Chappell Music, Inc.
Written by: Dwayne Carter, Vau Shaun Brooks

Lyrics Licensed & Provided by LyricFind
To comment on specific lyrics,
highlight them