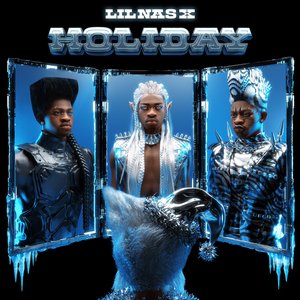 "Holiday" (stylized in all caps) is a song by American rapper Lil Nas X. It was released on November 13, 2020 through Columbia Records. A preview of the song, titled "The Origins of Holiday", was released on November 8. It is a Christmas-themed song, described as a stopgap single between his debut EP 7 and follow-up single "Montero (Call Me by Your Name)".
Genre not found
Artist not found
Album not found
Search results not found
Song not found
(T-T-Tay Keith) Took it to ten (hey)
Ayy, it's a holiday
I got hoes on hoes and they out of control, yeah
Ayy, it's another way
All my niggas on go and I hope that you know it
I can't even close my eyes
And I don't know why, guess I don't like surprises
I can't even stay away from the game that I play
They gon' know us today, yeah
Ayy, can I pop shit?
I might bottom on the low, but I top shit
Switch the genre on you hoes, do a rock hit
I got the biggest damn song, fuck the charts
Sis, I don't need 'em
They wanna know if I be lastin'
Bitch, even if I started floppin', there'd be fashion
Poppin' up in movies, ain't no Nas-y, bitch, it's Ashton
Hee, hee, I'm bad as Michael Jackson
Dun, dun, dun
Ayy, it's a holiday
I got hoes on hoes and they out of control, yeah
Ayy, it's another way
All my niggas on go and I hope that you know it
I can't even close my eyes
And I don't know why, guess I don't like surprises
I can't even stay away from the game that I play
They gon' know us today, yeah
Man, I snuck into the game, came in on a horse
I pulled a gimmick, I admit it, I got no remorse
Nobody tried to let me in, nobody opened doors
I kicked the motherfuckers down, they didn't have a choice
Dun, dun, dun
They tried to next me, ayy, but I'm blessed, see
Ayy, no flex, but my checks givin' vet tease
Ayy, and I'm sexy, they wanna sex me
Pop star, but the rappers still respect me
They wanna know if I be lastin'
Bitch, even if I started floppin', there'd be fashion
Poppin' up in movies, ain't no Nas-y, bitch, it's Ashton
Hee, hee, I'm bad as Michael Jackson
Dun, dun, dun
Ayy, it's a holiday
I got hoes on hoes and they out of control, yeah
Ayy, it's another way
All my niggas on go and I hope that you know it
I can't even close my eyes
And I don't know why, guess I don't like surprises
I can't even stay away from the game that I play
They gon' know us today, yeah
Tay Keith, fuck these niggas up
Daytrip took it to ten (hey)
Lyrics © Universal Music Publishing Group, Sony/ATV Music Publishing LLC, Warner Chappell Music, Inc.
Written by: Brytavious Chambers, David Biral, Denzel Baptiste, Montero Lamar Hill, Tyler Brooks

Lyrics Licensed & Provided by LyricFind
To comment on specific lyrics,
highlight them