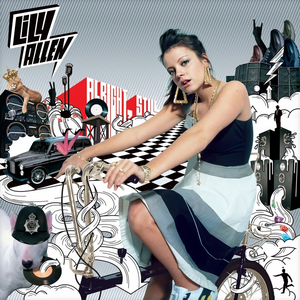 Alright, Still is the debut studio album by English singer Lily Allen. It was released on July 13th, 2006 by Regal Recordings. After being rejected by several record labels, Allen signed to London Records, who eventually lost interest in her, leading her to meet production duo Future Cut and sign to Regal Recordings. Recording for the album began in 2004 with sessions between Allen and Future Cut. and Allen's work garnered publicity on the Internet as she posted demos to her Myspace account before they were officially released. Allen later travelled to the United States to work with Greg Kurstin
Read Full Bio
Alright, Still is the debut studio album by English singer Lily Allen. It was released on July 13th, 2006 by Regal Recordings. After being rejected by several record labels, Allen signed to London Records, who eventually lost interest in her, leading her to meet production duo Future Cut and sign to Regal Recordings. Recording for the album began in 2004 with sessions between Allen and Future Cut. and Allen's work garnered publicity on the Internet as she posted demos to her Myspace account before they were officially released. Allen later travelled to the United States to work with Greg Kurstin and Mark Ronson, to complete the final half of the album in 2006.

Alright, Still is predominately a pop album, with songs that are heavily influenced by Jamaican ska music, reggae and hip hop. The lyrics are conversational and farcical, while discussing past relationships and a dark sense of humour. Due to the instances of strong language in a great majority of the songs, the album was released with a Parental Advisory warning, although the song "Friday Night" remains censored on all versions of the album.

Upon release, Alright, Still received acclaim from the British music press, with international critics calling the record and Allen "original". It was commercially successful in the United Kingdom, where it debuted at number two on the UK Albums Chart and was later certified triple platinum. Alright, Still has sold over 2.5 million copies worldwide. The album earned a nomination for Best Alternative Music Album at the 50th Grammy Awards. It was promoted by the release of four singles, including the chart-topper "Smile" and the top-10 single "LDN".
Genre not found
Artist not found
Album not found
Search results not found
Song not found
When you first left me
I was wanting more
But you were fucking that girl next door
What'd you do that for? (What'd you do that for?)
When you first left me
I didn't know what to say
I've never been on my own that way
Just sat by myself all day
I was so lost back then
But with a little help from my friends
I found the light in the tunnel at the end
Now you're calling me up on the phone
So you can have a little wine and a moan
And it's only because you're feeling alone
At first, when I see you cry
Yeah, it makes me smile
Yeah, it makes me smile
At worst, I feel bad for a while
But then I just smile
I go ahead and smile
Whenever you see me
You say that you want me back (want me back)
And I tell you it don't mean jack (it don't mean jack)
No, it don't mean jack (no, it don't mean jack)
I couldn't stop laughing
No, I just couldn't help myself
See, you messed up my mental health
I was quite unwell
I was so lost back then
But with a little help from my friends
I found the light in the tunnel at the end
Now you're calling me up on the phone
So you can have a little wine and a moan
It's only because you're feeling alone
At first, when I see you cry
Yeah, it makes me smile
Yeah, it makes me smile
At worst, I feel bad for a while
But then I just smile
I go ahead and smile
La-la-la, la-la-la, la-la-la, la-la-la
La-la-la, la-la-la, la-la-la, la-la-la
La-la-la, la-la-la, la-la-la, la-la-la, la-la-la
At first, when I see you cry
Yeah, it makes me smile
Yeah, it makes me smile
At worst, I feel bad for a while
But then I just smile
I go ahead and smile
At first, when I see you cry (I see you cry)
Yeah, it makes me smile (makes me smile)
Yeah, it makes me smile (it makes me smile)
At worst, I feel bad for a while (feel bad for a while)
But then I just smile (but then I just smile)
I go ahead and smile (I go ahead and smile)
Lyrics © DistroKid, PREMIERE MUSIC GROUP, Universal Music Publishing Group, Sony/ATV Music Publishing LLC, Warner Chappell Music, Inc.
Written by: Darren Emilio Lewis, Iyiola Babatunde Babalola, Lily Rose Beatrice Allen, Donat Roy Jackie Mittoo

Lyrics Licensed & Provided by LyricFind
To comment on specific lyrics,
highlight them