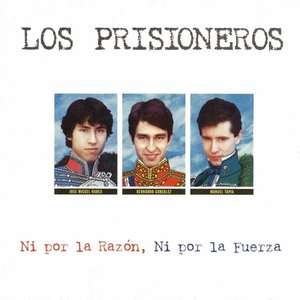 Ni por la Razon, Ni por la Fuerza-Antologia
Los Prisioneros was a Chilean rock band formed in San Miguel, Santiago, Chile in…
Read Full Bio ↴
Los Prisioneros was a Chilean rock band formed in San Miguel, Santiago, Chile in 1982 by Jorge González (bass & vocals), Claudio Narea (guitar) and Miguel Tapia (drums). They began as a local band during the early 1980s, playing small shows in their neighborhood and high school. After selling a limited press number of their first album in Chile under the independent Fusión producciones label, they signed to EMI in 1985, re-releasing the same album on an LP record and Cassette. From that point on they reached mainstream success in Chile, then Peru, Ecuador and Colombia. Eventually in the early 90's their albums were re-released completely in remastered Compact Disc form, this is when Chile was no longer run by a military regime which oppressed their music in the late 1980s. Throughout the 1990s their music spread out, reaching all of South and Central America as well as some parts of the U.S., Canada and Europe.

The band started when Jorge González and Miguel Tapia decided to start their own band while being high school students. They were inexperienced but enthusiastic, after many practices and writing songs, they asked Claudio Narea if he would like to join them, and impressed by the music they were making, he accepted. Towards the early 80's they went through some name changes and before settling on "Los Prisioneros" they had the name "Los Vinchukas" as their original name. In 1983, they had played a number of local shows and that's when they met Carlos Fonseca, their future manager. Through him, they managed to score a record deal with Fusión Producciones.

In 1984, the band's debut album was released, with the hit song "La Voz De Los '80" (which was never a single). They reached acclaim in the radio and by the next year they would be touring. In 1986, their long awaited second album "Pateando Piedras" went double Platinum album in Chile. By that time, the group was invited to perform at Argentina's Chateau Rock Festival and later to a similar event in Montevideo, Uruguay. They continued touring and they became more successful mainstream wise.

The band disbanded in 1992, then as a quartet with additional members Cecilia Aguayo (keyboards) and Robert Rodríguez (guitar), since Claudio Narea had left the band earlier in 1990.

The original lineup of the band decided to get back together in 2001, offering two massive concerts in the National Stadium of Santiago, and then releasing "Los Prisioneros", their first original studio album in 13 years. However, internal problems between González and Narea led again to the departure of the guitarist in 2001. Los Prisioneros continued working as a duet with guest members like Álvaro Henríquez whom with they released a cover album. In 2004 two additional musicians joined the band: Sergio "Coty" Badilla and Gonzalo Yáñez, releasing their sixth album Manzana the same year. A little while after the release of the album band members decided to establish themselves in Mexico, attempting to get more international exposure. Yáñez decided not to leave Chile and left the band. After touring through several locations in North and South America, they finally disbanded in 2006.
Genre not found
Artist not found
Album not found
Search results not found
Song not found
Ni por la Razon, Ni por la Fuerza-Antologia
Los Prisioneros Lyrics
Aceite Humano
Yo soy cocinero, trabajo donde Pelayo, Pelayo es mi jefe, P…
De La Cultura De La Basura
Y tenemos aquí un disquito simpático para ti muñeca que…
El Baile de los Que Sobran
Es otra noche más De caminar Es otro fin de mes Sin novedad …
El Cobarde
EL COBARDE (J. Gonzá¡lez)1989 Corriendo vas Sin pregunt…
El Extremista
Mucha gente deca que yo era socialista Mientras otros decan…
Elvis Fue Un Vampiro
Elvis Elvis Elvis Fue fue fue fue un vampiro Nunca fue sin…
En La Cripta
No puedo dormir esta noche Y yo se positivamente que tu…
En La Disco
En las cantinas deje mi primavera eche a los vicios A…
Fotos y Autógrafos
Una revista en tus manos toda mi vida, En solo dos…
Generación De Mierda
Porque tienen miedo Porque están todos ahí Porque me hacen…
Independencia Cultural
El momento ha llegado de hacernos a un lado Jugando…
Invitado de Honor
Para tomar tecito con el presi Llévate un chancho de Quincha…
La Gran Oportunidad
La tele y la radio dicen que les ofrecen A…
La Noche
Tu amor de noche me llego Y un claro dia se…
La Voz de los '80
Algo grande está naciendo En la década de los ochenta Ya se…
Las Sierras Eléctricas
Y tenemos aquí un disquito simpático, Para ti muñeca que…
Latinoamérica es un Pueblo al Sur de Estados Unidos
Para turistas gente curiosa, es un sitio exótico para visita…
Lo Estamos Pasando Muy Mal
Como puedes ver las vitrinas están llenas de cosas que…
Los Cuatro Luchos
Hey! Somos cuatro Luchos aunque Luchos hay muchos En este …
Mal De Parkinson
Yo tengo el mal de Párkinson Weee Mmmm, nena Yeee Lo ten…
Mi Profesor Se Está Volviendo Loco
Mi profesor se esta volviendo loco Sus cesos ya no aguantan…
Nunca Quedas Mal Con Nadie
¡Dime! Tú te crees que protestas ¡Dime! Me aseguras que p…
Paramar
Recuerdo cuando dije que este invierno Sería menos frío que …
Policías Y Ladrones
1, 2, 3, 4, 1, 2, 3, 4, 1, 2,…
Rock On The Rocks
- Yo te amo nena ¿y qué con ello dices tu…
Sexo
El mejor gancho comercial Apela a tu liberalidad Toca tu ins…
Ustedes Dos
USTEDES DOS (J. Gonzá¡lez) 1987 Si es que hay cosa…
Zombie
Ah! zombie, zombie, zombie Yo soy un zombie Me gustan la…
¿Quién mató a Marilyn?
Quiero saber quien fue quiero saber porque sucedió oh oh Oh …
¿Quien Mato A Marilyn?
Quiero saber quién fue Quiero saber por qué sucedió Oh, oh, …