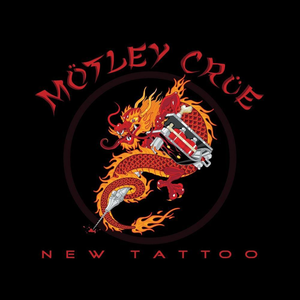 New Tattoo is the eighth studio album by the American hard rock band Mötley Crüe released in 2000. Artistically, New Tattoo shows the band going back to their sleazy rock sound that gave them commercial success in the 1980s. Long time drummer Tommy Lee left the band a year before, and was replaced by former Ozzy Osbourne drummer Randy Castillo on the album.


Album
The original line up of Mötley Crüe, which consisted of singer Vince Neil, bassist Nikki Sixx
Read Full Bio
New Tattoo is the eighth studio album by the American hard rock band Mötley Crüe released in 2000. Artistically, New Tattoo shows the band going back to their sleazy rock sound that gave them commercial success in the 1980s. Long time drummer Tommy Lee left the band a year before, and was replaced by former Ozzy Osbourne drummer Randy Castillo on the album.


Album
The original line up of Mötley Crüe, which consisted of singer Vince Neil, bassist Nikki Sixx, drummer Tommy Lee and guitarist Mick Mars, had reunited for the Generation Swine album and tour in 1997 mainly out of pressure from their management and record company.[1] Even though the group had reunited, problems still existed between Lee and Neil, as Lee felt that the band had been going in a backward direction since Neil rejoined the group. Lee was also having domestic problems with his wife, model Pamela Anderson which after an altercation following an argument, led to him serving time in jail.

While waiting for his sentencing, the band recorded two new songs for their 1998 Greatest Hits album, "Bitter Pill" and "Enslaved," which were more in vein of their 80s output compared to their work during the 1990s.

While Lee was in prison, he decided that he was going to leave Mötley Crüe and start his own project, which eventually became Methods of Mayhem. Lee stayed with the group for the tour of their greatest hits album, but after each show he would retreat to his portable studio and work on material for his new project.[1]


Recording
Mötley Crüe teamed up with producer Mike Clink to record the album that Sixx felt should have been the successor to their 1989 album, Dr. Feelgood.[1] With Lee gone, the band hired Neil's longtime friend Randy Castillo, who was Ozzy Osbourne's drummer for 10 years, to take his place.


Reaction
New Tattoo debuted at #41 on the Billboard album charts and slid down shortly after. According to Nielsen SoundScan, the album has sold about 203,000 copies in the U.S. to date.[2] Right before the tour in support of the album, Castillo fell ill. He was consequently replaced by Hole drummer Samantha Maloney. Reception towards her drumming was better than Castillo's as her style closely resembled Lee's. Castillo died on March 26, 2002.
Genre not found
Artist not found
Album not found
Search results not found
Song not found
Hell On High Heels
Mötley Crüe Lyrics
Bashful Betty, such a bondage brat
Dressed in latex and coated in sewer rat
A serpent's tongue calculating mind
Gets top billing for her hip shake divine
Look to the sky
No rain in sight
Better wear your rubber boys
If Betty is your date tonight
Honey, it's how ya makin' money
Boys call ya
Hell on high heels
Baby, the way ya walk it talk it
Town calls ya
Hell on high heels
Sexy Suki, little geisha girl
Given every samurai a twirl
An HIV v.i.p.
Backseat panties down around her knees
She's got no money
Can't pay the rent
It's a sunny day now baby
Every night on her back that's spent
Honey, it's how ya makin' money
Boys call ya
Hell on high heels
Baby, the way ya walk it talk it
Town calls ya
Hell on high heels
Honey, it's how ya makin' money
Boys call ya
Hell on high heels
Baby, the way ya walk it talk it
Town calls ya
Hell on high heels
Honey, it's how ya makin' money
Boys call ya
Hell on high heels
Baby, the way ya walk it talk it
Town calls ya
Hell on high heels
Honey, it's how ya makin money
Boys call ya
Hell on high heels
Baby, the way ya walk it talk it
Town calls ya
Hell on high heels
Lyrics © Warner Chappell Music, Inc., BMG Rights Management
Written by: NIKKI SIXX, MICK MARS, VINCE NEIL

Lyrics Licensed & Provided by LyricFind
To comment on specific lyrics,
highlight them