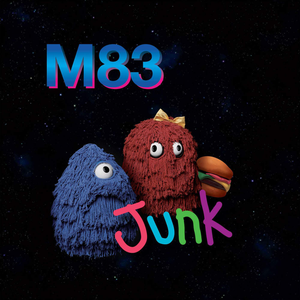 Junk is the seventh studio album by Los Angeles based French electronic music ba…
Read Full Bio ↴
Junk is the seventh studio album by Los Angeles based French electronic music band M83 (led by Anthony Gonzalez). The album was released on 8 April 2016 on Naïve Records (France) and Mute Records (US).

In a press release, Gonzalez explained the meaning of the new album's title, Junk: "Anything we create today is going to end up being space junk at one point anyway, and I find it really fascinating and scary at the same time - beautiful too in a way. I have this image of pieces of humanity floating in space, lost forever. It also means that nowadays everything goes so fast and everybody is kind of throwing away art in a certain manner. People will listen to an album for instance and just pick a track they like to put on a playlist. They're not going to take the time to listen to an album anymore because they have to jump on the next thing."

Gonzalez explained that his new album was inspired by 1970s and 1980s American TV shows such as Punky Brewster and Who's the Boss?: "I feel like TV shows are starting to sound and look the same. There's no more passion anymore. So this album is a tribute to those old-fashioned shows."

He also spoke about the new album with excitement: "It's a very strong album with a lot of eclecticism. It's very epic. There's a lot of different genres that are not supposed to live together but I tried to make them live together, which is quite challenging. It's also quite different from the previous albums which is what I'm the most proud of."

Fans can expect a different sound: "It's more fun and fresh than my last album. But it's good to take your listeners into a different maze, you know?" In a press release, Anthony Gonzalez further explained: "I want to show different sides of me on this album. I want to come back with something more intimate, yet somehow with…less me! All my albums have layers of eclecticism to them, but with this album I wanted to take that even further."

Several guests will be featured on the album, most notably Beck and Norwegian singer-songwriter Susanne Sundfør.

"Do It, Try It" was released as a first single on 1 March 2016.
Genre not found
Artist not found
Album not found
Search results not found
Song not found
Junk
M83 Lyrics
Atlantique Sud
Sans moteur Comment veux-tu que j'avance? J'ai perdu ton vis…
bibi the dog
Svelte, long et stable, comme portant le ciel Sur ses fines…
For The Kids
Where are you now? Who do you go to for a…
Go!
You, you, you, meet me, me, me At this station, station Can'…
Laser Gun
Small town, too hot I'm going for a trip A place where…
Road Blaster
I was driving at the dawn But everywhere I go, everywhere…
Solitude
Somewhere back in time I left a part of me, I…
Sunday Night 1987
Lost memories Faded pictures Can you drive me back To this v…
Time Wind
Wake me up from the long way that we've come Just…
Walkway Blues
Taking a foreign flight Looking for signs of life When you f…