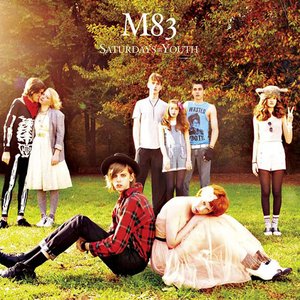 Saturdays = Youth is an album by French electronic group M83 released on April 1…
Read Full Bio ↴
Saturdays = Youth is an album by French electronic group M83 released on April 14, 2008.

The album was recorded with Ken Thomas (known for his work with Sigur Rós, The Sugarcubes, Cocteau Twins and Suede) and Ewan Pearson (who has also produced for Tracey Thorn, The Rapture and Ladytron).

"Couleurs" is the first single, released to digital retailers on February 25, 2008. The album's second single, "Graveyard Girl," was released on April 8, 2008 with the original album version as well as a remix by Yuksek. "Kim and Jessie" was the third single, released in July.

The album hit number 107 on the Billboard 200, was ranked 8th best album of 2008 by Pitchfork Media, and was voted best album of 2008 by Drowned In Sound and by Urban Outfitters.
Genre not found
Artist not found
Album not found
Search results not found
Song not found
Saturdays = Youth
M83 Lyrics
Couleurs
[Repeat: ] Chasing colors in my tears I need yourself…
Dark Moves of Love
The time is blowing out Dividing you and me Can you see…
Graveyard Girl
Death is her boyfriend She spits on summers and smiles to…
Highway of Endless Dreams
7 a.m. dusty road I'm gonna drive until it burns my…
Kim & Jessie
Kim and Jessie They have a secret world In the twilight Kids…
Skin of the Night
Like a moth she moves to the red light Her blood…
Too Late
I look into your eyes Diving into the ocean I look into…
Up!
[Repeat 2X] If I clean my rocket We'll go flying today And w…
We Own the Sky
Each shade of blue Is kept in our eyes Keep blowing and…
You Appearing
It's your face It's your face Where are we? It's your face W…