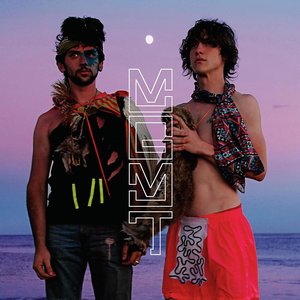 Oracular Spectacular is the first major label studio album by American band MGMT, released digitally October 2, 2007 on RED Ink Records and physically on January 22, 2008 by Columbia Records. The album, which has sold over 1 million copies worldwide, was nominated for best international album in the 2009 BRIT Awards. It features new versions of both "Kids" and "Time to Pretend", songs from their previous release, Time to Pretend EP (2005), the opening track serving as a "mission statement" and theme continued through the proceeding tracks. Though Oracular Spectacular never sold more than 17,000 in a week, it
Read Full Bio
Oracular Spectacular is the first major label studio album by American band MGMT, released digitally October 2, 2007 on RED Ink Records and physically on January 22, 2008 by Columbia Records. The album, which has sold over 1 million copies worldwide, was nominated for best international album in the 2009 BRIT Awards. It features new versions of both "Kids" and "Time to Pretend", songs from their previous release, Time to Pretend EP (2005), the opening track serving as a "mission statement" and theme continued through the proceeding tracks. Though Oracular Spectacular never sold more than 17,000 in a week, it has been a consistent seller since January 2008, selling at least 2,000 copies per week through April of 2010. In 2012, Rolling Stone ranked the album at number 494 on its list of The 500 Greatest Albums of All Time.
Genre not found
Artist not found
Album not found
Search results not found
Song not found
Time to Pretend
MGMT Lyrics
I'm feelin' rough, I'm feelin' raw
I'm in the prime of my life
Let's make some music, make some money
Find some models for wives
I'll move to Paris, shoot some heroin and fuck with the stars
You man the island and the cocaine and the elegant cars
This is our decision to live fast and die young
We've got the vision, now let's have some fun
Yeah, it's overwhelming, but what else can we do?
Get jobs in offices and wake up for the morning commute?
Forget about our mothers and our friends
We're fated to pretend
To pretend
We're fated to pretend
To pretend
I'll miss the playgrounds
And the animals and digging up worms
I'll miss the comfort of my mother
And the weight of the world
I'll miss my sister, miss my father
Miss my dog and my home
Yeah, I'll miss the boredom
And the freedom and the time spent alone
But there is really nothing, nothing we can do
Love must be forgotten, life can always start up anew
The models will have children, we'll get a divorce
We'll find some more models, everything must run its course
We'll choke on our vomit and that will be the end
We were fated to pretend
To pretend
We're fated to pretend
To pretend
I said yeah, yeah, yeah
Yeah, yeah, yeah
Yeah, yeah, yeah
Yeah, yeah, yeah
Lyrics © Universal Music Publishing Group
Written by: Andrew Vanwyngarden, Ben Goldwasser

Lyrics Licensed & Provided by LyricFind
To comment on specific lyrics,
highlight them