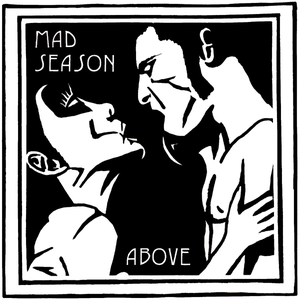 Above is the only studio album by the American rock supergroup Mad Season, released on March 15, 1995 through Columbia Records. The album has been certified gold by the RIAA in the United States. During the production of Pearl Jam's Vitalogy, guitarist Mike McCready went into rehab in Minneapolis, Minnesota, where he met The Lamont Cranston Band bassist John Baker Saunders. In 1994, when the two returned to Seattle, they formed a side band with Screaming Trees drummer Barrett Martin. Immediately the trio set up rehearsal time together and began writing material. McCready then brought in friend and Alice in
Read Full Bio
Above is the only studio album by the American rock supergroup Mad Season, released on March 15, 1995 through Columbia Records. The album has been certified gold by the RIAA in the United States.

During the production of Pearl Jam's Vitalogy, guitarist Mike McCready went into rehab in Minneapolis, Minnesota, where he met The Lamont Cranston Band bassist John Baker Saunders. In 1994, when the two returned to Seattle, they formed a side band with Screaming Trees drummer Barrett Martin. Immediately the trio set up rehearsal time together and began writing material. McCready then brought in friend and Alice in Chains frontman Layne Staley to round out the line-up.

The album was recorded in 1994 at Bad Animals Studio in Seattle, Washington. The band worked with producer Brett Eliason, who had previously worked with McCready as Pearl Jam's sound engineer. The album was mixed by Eliason.

The music for the songs "Wake Up" and "River of Deceit" came out of rehearsals that the group had before Staley joined. The song "Artificial Red" came together at a show that the band had at the Crocodile Cafe in October 1994. The songs "Lifeless Dead" and "I Don't Know Anything" were first premiered on Pearl Jam's January 8, 1995 Self-Pollution satellite radio broadcast, a four-and-a-half hour long pirate broadcast out of Seattle which was available to any radio stations that wanted to carry it. McCready said, "We did all the Mad Season music in about seven days. It took Layne just a few more days to finish his vocals, which was intense since we only rehearsed twice and did four shows. So this has been the most spontaneous thing I've ever been involved in. This was done even quicker than Temple of the Dog which took about four weeks...With Mad Season we just went in and started jamming on tunes and everybody had ideas and it just happened with three or four days."

During the making of the album, Staley read The Prophet by Khalil Gibran. Martin said, "Layne Staley felt as though he was on a spiritual mission through his music. Not a rock mission, a spiritual mission."

McCready described the songs on the album as "some jazzy stuff, some blues, some arena rock." Stephen Thomas Erlewine of Allmusic said that the album "sounds like a cross between Alice in Chains and Pearl Jam, taking the ponderous seriousness of Alice and PJ's '90s update of winding '70s guitar rock."

Vocalist Mark Lanegan of Screaming Trees contributes guest vocals on "I'm Above" and "Long Gone Day". "I Don't Know Anything"'s verse bar features a droning guitar melody with feedback in a fashion comparable to Black Sabbath's "Iron Man". "Long Gone Day" takes influence from genres as diverse as jazz, progressive rock, classic rock, and blues. Saxophonist Skerik contributes to the song.

Staley's lyrics dealt with his struggle against addiction as well as other personal troubles. Lyrically, much of "River of Deceit" was inspired by Khalil Gibran's The Prophet.

The album was released to critical and commercial success. Over the course of 1995, Above scaled the Billboard 200 album chart eventually peaking at number 24. Above has been certified gold by the RIAA.

Allmusic staff writer Stephen Thomas Erlewine gave the album three out of five stars, saying that "the album meanders without much direction, yet there are flashes of invention, particularly in Staley's work, with McCready contributing a few tasty licks." Rolling Stone staff writer Barbara Davies gave Above two and a half out of five stars, saying that Mad Season "take artistic risks and set out to make something fresh on Above." However, she criticized the album for having a "hit-or-miss quality." Davies ended the review by stating that "the band is — at times — more than the mere sum of its parts." Chuck Eddy of Entertainment Weekly gave the album a C. He said, "A sax solo and zooming guitars provide momentary relief, but most Mad Season sludge is unbearably immobile." He ended by saying, "It's big trouble when one of the most upbeat songs is called 'Lifeless Dead'."

Above included the singles "River of Deceit", "I Don't Know Anything", and "Long Gone Day". The lead single "River of Deceit" had an accompanying music video, while other music videos were taken from performances from the band's home video release, Live at the Moore. "River of Deceit" was the most successful song from Above on the rock charts, reaching number two on the Mainstream Rock charts and number nine on the Modern Rock charts. "I Don't Know Anything" also charted on the Mainstream Rock charts. "River of Deceit" is arguably the group's best known song while "I Don't Know Anything" still maintains modest radio play today.

The album's gloomy, black and white cover art was illustrated by Staley. The drawing was based upon a photograph of Staley and his then-girlfriend, Demri Parrott. The album's title comes from the song "I'm Above".
Genre not found
Artist not found
Album not found
Search results not found
Song not found
Wake up young man
It's time to wake up
Your love affair has got to go
For ten long years
For ten long years
The leaves to rake up
Slow suicide's no way to go
Oh
Blue clouded gray
You're not a crack up
Dizzy and weakened by the haze
Movin' onward
So an infection not a phase
Yeah oh
The cracks and lines
From where you gave up
They make an easy man to read
Oh oh, oh oh
For all the times
You let them bleed you
For a little peace from God you plead
And beg
For a little peace from God you plead
Oh oh oh oh
Yeah oh
Oh oh oh oh
Yeah oh
Oh oh oh oh
Yeah oh
Wake up young man
Wake up, wake up, wake up
Wake up, wake up, wake up
Oh yeah
Wake up young man
It's time to wake up
Your love affair has got to go, yeah
For ten long years
For ten long years
The leaves the rake up
Slow suicide's no way to go oh, oh oh
Slow suicide's no way to go
Wake up, wake up, wake up
Wake up, wake up, wake up
Lyrics © Kobalt Music Publishing Ltd.
Written by: Mike McCready, Layne Staley, John Saunders, Barrett Martin

Lyrics Licensed & Provided by LyricFind
To comment on specific lyrics,
highlight them