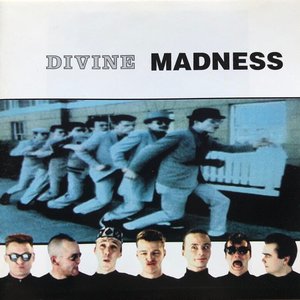 Divine Madness is the 1992 greatest hits album from the British ska/pop band Madness. It presents the group's single A-sides in chronological order, though sometimes in their LP rather than single versions. The 1992/1995 Japanese CD versions add In The City, which was a single there. The album peaked at number 1 in the UK charts, and it eventually led to a Madness reunion and their first concert in six years (which was recorded for their Madstock! album). Divine Madness was also released as a video and eventually DVD with all Madness music videos, including "Bed & Breakfast Man", "Sweetest
Read Full Bio
Divine Madness is the 1992 greatest hits album from the British ska/pop band Madness.

It presents the group's single A-sides in chronological order, though sometimes in their LP rather than single versions. The 1992/1995 Japanese CD versions add In The City, which was a single there.

The album peaked at number 1 in the UK charts, and it eventually led to a Madness reunion and their first concert in six years (which was recorded for their Madstock! album).

Divine Madness was also released as a video and eventually DVD with all Madness music videos, including "Bed & Breakfast Man", "Sweetest Girl" and "I Pronounce You", the latter performed by spin-off group The Madness. The group's Japanese TV adverts for Honda City cars were also included.

The album was re-packaged in 1998 as The Heavy Hits with the addition of the single version of "The Sweetest Girl" (placed in its correct chronological position after "Uncle Sam").

In 2000 it was re-issued, under its original title of Divine Madness, with the further singles "Lovestruck" and "Johnny the Horse" included, but once again omitting "The Sweetest Girl". The album versions of "The Prince", "One Step Beyond...", "The Return of the Los Palmas 7", "Cardiac Arrest", "Shut Up" and "Tomorrow's Just Another Day" were replaced with the single versions, although the heavily edited version of "Shut Up" was used, which, at 2:51, fades out more than 30 seconds short of the actual single version.
Genre not found
Artist not found
Album not found
Search results not found
Song not found
The Prince
Madness Lyrics
Buster, he sold the heat with a rock-steady beat
An earthquake is erupting, but not in Orange street
A ghost-dance is preparing, You got to help us with your feet
If you're not in the mood to dance, step back, grab yourself a seat
This may not be uptown Jamaica, but we promise you a treat
Buster, bowl me over with your bogus dance, shuffle me off my feet
Even if I keep on runnin', I'll never get to Orange street
So I'll say there's nothin' left to say, for the man who set the beat
So I'll leave it up to you out there, to get him back on his feet
Buster, bowl me over with your bogus dance, shuffle me off my feet
Even if I'll keep on runnin', I'll never get to Orange Street
Bring back the
Who is the
We want the
Lyrics © Sony/ATV Music Publishing LLC
Written by: CATHAL JOSEPH SMYTH, CHRISTOPHER JOHN FOREMAN, DANIEL MARK WOODGATE, GRAHAM MCPHERSON, LEE THOMPSON, LEE JAY THOMPSON, MARK WILLIAM BEDFORD, MICHAEL BARSON

Lyrics Licensed & Provided by LyricFind
To comment on specific lyrics,
highlight them