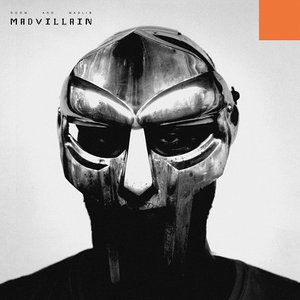 Madvillainy is the legendary collaboration between rapper MF DOOM and producer Madlib under the group name Madvillain. It is considered one of the greatest hip-hop albums ever. It was released on March 23, 2004, on Stones Throw Records. The album was recorded between 2002 and 2004. Madlib created most of the instrumentals during a trip to Brazil in his hotel room using minimal amounts of equipment: a Boss SP-303 sampler, a turntable, and a tape deck. Fourteen months before the album was released, an unfinished demo version was stolen and leaked onto the internet. Frustrated, the duo stopped working on
Read Full Bio
Madvillainy is the legendary collaboration between rapper MF DOOM and producer Madlib under the group name Madvillain. It is considered one of the greatest hip-hop albums ever. It was released on March 23, 2004, on Stones Throw Records.

The album was recorded between 2002 and 2004. Madlib created most of the instrumentals during a trip to Brazil in his hotel room using minimal amounts of equipment: a Boss SP-303 sampler, a turntable, and a tape deck. Fourteen months before the album was released, an unfinished demo version was stolen and leaked onto the internet. Frustrated, the duo stopped working on the album and returned to it only after they had released other solo projects.

While Madvillainy achieved only moderate commercial success, it became one of the best-selling Stones Throw albums. It peaked at number 179 on the US Billboard 200, and attracted attention from media outlets not usually covering hip-hop music, including The New Yorker. Madvillainy received widespread critical acclaim for Madlib's production and MF DOOM's lyricism, and is regarded as DOOM's magnum opus. It has ranked in various publications' lists of all-time greatest albums, including at 411 on NME's list of The 500 Greatest Albums of All-Time, at 365 on Rolling Stone's 500 Greatest Albums of All Time, and at 18 on Rolling Stone's 200 Greatest Hip-Hop Albums of All Time.

MF DOOM and Madlib were off the radar to many in 2003, but the announcement of a collaboration and the first track, "America's Most Blunted", brought all the quiet fans out of the woodwork, and led to a controversial and highly acclaimed album release in early 2004 that helped expose the two artists to a large audience for the first time. While the producer and MC both did what was completely natural to them, they turned the formula of popular rap at the time on its head, creating an album that is both unique and true to its hip-hop influences.

Several remixes of the album were released. Two remix EPs of Madvillainy were released on Stones Throw in 2005. The remixes were done by Four Tet and Koushik. Madvillainy 2: The Madlib Remix was released on Stones Throw in 2008, containing a complete remix of the album by Madlib as a part of a Madvillain box set. According to Stereogum, it was Madlib's "attempt to get DOOM excited enough to work on a true follow-up", recorded after he got tired of waiting for DOOM to record the official sequel.

In 2001, after Fondle 'Em closed, DOOM disappeared. During that time, he lived between Long Island, New York, and Kennesaw, a suburb of Atlanta, Georgia. Coincidentally, Eothen "Egon" Alapatt, who was the manager of Madlib's label Stones Throw Records, had a friend in Kennesaw. He asked the friend to give DOOM (who did not know about Madlib and Stones Throw at the time) some instrumentals from Madlib. Three weeks later, the friend called back, telling him that DOOM loved the instrumentals and wanted to work with Madlib. Soon, one of DOOM's "quasi-managers" made an offer, asking for plane tickets to Los Angeles and $1,500. Despite the fact that the label didn't have enough money after buying the tickets, they immediately agreed. According to Egon, soon after arrival, the manager went to him demanding money, while DOOM visited Madlib:

"The first thing his manager did was get me in my bedroom, which was also the office, and corner me about the 1,500 bucks. I realized that if she was in here, then DOOM was with , and the longer I kept up this charade with her, the longer they'll vibe and maybe it all might work out."

Egon's plan was successful, and DOOM and Madlib began working together. Soon after, Stones Throw Records managed to collect the money necessary to pay DOOM and a contract to the label was signed, which was written on a paper plate.

DOOM and Madlib started working on Madvillainy in 2002. Madlib created one hundred beats in a matter of weeks, some of which were used on Madvillainy, some were used on his collaboration album with J Dilla "Champion Sound", while others were used for M.E.D.'s and Dudley Perkins' albums. Even though Stones Throw booked DOOM a hotel room, he spent most of the time in Madlib's studio, based in an old bomb shelter in Mount Washington, Los Angeles. When the duo wasn't working on the album, they were spending free time together, drinking beer, eating Thai food, smoking marijuana, and taking psychedelic mushrooms. "Figaro" and "Meat Grinder" were among the songs recorded during this time.

In November 2002, Madlib went to Brazil to participate in a Red Bull Music Academy lecture, where he debuted the first music from the album by playing an unfinished version of "America's Most Blunted". Madlib also went crate digging during his time in Brazil, searching for obscure vinyl records he could sample later, with fellow producers Cut Chemist, DJ Babu, and J.Rocc. According to Madlib himself, he bought multiple crates full of vinyl records, two of which he later lost. He used some of these records to produce beats for Madvillainy. Most of the album, including beats for "Strange Ways", "Raid", and "Rhinestone Cowboy", was produced in his hotel room in São Paulo, using a portable turntable, a cassette deck, and a Boss SP-303 sampler. While Madlib was working on the album in Brazil, the unfinished demo was stolen and leaked on the internet, 14 months before its official release. Jeff Jank, Stones Throw's art director, remembers the leak in the interview with Pitchfork:

Those were the early days of internet leaks, and we thought it would completely ruin sales. People were approaching DOOM and Madlib at shows to tell them how much they liked the album, so they were like, 'Fuck it, I'm done.' Madlib started on other stuff, and DOOM, well, you never know what he's doing.

DOOM and Madlib decided to work on different projects. Madlib released Champion Sound with J Dilla, while DOOM released two solo albums: "Take Me to Your Leader" as King Geedorah, and "Vaudeville Villain" as Viktor Vaughn. Nevertheless, after the release of these albums, they decided to return to Madvillainy. For the final version of the album, DOOM altered his voice, described by Peanut Butter Wolf as going from "really hyper, more enthusiastic" to "a more mellow, relaxed, confident, less abrasive", and changed some lyrics to coincide with this change. Madlib was also asked by the label to change some instrumentals, but told them that he forgot the samples he used, in order to allow for them to remain on the album. Additionally, the label also requested the duo make a proper ending for the album, forcing them to rent a studio for the recording of "Rhinestone Cowboy". The beat used, however, was produced in Brazil.

The album consists of 22 songs, most of which are short, under 3 minutes, and contain no hooks or choruses. DOOM's lyrics on Madvillainy are free-associative. According to Stereogum, the album "is about using sound to craft semi-indecipherable vignettes that are situated somewhere between the real and the mythical". Despite originally featuring a more enthusiastic, excited delivery, the leak prompted DOOM to go with a slower and more relaxed flow on the final version of the album. This move has been praised by various publications, including Pitchfork, which said that it was "ultimately better-suited" than the original.

Throughout the album, DOOM uses a number of literary devices, including multi-syllable rhymes, internal rhymes, alliteration, assonance, and holorimes. Music critics also noted the extensive use of wordplay and double entendres. PopMatters wrote, "You can spend hours poring over the lyric sheet and attempting to grok DOOM's infinitely dense verbiage. If language is arbitrary, then many of DOOM's verses exploit the essence of words stripped of meaning, random conglomerations of syllables assembled in an order that only makes sense from a rhythmical standpoint", the critic added. The Observer stated that "the densely telegraphic lyrics almost always reward closer inspection" and that DOOM's "rhymes miss beats, drop into the middle of the next line, work their way through whole verses" allows for a smooth listen.

The album cover art was created by Stones Throw's art director Jeff Jank, based on a grayscale photo of DOOM in his metal mask. In an interview with Ego Trip, Jank said:

"Back then, 2003, DOOM didn't really have public image. Hip-hop heads knew he wore a mask, that he'd been in KMD a decade earlier, but he really was a mystery. So, I really wanted to get a shot of him on the cover, just to make a definitive 'DOOM cover'. Specifically, I was thinking of a picture of this man, who happened to wear a mask for some reason, as opposed to 'a picture of a mask'. I don't know if the distinction would occur to anyone else, but to me it was a big deal. I mean, who the hell goes around with a metal mask, what's his story?"

The photo was created by photographer Eric Coleman at Stones Throw's house in Los Angeles, and edited by Jank. While working on the Madvillainy album cover, Jank drew inspiration from King Crimson's "In the Court of the Crimson King" artwork, however, following its completion, he noticed the artwork eerily resembled Madonna's "Madonna" artwork. Despite this, Jank stuck with the original artwork, labeling it as the "rap version of Beauty and the Beast". A small orange square was added to the final version of Madvillainy, due to Jank's thinking that the artwork "needed something distinctive", comparing it to the orange "O" on the Madonna cover.

Madvillainy influenced a generation of artists. Among some of them are rappers Joey Badass, the late Capital STEEZ, Bishop Nehru, Tyler, The Creator, Earl Sweatshirt, Danny Brown, Kirk Knight, producer and rapper Flying Lotus, producer and DJ Cashmere Cat, neo-soul collective Jungle, indie rock band Cults, and Radiohead singer Thom Yorke. The singer Bilal names it among his 25 favorite albums. According to Earl Sweatshirt, Madvillainy influenced his generation the same way Wu-Tang Clan influenced the rappers of the 1990s with their album "Enter the Wu-Tang (36 Chambers)". In 2009 a video of Mos Def working on his album "The Ecstatic" in a studio was released. In the video he praised DOOM, saying that "he rhymes as weird as I feel", and recited some of DOOM's lines, including the ones from Madvillainy. He added:

"Dude, I swear to God, when I saw that Madvillain record, I bought it on vinyl. I ain't have a record player. I bought it on vinyl just to stare at the album. I stared at it and I just kept going, 'I understand you'."

In 2015, in honor of the release of All-New, All-Different Marvel comics line and to pay homage to classic and contemporary hip-hop albums, Marvel released variant covers inspired by these albums. One of them was variant cover of The Mighty Thor comics, based on Madvillainy cover. It used grayscale image of Jane Foster's face behind the metal mask, with a picture of Mjolnir in a small orange square on top right corner and THE MIGHTY THOR text in pixelated font on top left.
Genre not found
Artist not found
Album not found
Search results not found
Song not found
The Illest Villains
Madvillain Lyrics
As luck would have it, one of america's two most powerful villains of the next decade is turned loose to strike terror into the hearts of men
Who shock women into uncontrolled hysteria
"don't touch that!"
The villains themselves were ultimately responsible for much of the popularity
Audiences loved to hate
The importance of the villain was not overlooked, of course one of the worst of all was madvillain
They had no code of ethics
"what's the matter, a guy was only tryin' to have fun-"
"get to work on these boys, anybody bring a gun for me?"
"yeah here's one."
Not one but two - typical villain releases included
"I know they wanna kiss me, but don't let anyone see me like that - please doctor help me!"
And a sequel
"master of all-"
Both the villains were to meet in
"your mother was the lightning!"
Two historical figures, outlaws and desperadoes if that
The villainous pair of really nice boys who just
Happened to be on the wrong side of the law
Three hundred and sixty degrees
Similar sequences could not be defeated
Villains who possess supernatural abilities
Villains who were the personification of carnage
Madvillain, more accurately, the dark side of our beings
Perhaps it is due to this seminal connection
That audiences can relate their experience
In life with the villains and their dastardly doings
Lyrics © Kobalt Music Publishing Ltd.
Written by: Daniel Dumile Thompson, Otis Jackson

Lyrics Licensed & Provided by LyricFind
To comment on specific lyrics,
highlight them