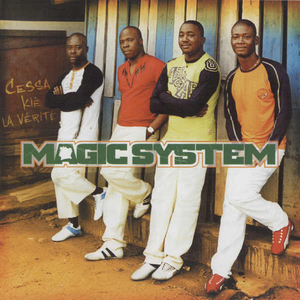 Magic System is a musical group from Abidjan in the Côte d'Ivoire (Ivory Coast), founded in 1996, featuring Salif "Asalfo" Traoré, Narcisse "Goude" Sadoua, Etienne "Tino" Boué Bi, and Adama "Manadja" Fanny.

Magic System's recordings, in the Zouglou dance style, have featured in the charts throughout Africa (selling over 1.5 million CDs), the West Indies and in France, where the band became one of the most popular modern African artists.
Genre not found
Artist not found
Album not found
Search results not found
Song not found
Gagoule Yah Yah Goule Gagoule 2X
Kizimoh oh
Gagoule Yah Yah Goule Gagoule 2X
On dit rien est tard si la vie se prolonge
C'est au pied du mur qu'on voit le vrai macon oh.
Toi le vieux Digbeu tu fais ton cafe cacao
Tu viens Abidjan tu dis tu cherches femme de feu
Ya Goule Gagoule ca fait pitie oh
Refrain
Il est vrai qu'on nous a toujours dit derriere un grand homme se cache une dame de feu mais souvent les dames de feu il y a des petits pompiers.
Il a sa femme de feu chaque fois qu'il retourne au village, derriere lui Abidjan il y a un petit pompier.
On a beau critiquer femme c'est femme oh
Quoi qu'on dise elles peuvent pas changer
Refrain
(attalakou)
Le vieux qui la la il n'ecoute pas les on dit oh
Pour lui c'est vis-a-vis
Mille jours pour le voleur, un jour pour le proprietaire oh
Ye Goule Gagoule ca fait pitie
(Attalakou)
Un bon matin c'est a dire six heure du matin qui frappe a la porte c'est petit pompier qui ouvre oh.
Bonjour mon petit, allons on va t'assoir.
C'est la j'ai vu que femme est forte.
Malgre tout ca la elle ne s'est pas genee oh.
Elle cree causerie ou elle parle d'horoscope oh
Quel est ton zodiac, pompier dit c'est Lion.
Elle pose la meme question au vieux
Refrain
(Attalakou)
Le vieux dit J'a mouton parce que c'est mouton qui peut payer maison et puis lion va dormir dedans
Le reste la je connais pas oh
Vous meme imaginez ce que le vieux va faire
Contributed by Matthew E. Suggest a correction in the comments below.
To comment on specific lyrics,
highlight them