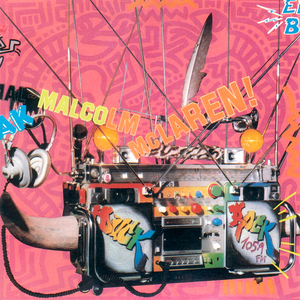 Malcolm McLaren (22 January 1946, London, UK – 8 April 2010, Switzerland) had a varied career starting from Art School dropout to Kings Road merchant, moving into band manager, socio-political instigator, quasi-musician himself, wry social commentator & influential media manipulator. In the late 1960s he started designing clothes and by 1972 he opened a clothing boutique in London with his then girlfriend, Vivienne Westwood.

In 1975, after a failed
Read Full Bio
Malcolm McLaren (22 January 1946, London, UK – 8 April 2010, Switzerland) had a varied career starting from Art School dropout to Kings Road merchant, moving into band manager, socio-political instigator, quasi-musician himself, wry social commentator & influential media manipulator. In the late 1960s he started designing clothes and by 1972 he opened a clothing boutique in London with his then girlfriend, Vivienne Westwood.

In 1975, after a failed stint at managing & relaunching the image of the notoriously hard living and chaotic band the New York Dolls, Malcolm nurtured the formation of one of the most infamous punk bands in history, The Sex Pistols. He became their manager, and controlled their contracts, as well as most importantly to him, their image in the media. The venture ended in a disastrous US tour, and a film called "The Great Rock And Roll Swindle" that featured McLaren, and glorified his untraditional Situationist PR approach and manipulative Svengali-esque role in the band's career.

In the '80s, after the Sex Pistols had long broken up, Malcolm became the manager of another band, Adam and the Ants which veered away from punk's coarse format via new romantic pirate garb and poly rhythmic African style drumming. When Adam Ant rebelled and left the band, Malcolm repackaged the musicians with a 14 year old Anglo/Burmese girl named Annabella Lwin to form the band Bow Wow Wow. He soon used his headline making skills to propel the band and their underage lead singer to the top of the charts with a nude album cover scandal.

In the early 1980's, Malcolm began producing his own records, beginning with the hits "Buffalo Gals" and "Double Dutch" from the groundbreaking 1983 album "Duck Walk" which used NYC hip hoppers and scratch DJ's The World Famous Supreme Team, as its foundation. Future members of Art of Noise performed on, produced, and/or jointly composed various tracks. He next turned to opera, masterminding a pop adaptation of "Madam Butterfly" on the album "Fans" using an assortment of female vocalists, and skilled musician Robby Kilgore on the tracks.

McLaren has released numerous other albums and tracks since, including contributions to the movie soundtracks of Carry On Columbus, and Kill Bill 2, but his musical career peaked with his 1980's works. McLaren's original "Double Dutch" era material has since been reappropriated and sampled by sucessful artists including Mariah Carey, Eminem, Amerie and De La Soul.

In his later years, McLaren occasionally contributed to newspapers and magazines, directed and produced films and appeared on British reality television programmes. He died on the morning of 8 April 2010, following a battle with cancer.
Genre not found
Artist not found
Album not found
Search results not found
Song not found
Obatala
Malcolm McLaren Lyrics


We have lyrics for 'Obatala' by these artists:



Celia Cruz El Hijo de Obatala Ray Barreto Eñeñeñeñeñeñeñe Enñeñeñ…



We have lyrics for these tracks by Malcolm McLaren:



07 Paris Paris I feel love, Paris Paris Love to love, Paris Paris…
About Her My man's Got a heart Like a rock Cast in…
Buffalo Gals Haaaaaa, Ha-la-ha-la, Ba - Ba - Ba - Ba -…
Buffalo Gals (DJ Cut Haa, ha-la-ha-la Ba-ba-ba-ba-ba-ba-ba Ba-ba-ba (Baa-ba) …
Call a Wave After the summer holidays I decided to shed my clothes forev…
Club Le Narcisse A secret history of a time to come The free explosion,…
Deep In Vogue This has got to be a special tribute to the…
Double Dutch All over the world high school girls Take to the ropes…
Double Dutch 12" All over the world high school girls Take to the ropes…
Duck For The Oyster Hit it maestro Duck rock All join hands and circle south…
I Like You In Velvet There's a girl I simply dote on She has no single…
Jazz Is Paris I wore black on sashe ma de treis Feelings in the…
Jive My Baby Tina Tina says you can dress her She loves you She loves to…
La Main Parisienne In this crowded desert they call Paris I've been watching yo…
Madam Butterfly Back in Nagasaki I got married to Cho Cho San That…
Madame Butterfly Madam Butterfly From the opera "Madam Butterfly" by Puccini…
Paris Paris I feel love, Paris Paris Love to love, Paris Paris…
Revenge of the Flowers Le parfum sucrй de vos roses s'йvapore Et moi je compose Vou…
Shall We Dance Written by: Malcolm McLaren INTRODUCING PRETTY FATT Like t…
Something Lisa-Marie you're a beautiful girl Do you really think so? …
Walking With Satie Tracing back my steps in time All I do is think…
Waltz Darling A sweet tuxedo girl you see Queen of ball society Fond of…

The lyrics can frequently be found in the comments below, by filtering for lyric videos or browsing the comments in the different videos below.

Help us build the world's largest lyrics collection by contributing lyrics in the comments below.