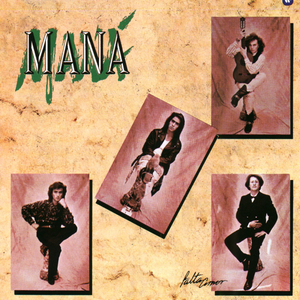 There is more than one artist with this name:

1) Maná (note the accent) …
Read Full Bio ↴
There is more than one artist with this name:

1) Maná (note the accent) is a Mexican rock group that had its origins near the end of the 1970s in Guadalajara, Jalisco, México. Their sound has strong influences from hard rock and more mellow pop sounds with additional influences from calypso and reggae. They started with the name "Sombrero Verde", but in the late 80's it was changed to the current name. They have a long trajectory as musicians and the band underwent two lineup changes in the 90's. The most known members are Fher Olvera in the vocals, and author of most of the songs they play, and Alex, the drummer.
The group's current line-up consists of vocalist/guitarist Fher Olvera, drummer Alex González, guitarist Sergio Vallín, and bassist Juan Calleros. Considered the biggest latin rock band in the world, Mana has earned four Grammy Awards, seven Latin Grammy Awards, five MTV Video Music Awards Latin America, six Premios Juventud awards, fourteen Billboard Latin Music Awards and fifteen Premios Lo Nuestro awards.

The band formed in 1986 and released its first album, Falta Amor, in 1990. In 1992, the group released ¿Dónde Jugarán Los Niños?, which sold more than 8 million copies worldwide,[citation needed] becoming the best selling Spanish-language rock album of all time. After several lineup changes, the group released Cuando los Ángeles Lloran (1995), which is noted for its stylistic departure from the band's previous work. Maná followed with Sueños Líquidos (1997), Revolución de Amor (2002), and Amar es Combatir (2007), which continued the group's success. The band's most recent album, Drama y Luz, was released in April 2011.

The band's sound draws from the pop rock, Latin pop, calypso, reggae and ska music genres. They initially received international commercial success in Australia and Spain and have since gained popularity and exposure in the US, Western Europe, Asia, and the Middle East. No other latin rock act sales more albums or arenas with the consistensy of Maná. The band has sold an estimated 35 million albums worldwide.[1]
NOT to be confused with:
2) Mana (being converted to 'Maná' due to old last.fm moderation system) is a Japanese musician and fashion designer, famed for his role as the leader and guitarist of the influential visual kei band MALICE MIZER. He was known for his cross dressing during his work with Malice Mizer, but has since dropped the practice except for when modeling Moi-même-Moitié products. He is widely considered the creator and figurehead of Japan's Gothic Lolita fashion movement. Moi dix Mois is Mana's current project.

3) Mana "MANA is a Baha'i inspired Pacific Island music and cultural performance group based in Australia. The members of MANA are originally from Samoa, Tonaga, Tahiti and the Cook Islands." From http://www.mana-music.com/

4) Maná, a former Japanese band that performed two image songs for the anime movie, Patlabor 2: The Movie (機動警察パトレイバー, Kidō keisatsu patoreibā the movie 2).
Genre not found
Artist not found
Album not found
Search results not found
Song not found
Falta Amor
Maná Lyrics
Buscándola
Ando buscándola en las fronteras Ando buscándola en las palm…
Estoy agotado
El sol ya está saliendo y yo apenas voy llegando Y…
Falta amor
Hoy ya la libró de comer, pobre niño de la…
Gitana
Soñé que la perdía, es verdad ¿Dónde estás chiquita, dónde…
La Puerta Azul
La conoció de quince años El abrió la puerta azul, se…
Maeo
Ay María mi morena que hermosa estás Mi costeña mexicana…
No me mires así
Ya no me mires más así Eres la novia de mi…
Perdido en un barco
Salgo en un crucero hacia el mar Destino el Caribe Pero este…
Rayando el sol
Rayando el sol Rayando por ti Esta pena, me duele, me quema…
Refrigerador
Llego de la fiesta muy frustrado pues nada cayó, auh El…
Soledad
Pa, pa-ra-ra-ra, pa-pa-ra Pa, pa-ra-ra-ra, pa-pa-ra Despier…