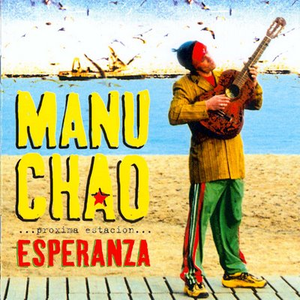 Próxima Estación: Esperanza
Próxima Estación: Esperanza (English: Next Stop: Hope) is an album by Manu Chao. It was released in Europe in 2001. It was released in the United States on 5 June 2001 on Virgin Records. Chao and others sing in Arabic, English, French, Galician, Portuguese and Spanish on this album. The name comes from a sample of an announcement for the Esperanza station of Madrid Metro's Line 4; in Spanish "esperanza" means "hope". The voice actor Javier Dotú and a Metro announcer later sued for infringement of intellectual copyright over the use of their voices. Próxima Estación: Esperanza received a Grammy
Read Full Bio
Próxima Estación: Esperanza (English: Next Stop: Hope) is an album by Manu Chao. It was released in Europe in 2001. It was released in the United States on 5 June 2001 on Virgin Records. Chao and others sing in Arabic, English, French, Galician, Portuguese and Spanish on this album.

The name comes from a sample of an announcement for the Esperanza station of Madrid Metro's Line 4; in Spanish "esperanza" means "hope". The voice actor Javier Dotú and a Metro announcer later sued for infringement of intellectual copyright over the use of their voices.

Próxima Estación: Esperanza received a Grammy nomination for Best Latin Rock/Alternative Performance. In 2010 Esperanza was listed at #65 in Rolling Stone‍ '​s "Best Albums of the Decade." In 2012, the album listed at #474 on the Rolling Stone's The 500 Greatest Albums of All Time.
Genre not found
Artist not found
Album not found
Search results not found
Song not found