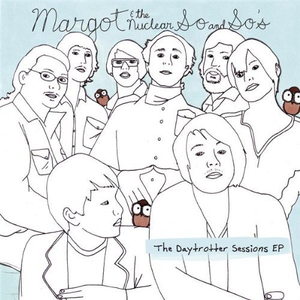 The Daytrotter Sessions EP
Margot & the Nuclear So and So's is a 6-piece indie-pop/orchestral pop band from Indianapolis, Indiana. The band, which was formed in 2004 by Richard Edwards and Andy Fry (formerly of Archer Avenue and The Academy, respectively), is currently signed to Epic Records.

Their debut album, The Dust of Retreat came out in 2006. At this time, the band was signed to Artemis Records and had 8 members. In 2008 the band signed to Epic Records and (on 7 October) released two new albums, Animal! and Not Animal.
Read Full Bio
Margot & the Nuclear So and So's is a 6-piece indie-pop/orchestral pop band from Indianapolis, Indiana. The band, which was formed in 2004 by Richard Edwards and Andy Fry (formerly of Archer Avenue and The Academy, respectively), is currently signed to Epic Records.

Their debut album, The Dust of Retreat came out in 2006. At this time, the band was signed to Artemis Records and had 8 members. In 2008 the band signed to Epic Records and (on 7 October) released two new albums, Animal! and Not Animal. The band originally planned to just release "Animal!". However, Epic disagreed on their song choice, and compiled a different list, which would later become "Not Animal". Eventually, after dispute over which version would be released, it was decided to release both at the same time.

In August 2009, 5 of the band's members left. They are all involved in other projects, most notably Pravada.

While the band, and Richard specifically have given many explanations to the band's name; this is all in fun. As the name was created as an anti-name; not meant to have any real meaning, just to make fun of other ridiculous names. The name "Margot" comes from Gweneth Paltrow's character in Wes Anderson's "The Royal Tenenbaums".

The band's sound, categorized as "chamber pop", has been compared to the indie rock groups Arcade Fire, The Decemberists, and The Shins, while incorporating elements of singer/songwriters like Paul Simon and Conor Oberst.

Current Members are:
Richard Edwards - lead vocals, guitar, bells, melodica, banjo
Ronnie Kwasman - lead guitar
Tyler Watkins - bass guitar
Brian Deck - drums
Eric Kang - guitar
Cameron McGill

Former Members include:
Emily Watkins - keys, backup vocals
Andy Fry - guitar, bass, lap steel, percussion
Jesse Lee - cello
Casey Tennis - percussion
Chris Fry - drums, percussion
Genre not found
Artist not found
Album not found
Search results not found
Song not found