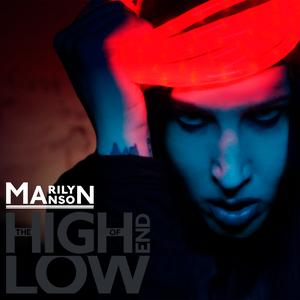 The High End of Low is the seventh studio album by Marilyn Manson. Sean Beavan, who mixed Antichrist Superstar, Mechanical Animals, and Eat Me, Drink Me, is co-producer of the album along with Chris Vrenna. The album was released on May 25 2009 in the United Kingdom and May 26, 2009 in the United States. The album's first radio single "Arma-Goddamn-Motherfuckin-Geddon" was released on May 18, 2009. Reviews were mixed, with some criticizing the repetitiveness of the music and lacklustre ideas
Read Full Bio
The High End of Low is the seventh studio album by Marilyn Manson. Sean Beavan, who mixed Antichrist Superstar, Mechanical Animals, and Eat Me, Drink Me, is co-producer of the album along with Chris Vrenna. The album was released on May 25 2009 in the United Kingdom and May 26, 2009 in the United States. The album's first radio single "Arma-Goddamn-Motherfuckin-Geddon" was released on May 18, 2009. Reviews were mixed, with some criticizing the repetitiveness of the music and lacklustre ideas, while others praised a more human Manson following his divorce, and a return to the sound of the well-received Mechanical Animals. The album debuted at number four on the Billboard charts, falling to number 24 and 60 on its second and third weeks.

On November 29, 2007, it was reported that Marilyn Manson planned to begin writing songs for their seventh studio album. Pre-production began following the band's Rape of the World tour, which ended on March 2, 2008. Jeordie "Twiggy Ramirez" White, who had collaborated with Manson on numerous previous projects was confirmed as a collaborator, and also mentioned as possible contributors were Kerry King (of Slayer) and James Iha (former guitarist of The Smashing Pumpkins), though ultimately only White would be involved. The album was recorded in Manson's Hollywood Hills studio and the first single ("We're From America") was made available for download from MarilynManson.com on March 27th, 2009.

The album received mixed reviews; some critics felt it sounded diluted and repetitive while others praised the album for showing Manson's more human face after his divorce and best material since Mechanical Animals.

Allison Stewart from The Washington Post gave the album a positive review saying that Manson's divorce from burlesque dancer Dita Von Teese has led to a new musical high. "He doesn't seem to realize it, but he's much more interesting, much more human, as a spurned lover than he is as a fusty culture war relic, rattling his chains."

Spin writer Doug Brod gave a positive review and stated "While it's still easy to dismiss his shock tactics as puerile and insensitive he hasn't sounded this vital -- and tuneful -- since Mechanical Animals."

The BBC review states that the new album sees Manson resurrected after the lacklustre Eat Me, Drink Me, with credit given to the skilled bass work on the album. The review sums up the album by saying that it "proves there's still a fair dose of blood and bile to pour from his carcass yet. More impressively, at its best it provides a pointed satirical commentary on noughties America." "We're From America" was cited as the strongest track on the new album.

Planet Sound gave the album a positive review, citing it as his best work since Mechanical Animals and that Manson has his "preening confidence back. It results in strutting glam and magnificently OTT ballads, with Manson engaged with sounding alien again."

Los Angeles Times reviewer Mikael Wood states that the band even provide a "surprise or two, as in "Running to the Edge of the World," a lush acoustic power ballad complete with pretty falsetto vocals." Wood also states that "'High End' makes a deeper impression as a result of Manson's reunion with longtime guitarist-bassist Twiggy Ramirez; together with producers Sean Beavan and Chris Vrenna, they sculpted a sound both harder-hitting and more finely detailed than on any previous Marilyn Manson record."

Rolling Stone reviewer Jody Rosen the album a mediocre review, citing the diminished shock value of the album compared to years past. Rosen stated the best parts of the album are in the ballads like the blues-tinged "Four Rusted Horses" for a more endearing depiction of Manson as a melancholy human rather than "Antichrist Superstar."

Phil Freeman of Allmusic criticized the lack of variety in the album with "two or three musical ideas are repeated throughout the disc". He also criticized the lyrics, stating that Manson "[feels] like he's trying to convince himself as much as the audience" and that he is "pretty much advertising that [he's] out of ideas". A review in The Guardian complained of the lack of novelty in the album, which repeated "the usual entry-level shock-rock histrionics".

The album debuted at #4 on Billboard 200 with 49,000 copies sold. Despite reaching a higher charting position than Manson's last studio effort Eat Me, Drink Me which debuted at number 8, it arrives with the lowest opening week sum of any of Manson's albums since The Last Tour on Earth began with 26,000 in 1999. Since its debut the album dropped steadily, falling to the 24th position in its second week and 60th in its third.
Genre not found
Artist not found
Album not found
Search results not found
Song not found