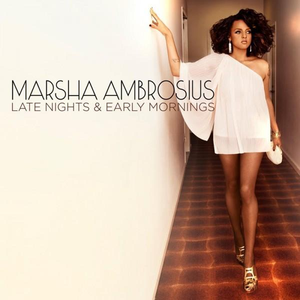 Late Nights and Early Mornings
Already proven as a talented, sought after songwriter and revered platinum-selling artist, Marsha Ambrosius is meeting the next challenge in her already impressive musical career by reinventing herself as a solo artist with her J Records debut disc LATE NIGHTS & EARLY MORNINGS.

Hailing from Liverpool, England, fans first got a taste of Marsha's talent as the singing half of the duo Floetry. Their 2000 debut Floetic produced signature singles like "Say Yes" and "Getting Late" as well as four Grammy nods.
Read Full Bio
Already proven as a talented, sought after songwriter and revered platinum-selling artist, Marsha Ambrosius is meeting the next challenge in her already impressive musical career by reinventing herself as a solo artist with her J Records debut disc LATE NIGHTS & EARLY MORNINGS.

Hailing from Liverpool, England, fans first got a taste of Marsha's talent as the singing half of the duo Floetry. Their 2000 debut Floetic produced signature singles like "Say Yes" and "Getting Late" as well as four Grammy nods. Following the 2005 release of their second studio album, Flo'Ology, the ladies veered creatively and personally. While the split was difficult, Marsha continued to build a name for herself as a songwriter and producer, creating "Butterflies" for the late Michael Jackson and other hits for artists such as Alicia Keys, Justin Timberlake, Jamie Foxx and Nas. She's been nominated for a total of six Grammys and has been honored by BMI as their Songwriter of the Year.

Over the years, Marsha has stayed relevant as an artist via touring, writing/producing and mixtapes like 2007's Neo Soul is Dead, 2008's Yours Truly and 2010's Yours Sincerely. She also appeared as a featured artist on projects from Patti Labelle, The Game, Busta Rhymes, Jamie Foxx and Earth, Wind & Fire, among others. Eventually, Marsha signed with Dr. Dre's Aftermath Records however a much-buzzed about solo debut never materialized due to creative glitches. Equipped with plenty of her own talent, she found herself being given songs from producers that were "great but not songs that made sense in relation to each other." Marsha calls her sound "honest and consistent" and it was important for her to make an album with an overall cohesive sound. She explains, "I think with an album everything has to make sense, like 'Where is this story going?'"

But that wasn't the only situation posing a challenge for Marsha. A basketball player since childhood, when her music career took off, her diet remained the same as when she was regularly active. Constantly on the road touring and promoting wasn't conducive to a healthy diet and resulted in her gaining 70 pounds in just one year. She finally got serious about her health and lost the weight safely and slowly over about a two-year period.

Now at a strong place mentally and physically, Marsha's ready to present her sound to the world. The first single, "Hope She Cheats on You (With a Basketball Player)," is an anthem that women and men can relate to. Marsha explains, "It's the reality of a bad break up. We wanna be decent human beings and say the right thing, you know, 'I wish you well.' But this is 'Everything that could go wrong for him I want it to because my ego is bruised and I'm acting out.'" There've been many songs written about heartbreak, but Marsha's approach to "Hope She Cheats on You" gets in your face rather than plays the victim.

LATE NIGHTS & EARLY MORNINGS is destined to be a classic, as Marsha offers a candid glimpse of her life and perspectives as a woman. Inspired by musical icons like Michael Jackson, Stevie Wonder and Prince, she concedes there is an overall male influence in her songwriting, such as the assertive sentiments heard on hits like "Say Yes." She explains, "My pen and my point of view has a certain aggression to it because I've listened to a lot of male influenced music, which I think makes me one of the most outspoken writers out here. Sometimes as a woman you don't wanna say what's on your mind for fear of being judged. But why wouldn't I say it like that if that's how I felt?" Musical peers recruited to contribute to the project include Alicia Keys, a reunion with Dre and Vidal (producers of "Say Yes"), Just Blaze and Focus.

While her success in the industry is already solidified, Marsha knows it's never easy to win over fans as a solo artist. Fortunately, she says, "It's like being thrown in the deep end. 'Okay I have to swim? Oh well.' I've taken that attitude and it's carried me forward."

(from MarshaAmbrosius.com)
Genre not found
Artist not found
Album not found
Search results not found
Song not found