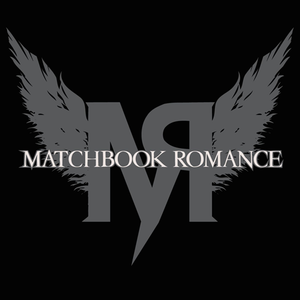 Matchbook Romance is an post-hardcore band from Poughkeepsie, New York and were originally known as The Getaway.

The band formed in 1997, constisting of Andrew Jordan (vocals & guitar), Ryan "Judas" DePaolo (backing vocals & guitar), Ryan Kienle (bass) and Aaron Stern (drums).

They have released two albums: Stories and Alibis (2003) and Voices (2006), one EP named West for Wishing (2003) and one split EP with Motion City Soundtrack .

Matchbook Romance headlined the Epitaph Tour in early 2005
Read Full Bio
Matchbook Romance is an post-hardcore band from Poughkeepsie, New York and were originally known as The Getaway.

The band formed in 1997, constisting of Andrew Jordan (vocals & guitar), Ryan "Judas" DePaolo (backing vocals & guitar), Ryan Kienle (bass) and Aaron Stern (drums).

They have released two albums: Stories and Alibis (2003) and Voices (2006), one EP named West for Wishing (2003) and one split EP with Motion City Soundtrack .

Matchbook Romance headlined the Epitaph Tour in early 2005, playing alongside their label mates Motion City Soundtrack, From First to Last, The Matches and Scatter the Ashes.

As of March 12, 2007, Matchbook Romance have parted ways and have gone on an indefinite hiatus.

As of March 12, 2009, Matchbook Romance have announced that they are reuniting and have 3 tour dates up with more dates and news to come.
Genre not found
Artist not found
Album not found
Search results not found
Song not found
You Can Run But We'll Find You
Matchbook Romance Lyrics
Have you
Have you been keeping secrets from me?
Hoped I wouldn't find out
And you would just go free
There's a whole world besides your window pane
And I've got scars to prove it
But you should've known
You should've known
You should've known
You should've known
Run
You can run
You can run
But we'll find you
Was it everything you hoped it would be?
What kept your world spinning left you dizzy
Your apologies will never soothe the sting
Just keep scratching our eyes out
But you should've known
You should've known
You should've known
You should've known
Run
You can run
You can run
But we'll find you
Run
You can run
You can run
But we'll find you
We'll find you
We'll find you
Lyrics © OBO APRA/AMCOS

Lyrics Licensed & Provided by LyricFind
To comment on specific lyrics,
highlight them