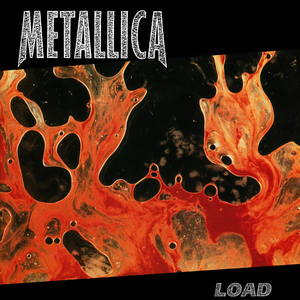 Load is the sixth studio album by American heavy metal band Metallica, released June 4, 1996. To date, the album has sold over 5 million copies in America, and is certified Gold in the UK, having sold over 100,000 copies. It spent four consecutive weeks at #1 on Billboard 200. At 78:59 minutes, Load is Metallica's longest studio album. Initial pressings of the album were affixed with stickers that boasted its long playtime, simply reading "78:59". Consequently, "The Outlaw Torn" had to be shortened by about one minute to fit on the album. The full version was released on a
Read Full Bio
Load is the sixth studio album by American heavy metal band Metallica, released June 4, 1996. To date, the album has sold over 5 million copies in America, and is certified Gold in the UK, having sold over 100,000 copies. It spent four consecutive weeks at #1 on Billboard 200.

At 78:59 minutes, Load is Metallica's longest studio album. Initial pressings of the album were affixed with stickers that boasted its long playtime, simply reading "78:59". Consequently, "The Outlaw Torn" had to be shortened by about one minute to fit on the album. The full version was released on a single for "The Memory Remains" as "The Outlaw Torn (Unencumbered by Manufacturing Restrictions Version)" with a running time of 10:48.

According to drummer Lars Ulrich: "This album and what we're doing with it - that, to me, is what Metallica are all about: exploring different things. The minute you stop exploring, then just sit down and fucking die."

The songwriting dispenses almost entirely with the thrash metal style that characterized the band's sound in the 1980s. In place of staccato riffs, Hetfield and lead guitarist Kirk Hammett experimented with more blues-based tones and styles. Additionally, Ulrich adopted a minimalist approach to his drum recording, abandoning the speed and complex double bass patterns of previous albums.

Most of this blues-based metal comes from of Ulrich's Deep Purple influences; one can hear Ian Paice's style in the regular cymbal attacks and drum hits, as well as Ritchie Blackmore's blues licks from the Mark III era of Deep Purple.
Genre not found
Artist not found
Album not found
Search results not found
Song not found
Ain't My Bitch
Metallica Lyrics
Out of my way
Out of my day
Out of your mind and into mine
It's no more
It's not born
Into your step but out of time
Head strong
What's wrong
I've already heard this song before
You've arrived but now it's time to kiss your ass good bye
Dragging me down
While you were round
So useless
It ain't my fault
It ain't my call
It ain't my bitch
Ain't my bitch
Down on the sun
Down on your fun
Down and out where the hell you've been
Damn it all down
Damn it unbound
Damn it all down ta hell again
Stand tall
They fall
Never even meant it all before
You've arrived, but now it's time to kiss your ass good-bye
Dragging me down
While you were round
So useless
It ain't my fault
It ain't my call
It ain't my bitch
Out of my way
Out of my way
Out of my day
Out of your mind and into mine
It's no more
It's not born
Into your step but out of time
Head strong
What's wrong
I've already heard this song before
You've arrived, but now it's time to kiss your ass good-bye
Dragging me down
While you were round
So useless
It ain't my fault
It ain't my call
It ain't my bitch
No way but down
While you were round
No foolin'
It ain't my smile
It ain't my style
It ain't my bitch
Ain't mine
Your kind
Your steppin' out of time
Dragging me down
While you were round
No foolin'
It ain't my fault
It ain't my call
It ain't my bitch
Ain't my
Lyrics © Universal Music Publishing Group
Written by: JAMES ALAN HETFIELD, LARS ULRICH

Lyrics Licensed & Provided by LyricFind
To comment on specific lyrics,
highlight them