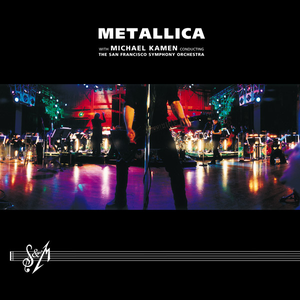 S&M; (an abbreviation of Symphony and Metallica) is a live album by the American heavy metal band Metallica, with the San Francisco Symphony conducted by Michael Kamen. It was recorded on April 21–22, 1999 at The Berkeley Community Theatre. This is the final Metallica album to feature Jason Newsted as bassist. S&M; contains performances of Metallica songs with additional symphonic accompaniment, which was composed by Michael Kamen, who also conducted the orchestra during the concert. The idea to combine heavy metal with an epic classical approach, as James Hetfield has stated repeatedly, was an idea of Cliff Burton. Burton's love
Read Full Bio
S&M; (an abbreviation of Symphony and Metallica) is a live album by the American heavy metal band Metallica, with the San Francisco Symphony conducted by Michael Kamen. It was recorded on April 21–22, 1999 at The Berkeley Community Theatre. This is the final Metallica album to feature Jason Newsted as bassist. S&M; contains performances of Metallica songs with additional symphonic accompaniment, which was composed by Michael Kamen, who also conducted the orchestra during the concert. The idea to combine heavy metal with an epic classical approach, as James Hetfield has stated repeatedly, was an idea of Cliff Burton. Burton's love of classical music, especially of Johann Sebastian Bach, can be traced back to many instrumental parts and melodic characteristics in Metallica's songwriting including songs from Ride The Lightning and Master of Puppets. The other inspiration was Deep Purple's 1969 Concerto for Group and Orchestra. Purple revived their hybrid musical performance in 1999's Live at the Royal Albert Hall after being notified that Metallica were doing theirs earlier that year.

In addition to songs from previous albums spanning Ride the Lightning through ReLoad, there are two new compositions: "No Leaf Clover" and "−Human". "The Ecstasy of Gold" by Ennio Morricone, Metallica's entrance music, was played live by the orchestra. "No Leaf Clover" has since been performed by Metallica in concert, using a recording of the orchestral prelude. "−Human", credited as "Minus Human", was included in the soundtrack of the Electronic Arts game NHL 99, but has never subsequently been performed.

Several other songs, including "Wasting My Hate", "The Unforgiven", "Low Man's Lyric", "Fade to Black", The Unforgiven II, "Through The Never", "Harvester of Sorrow", and unexpectedly "...And Justice For All" was a thought for the setlist but due to the gap since they last played it and with little time to prepare it was chopped, also "Ronnie" and even "Mama Said" were considered for selection, but were eventually dropped as it was decided by both Metallica and Kamen that they were not well suited for symphonic accompaniment. On the S&M DVD documentary, Metallica and Kamen can be seen and heard discussing the orchestration for the Anti-Nowhere League and Metallica favourite cover-song "So What?", though it's obvious both parties were enjoying a good joke and had no intentions of performing the song.

Changes were made to the lyrics of some songs, most notably the removal of the second verse and chorus of "The Thing That Should Not Be" and playing the third verse in its place.
Genre not found
Artist not found
Album not found
Search results not found
Song not found
To comment on specific lyrics,
highlight them