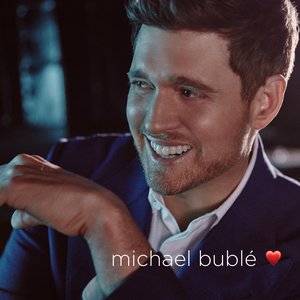 Love (stylized as the red heart emoji ❤️ is the tenth studio album and eighth major label studio album by Canadian singer Michael Bublé, released on November 16, 2018, by Reprise Records.It is supported by the lead single "When I Fall in Love". In an interview with the Daily Mail, Bublé was quoted as saying that Love would be his final album and that he would no longer do interviews, as his son's cancer diagnosis and subsequent remission made him re-evaluate what was important to him, and that as he has made "the perfect album", he can retire from music
Read Full Bio
Love (stylized as the red heart emoji ❤️ is the tenth studio album and eighth major label studio album by Canadian singer Michael Bublé, released on November 16, 2018, by Reprise Records.It is supported by the lead single "When I Fall in Love".

In an interview with the Daily Mail, Bublé was quoted as saying that Love would be his final album and that he would no longer do interviews, as his son's cancer diagnosis and subsequent remission made him re-evaluate what was important to him, and that as he has made "the perfect album", he can retire from music "at the very top".His management subsequently dismissed these as "tabloid" rumours, denying that Bublé would be retiring.

Love is Bublé's first release of any kind in two years, following his eldest son Noah being diagnosed with liver cancer, which he has said made him consider "never returning to music". He later returned to write and record songs in the studio as his son's condition improved. On his approach to the album, Bublé stated: "My end game for the new record was to create a series of short cinematic stories for each song I chose and have it stand on its own." Once the rough outline of his album concept was formed he pitched the idea to his band members while they were visiting his Vancouver home for a casual jam session and video games.

For the album, Bublé wrote the original song "Forever Now", and co-wrote the track "Love You Anymore" with Charlie Puth. The singer coaxed his mentor David Foster out of retirement from studio projects to oversee projection of much of the album. Bublé originally thought he would title the album My Romance in reference to his rekindled romance with music, but decided against it because he felt the title would involve frequent contextual explanation.
Genre not found
Artist not found
Album not found
Search results not found
Song not found
When I Fall In Love
Boyz II Men Lyrics
Just to make you smile
Simply makes me smile
Cause today could mean forever
When I fall in love
It will be forever
Or I'll never fall in love
In a restless world like this is
Love is ended before it's begun
And too many moonlight kisses
They seem to cool in the warmth of the sun
When I give my heart
It will be completely
Or I'll never give my heart, yeah
And the moment I can feel, that you feel that way too
When I fall in love with you
When I fall in love
It will be forever
Or I'll never fall in love
In a restless world like this is
Love is ended before it's begun
And too many moonlight kisses
They seem to cool in the warmth of the sun
And the moment I can feel, that you feel the same way too
When I fall in love
When I fall in love
Is when I fall in love with you, you, you
Lyrics © Warner Chappell Music, Inc.
Written by: Edward Heyman, Victor Young

Lyrics Licensed & Provided by LyricFind
To comment on specific lyrics,
highlight them