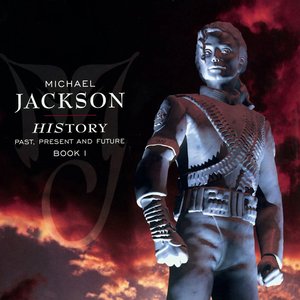 HIStory - Past, Present And Future - Book I
HIStory - Past, Present And Future - Book I (usually shortened to HIStory) is the ninth studio album by American singer Michael Jackson, released on June 20, 1995. It was Jackson's fifth album released through Epic Records, and the first released on his label MJJ Productions. The album was Jackson's first studio album since his 1991 album Dangerous nearly four years prior. HIStory consists of two discs: the first, HIStory Begins, is a greatest hits compilation; the second, HIStory Continues, comprises new material written and produced by Jackson and collaborators. The themes include environmental awareness, isolation, greed, suicide, injustice, and
Read Full Bio
HIStory - Past, Present And Future - Book I (usually shortened to HIStory) is the ninth studio album by American singer Michael Jackson, released on June 20, 1995. It was Jackson's fifth album released through Epic Records, and the first released on his label MJJ Productions. The album was Jackson's first studio album since his 1991 album Dangerous nearly four years prior. HIStory consists of two discs: the first, HIStory Begins, is a greatest hits compilation; the second, HIStory Continues, comprises new material written and produced by Jackson and collaborators. The themes include environmental awareness, isolation, greed, suicide, injustice, and Jackson's conflicts with the media.

HIStory attracted some controversy. Jackson rerecorded some lyrics in "They Don't Care About Us" after he was accused of antisemitism, and contributor R. Kelly was accused of having plagiarized one of the album's songs, "You Are Not Alone", leading to its banning on Belgian radio.

HIStory debuted at number one in countries including the United States, Canada, Australia, France and the United Kingdom, and charted in the top ten in Spain, India and Mexico. By 1997 it had been certified six times platinum in Europe, making it the best-selling album of the year in the combined European market. The album received generally positive reviews and was nominated for five Grammy Awards, winning one for Best Music Video – Short Form for "Scream".

Six singles and one promotional single were released from HIStory: "Scream/Childhood", "You Are Not Alone", "Earth Song", "This Time Around", "They Don't Care About Us" and "Stranger in Moscow", with "Smile" being released for promotional purposes only. "Earth Song", "They Don't Care About Us" and "Stranger in Moscow" peaked in the top ten in multiple countries, but were less successful within the United States. The greatest hits disc was reissued as a single disc on November 13, 2001, under the title Greatest Hits: HIStory, Volume I and had sold four million copies worldwide by 2010. The second disc was released separately in some European countries in 2011. As of 2010, HIStory has sold more than 20 million copies worldwide and is the best selling multiple-disc release, making it one of the best-selling albums of all time.
Genre not found
Artist not found
Album not found
Search results not found
Song not found
She was more like a beauty queen from a movie scene
I said don't mind, but what do you mean, I am the one
Who will dance on the floor in the round?
She said I am the one, who will dance on the floor in the round
She told me her name was Billie Jean, as she caused a scene
Then every head turned with eyes that dreamed of being the one
Who will dance on the floor in the round
People always told me be careful of what you do
And don't go around breaking young girls' hearts
And mother always told me be careful of who you love
And be careful of what you do 'cause the lie becomes the truth
Billie Jean is not my lover
She's just a girl who claims that I am the one
But the kid is not my son
She says I am the one, but the kid is not my son
For forty days and forty nights
The law was on her side
But who can stand when she's in demand
Her schemes and plans
'Cause we danced on the floor in the round
So take my strong advice, just remember to always think twice
(Do think twice, do think twice)
She told my baby we'd danced 'til three, then she looked at me
Then showed a photo my baby cried his eyes were like mine (oh, no)
'Cause we danced on the floor in the round, baby
People always told me be careful of what you do
And don't go around breaking young girls' hearts
She came and stood right by me
Just the smell of sweet perfume
This happened much too soon
She called me to her room
Billie Jean is not my lover
She's just a girl who claims that I am the one
But the kid is not my son
Billie Jean is not my lover
She's just a girl who claims that I am the one
But the kid is not my son
She says I am the one, but the kid is not my son
She says I am the one, but the kid is not my son
Billie Jean is not my lover
She's just a girl who claims that I am the one
But the kid is not my son
She says I am the one, but the kid is not my son
She says I am the one
You know what you did, (she says he is my son) breaking my heart babe
She says I am the one
Billie Jean is not my lover
Billie Jean is not my lover
Billie Jean is not my lover
Billie Jean is not my lover (don't Billie Jean)
Billie Jean is not my lover
Billie Jean is not my lover
Lyrics © Sony/ATV Music Publishing LLC
Written by: Michael Jackson

Lyrics Licensed & Provided by LyricFind
To comment on specific lyrics,
highlight them