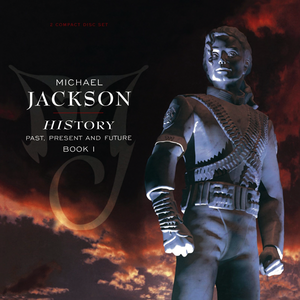 This is the tag for the single release. If you're listening to Jackson's 1995 album, you should correct your tags to its complete name, HIStory: Past, Present and Future, Book I. 'History' is the second single release from Michael Jackson's remix album Blood on the Dance Floor: HIStory in the Mix. Composed by Michael Jackson, James Harris III and Terry Lewis, the song was originally recorded in 1994 and appeared on Jackson's ninth studio album, HIStory: Past, Present and Future, Book I. It was later remixed by Tony Moran and released as a single on 30 July 1997. The original
Read Full Bio
This is the tag for the single release. If you're listening to Jackson's 1995 album, you should correct your tags to its complete name, HIStory: Past, Present and Future, Book I.

'History' is the second single release from Michael Jackson's remix album Blood on the Dance Floor: HIStory in the Mix. Composed by Michael Jackson, James Harris III and Terry Lewis, the song was originally recorded in 1994 and appeared on Jackson's ninth studio album, HIStory: Past, Present and Future, Book I. It was later remixed by Tony Moran and released as a single on 30 July 1997. The original version contained many historic audio clips and samples, however the remix does not.

The single did generally well on music charts worldwide, having charted within the Top 10 and Top 20 in multiple countries. The song's highest peak position was in Italy, charting at #3. In the Netherlands, Belgium and Sweden HIStory spent seventeen to eighteen weeks on the charts. In Australia the song peaked at #43 before falling off the chart. The single did not appear on any United States Billboard charts, but did peak at #5 on the UK Singles chart.
Genre not found
Artist not found
Album not found
Search results not found
Song not found
She was more like a beauty queen from a movie scene
I said don't mind, but what do you mean, I am the one
Who will dance on the floor in the round?
She said I am the one, who will dance on the floor in the round
She told me her name was Billie Jean, as she caused a scene
Then every head turned with eyes that dreamed of being the one
Who will dance on the floor in the round
People always told me be careful of what you do
And don't go around breaking young girls' hearts
And mother always told me be careful of who you love
And be careful of what you do 'cause the lie becomes the truth
Billie Jean is not my lover
She's just a girl who claims that I am the one
But the kid is not my son
She says I am the one, but the kid is not my son
For forty days and forty nights
The law was on her side
But who can stand when she's in demand
Her schemes and plans
'Cause we danced on the floor in the round
So take my strong advice, just remember to always think twice
(Do think twice, do think twice)
She told my baby we'd danced 'til three, then she looked at me
Then showed a photo my baby cried his eyes were like mine (oh, no)
'Cause we danced on the floor in the round, baby
People always told me be careful of what you do
And don't go around breaking young girls' hearts
She came and stood right by me
Just the smell of sweet perfume
This happened much too soon
She called me to her room
Billie Jean is not my lover
She's just a girl who claims that I am the one
But the kid is not my son
Billie Jean is not my lover
She's just a girl who claims that I am the one
But the kid is not my son
She says I am the one, but the kid is not my son
She says I am the one, but the kid is not my son
Billie Jean is not my lover
She's just a girl who claims that I am the one
But the kid is not my son
She says I am the one, but the kid is not my son
She says I am the one
You know what you did, (she says he is my son) breaking my heart babe
She says I am the one
Billie Jean is not my lover
Billie Jean is not my lover
Billie Jean is not my lover
Billie Jean is not my lover (don't Billie Jean)
Billie Jean is not my lover
Billie Jean is not my lover
Lyrics © Sony/ATV Music Publishing LLC
Written by: Michael Jackson

Lyrics Licensed & Provided by LyricFind
To comment on specific lyrics,
highlight them