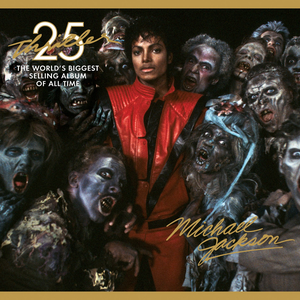 Thriller 25 Super Deluxe Edition
Thriller 25 is the 25th anniversary edition reissue of American recording artist Michael Jackson's sixth studio album Thriller. The original album sold between 65 and 100 million copies worldwide, making it the world's best selling album of all time. The prospect of a "second chapter" to Thriller was first publicly discussed on Access Hollywood in late 2006. Jackson said he would discuss the idea with collaborator will.i.am. It was released in Australia on February 8, 2008, internationally on February 11, 2008, and in the United States on February 12, 2008 by Epic Records, Legacy Recordings and MJJ Productions. Thriller 25
Read Full Bio
Thriller 25 is the 25th anniversary edition reissue of American recording artist Michael Jackson's sixth studio album Thriller. The original album sold between 65 and 100 million copies worldwide, making it the world's best selling album of all time. The prospect of a "second chapter" to Thriller was first publicly discussed on Access Hollywood in late 2006. Jackson said he would discuss the idea with collaborator will.i.am. It was released in Australia on February 8, 2008, internationally on February 11, 2008, and in the United States on February 12, 2008 by Epic Records, Legacy Recordings and MJJ Productions.

Thriller 25 was released by Sony BMG's re-issue division, Legacy Recordings. In the United Kingdom, the BBFC gave it a '15' certificate because it included the video for "Thriller". It is the first Jackson album with an age certificate. Along with the original material, the reissue contained remixes, new material, a DVD and collaborations with several contemporary artists.

Two singles, "The Girl Is Mine 2008" and "Wanna Be Startin' Somethin' 2008", were released from the album to moderate success and a number of the other remixes charted, despite no physical release. Thriller 25 was a commercial success, selling three million copies worldwide in its 12 weeks, and was generally well received among critics, despite their view that the new material was not as inspiring as the original.
Genre not found
Artist not found
Album not found
Search results not found
Song not found
Wanna Be Startin' Somethin'
Michael Jackson Lyrics
I said you wanna be startin' somethin'
You got to be startin' somethin'
I said you wanna be startin' somethin'
You got to be startin' somethin'
It's too high to get over (yeah, yeah)
Too low to get under (yeah, yeah)
You're stuck in the middle (yeah, yeah)
And the pain is thunder (yeah, yeah)
It's too high to get over (yeah, yeah)
Too low to get under (yeah, yeah)
You're stuck in the middle (yeah, yeah)
And the pain is thunder (yeah, yeah)
I took my baby to the doctor
With a fever, but nothing he found
By the time this hit the street
They said she had a breakdown
Someone's always tryin' to start my baby cryin'
Talkin', squealin', lyin'
Sayin' you just wanna be startin' somethin'
I said you wanna be startin' somethin'
You got to be startin' somethin'
I said you wanna be startin' somethin'
You got to be startin' somethin'
It's too high to get over (yeah, yeah)
Too low to get under (yeah, yeah)
You're stuck in the middle (yeah, yeah)
And the pain is thunder (yeah, yeah)
It's too high to get over (yeah, yeah)
Too low to get under (yeah, yeah)
You're stuck in the middle (yeah, yeah)
And the pain is thunder (yeah, yeah)
You love to pretend that you're good
When you're always up to no good
You really can't make him hate her
So your tongue became a razor
Someone's always tryin' to keep my baby cryin'
Treacherous, cunnin', declinin'
You got my baby cryin'
I said you wanna be startin' somethin'
You got to be startin' somethin'
I said you wanna be startin' somethin'
You got to be startin' somethin'
It's too high to get over (yeah, yeah)
Too low to get under (yeah, yeah)
You're stuck in the middle (yeah, yeah)
And the pain is thunder (yeah, yeah)
It's too high to get over (yeah, yeah)
Too low to get under (yeah, yeah)
You're stuck in the middle (yeah, yeah)
And the pain is thunder (yeah, yeah)
You're a vegetable, you're a vegetable
Still they hate you, you're a vegetable
You're just a buffet, you're a vegetable
They eat off of you, you're a vegetable
Billie jean is always talkin'
When nobody else is talkin'
Tellin' lies and rubbin' shoulders
So they called her mouth a motor
Someone's always tryin' to start my baby cryin'
Talkin', squealin', spyin'
Sayin' you just wanna be startin' somethin'
I said you wanna be startin' somethin'
You got to be startin' somethin'
I said you wanna be startin' somethin'
You got to be startin' somethin'
It's too high to get over (yeah, yeah)
Too low to get under (yeah, yeah)
You're stuck in the middle (yeah, yeah)
And the pain is thunder (yeah, yeah)
It's too high to get over (yeah, yeah)
Too low to get under (yeah, yeah)
You're stuck in the middle (yeah, yeah)
And the pain is thunder (yeah, yeah)
You're a vegetable, you're a vegetable
Still they hate you, you're a vegetable
You're just a buffet, you're a vegetable
They eat off of you, you're a vegetable
If you cant feed your baby (yeah, yeah)
Then don't have a baby (yeah, yeah)
And don't think maybe (yeah, yeah)
If you can't feed your baby (yeah, yeah)
You'll be always tryin'
To stop that child from cryin'
Hustlin', stealin', lyin'
Now baby's slowly dyin'
I said you wanna be startin' somethin'
You got to be startin' somethin'
I said you wanna be startin' somethin'
You got to be startin' somethin'
It's too high to get over (yeah, yeah)
Too low to get under (yeah, yeah)
You're stuck in the middle (yeah, yeah)
And the pain is thunder (yeah, yeah)
It's too high to get over (yeah, yeah)
Too low to get under (yeah, yeah)
You're stuck in the middle (yeah, yeah)
And the pain is thunder (yeah, yeah)
Lift your head up high
And scream out to the world
I know I am someone
And let the truth unfurl
No one can hurt you now
Because you know what's true
Yes, I believe in me
So do believe in you
Help me sing it
Ma-ma-se, ma-ma-sa, ma-ma-ko-ssa (hoo-hoo)
Ma-ma-se, ma-ma-sa, ma-ma-ko-ssa (hee-hee-hee)
Ma-ma-se, ma-ma-sa, ma-ma-ko-ssa (hee-hee-hee)
Ma-ma-se, ma-ma-sa, ma-ma-ko-ssa
Ma-ma-se, ma-ma-sa, ma-ma-ko-ssa (help me sing it, babe)
Ma-ma-se, ma-ma-sa, ma-ma-ko-ssa (hee-hee-hee)
Ma-ma-se, ma-ma-sa, ma-ma-ko-ssa
Ma-ma-se, ma-ma-sa, ma-ma-ko-ssa (yeah, sing it to the world)
Ma-ma-se, ma-ma-sa, ma-ma-ko-ssa (sing it out loud)
Ma-ma-se, ma-ma-sa, ma-ma-ko-ssa (hoo-hoo)
Ma-ma-se, ma-ma-sa, ma-ma-ko-ssa
Ma-ma-se, ma-ma-sa, ma-ma-ko-ssa (help me sing it)
Ma-ma-se, ma-ma-sa, ma-ma-ko-ssa
Ma-ma-se, ma-ma-sa, ma-ma-ko-ssa (hoo-hoo)
Ma-ma-se, ma-ma-sa, ma-ma-ko-ssa (hee-hee-hee)
Ma-ma-se, ma-ma-sa, ma-ma-ko-ssa (help me sing it)
Ma-ma-se, ma-ma-sa, ma-ma-ko-ssa (hoo-hoo)
Ma-ma-se, ma-ma-sa, ma-ma-ko-ssa (hee-hee-hee)
Ma-ma-se, ma-ma-sa, ma-ma-ko-ssa
Ma-ma-se, ma-ma-sa, ma-ma-ko-ssa (sing it to the world)
Ma-ma-se, ma-ma-sa, ma-ma-ko-ssa
Ma-ma-se, ma-ma-sa, ma-ma-ko-ssa
Ma-ma-se, ma-ma-sa, ma-ma-ko-ssa
Ma-ma-se, ma-ma-sa, ma-ma-ko-ssa
Ma-ma-se, ma-ma-sa, ma-ma-ko-ssa
Ma-ma-se, ma-ma-sa, ma-ma-ko-ssa
Ma-ma-se, ma-ma-sa, ma-ma-ko-ssa
Ma-ma-se, ma-ma-sa, ma-ma-ko-ssa
Ma-ma-se, ma-ma-sa, ma-ma-ko-ssa (hoo-hoo)
Ma-ma-se, ma-ma-sa, ma-ma-ko-ssa (hee-hee-hee)
Ma-ma-se, ma-ma-sa, ma-ma-ko-ssa (hee-hee-hee)
Ma-ma-se, ma-ma-sa, ma-ma-ko-ssa
Ma-ma-se, ma-ma-sa, ma-ma-ko-ssa (help me sing it, babe)
Ma-ma-se, ma-ma-sa, ma-ma-ko-ssa (hee-hee-hee)
Ma-ma-se, ma-ma-sa, ma-ma-ko-ssa (yeah)
Ma-ma-se, ma-ma-sa, ma-ma-ko-ssa (sing it to the world)
Ma-ma-se, ma-ma-sa, ma-ma-ko-ssa (sing it out loud)
Ma-ma-se, ma-ma-sa, ma-ma-ko-ssa (hoo-hoo)
Lyrics © Sony/ATV Music Publishing LLC
Written by: Michael Jackson

Lyrics Licensed & Provided by LyricFind
To comment on specific lyrics,
highlight them