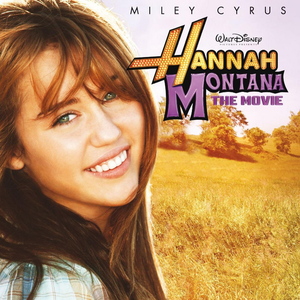 Hannah Montana: The Movie is the soundtrack for the film of the same name. The film is an adaptation of the popular Disney Channel original series Hannah Montana, which first aired in 2006. In the television series and film, American singer and actress Miley Cyrus portrays Miley Stewart, a girl with a secret double life as the popstar Hannah Montana. Cyrus performs twelve of the songs on the album, seven of which are credited to Hannah Montana. American recording artists Billy Ray Cyrus
Read Full Bio
Hannah Montana: The Movie is the soundtrack for the film of the same name. The film is an adaptation of the popular Disney Channel original series Hannah Montana, which first aired in 2006. In the television series and film, American singer and actress Miley Cyrus portrays Miley Stewart, a girl with a secret double life as the popstar Hannah Montana. Cyrus performs twelve of the songs on the album, seven of which are credited to Hannah Montana. American recording artists Billy Ray Cyrus, Taylor Swift, and Rascal Flatts and English recording artist Steve Rushton also have songs on the soundtrack.

This album was released on March 23, 2009 by Walt Disney Records. All of the songs in the album were approved by the film's director Peter Chelsom. He felt the film needed music that was tightly woven into the film's plot and the character's background. Several producers worked on the album, mainly John Shanks and Matthew Gerrard. Shanks was more involved with Cyrus than the other artists. Meanwhile, Gerrard produced Cyrus' songs as Montana; he previously wrote her hit song "The Best of Both Worlds" (2006). A remix of "The Best of Both Worlds" is featured as the album's closing track. Musically, the album merges heavy influences from pop and country. Songwriters include Cyrus, Gerrard and Swift, among others. The songs' lyrics primarily discuss the film's themes of fame, family, and love.

Contemporary critics were pleased with the album. Cyrus was praised for being natural and reflected while performing as herself. They also complimented Swift's performance and debated if she or Cyrus were more dominant. The soundtrack received a nomination for a 2009 American Music Award for Favorite Soundtrack, but lost to the Twilight soundtrack. Hannah Montana: The Movie reached the top ten in many nations, and topped charts in countries such as Austria, Canada, and New Zealand. In the United States, it peaked at number one on the Billboard 200 and the Billboard Top Country Albums chart. By May 2009, the Recording Industry Association of America (RIAA) certified the album platinum. The album was promoted through exclusive releases to Radio Disney and live performances at numerous venues. Cyrus performed four songs from the album on her first worldwide concert tour.

The Climb was released as the leaad single on March 5 on iTunes and later on a CD single. Hoedown Throwdown was released as the second single on iTunes on March 10, 2009.
Genre not found
Artist not found
Album not found
Search results not found
Song not found