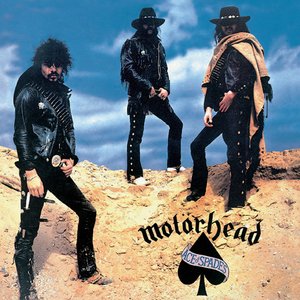 Ace of Spades is the fourth album by the British heavy metal band Motörhead. Released on 8 November 1980, it peaked at No. 4 on the UK album charts and reached Gold status by March 1981. It was preceded by the release of the title track as a single on 27 October, which peaked in the UK singles chart at No. 15 in early November. The album was recorded in August and September 1980, produced by Vic Maile at his Jackson's Studio in Rickmansworth. This is the first of what would be a series of projects with Maile, and members
Read Full Bio
Ace of Spades is the fourth album by the British heavy metal band Motörhead. Released on 8 November 1980, it peaked at No. 4 on the UK album charts and reached Gold status by March 1981. It was preceded by the release of the title track as a single on 27 October, which peaked in the UK singles chart at No. 15 in early November.

The album was recorded in August and September 1980, produced by Vic Maile at his Jackson's Studio in Rickmansworth. This is the first of what would be a series of projects with Maile, and members of the band commented at the time about finding the right producer. Whereas the band had previously had an input at the mixing stage, Maile took sole responsibility here, Clarke explaining that the result was that "you can finally hear everything that's going on".

Of the performances, Lemmy claimed that "Vic got me singing instead of just shouting all the time", while Taylor added "and he got me playing more solid".
Genre not found
Artist not found
Album not found
Search results not found
Song not found
Ace of Spades
Motörhead Lyrics
If you like to gamble, I tell you I'm your man
You win some, lose some, all the same to me
The pleasure is to play, makes no difference what you say
I don't share your greed, the only card I need is the Ace of Spades
The Ace of Spades
Playing for the high one, dancing with the devil
Going with the flow, it's all a game to me
Seven or eleven, snake eyes watching you
Double up or quit, double stake or split, the Ace of Spades
The Ace of Spades
You know I'm born to lose, and gambling's for fools
But that's the way I like it baby
I don't wanna live for ever
And don't forget the joker!
Pushing up the ante, I know you gotta see me
Read 'em and weep, the dead man's hand again
I see it in your eyes, take one look and die
The only thing you see, you know it's gonna be the Ace of Spades
The Ace of Spades
Lyrics © Sony/ATV Music Publishing LLC
Written by: Edward Alan Clarke, Ian Kilmister, Philip John Taylor

Lyrics Licensed & Provided by LyricFind
To comment on specific lyrics,
highlight them