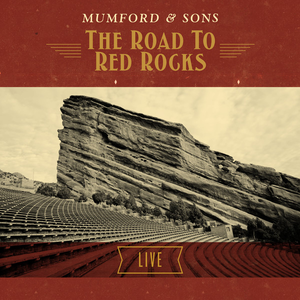 The Road To Red Rocks Live
Mumford & Sons are an English folk rock band formed in London in 2007.[2] The band consists of Marcus Mumford (lead vocals, electric guitar, acoustic guitar, drums), Ben Lovett (vocals, keyboards, piano), and Ted Dwane (vocals, bass guitar, double bass). Banjo player Winston Marshall left the band in 2021.

Mumford & Sons have released four studio albums: Sigh No More (2009), Babel (2012), Wilder Mind (2015), and Delta (2018). Sigh No More peaked at number two on the UK Albums Chart and the Billboard 200 in the US
Read Full Bio
Mumford & Sons are an English folk rock band formed in London in 2007.[2] The band consists of Marcus Mumford (lead vocals, electric guitar, acoustic guitar, drums), Ben Lovett (vocals, keyboards, piano), and Ted Dwane (vocals, bass guitar, double bass). Banjo player Winston Marshall left the band in 2021.

Mumford & Sons have released four studio albums: Sigh No More (2009), Babel (2012), Wilder Mind (2015), and Delta (2018). Sigh No More peaked at number two on the UK Albums Chart and the Billboard 200 in the US, with Babel and Wilder Mind both debuting at number one in the UK and US, the former becoming the fastest-selling rock album of the decade and leading to a headline performance at Glastonbury Festival in 2013. The band has also issued two live albums: Live at Shepherd's Bush Empire (2011) and The Road to Red Rocks (2012).

Mumford & Sons were formed in December 2007 by multi-instrumentalists Marcus Mumford, Ben Lovett, Winston Marshall and Ted Dwane. Band members play acoustic guitar, drums, keyboard instruments, bass guitar, and traditional folk instruments such as banjo, mandolin and resonator guitar. The band name originates from the fact that Marcus Mumford was the most visible member, organizing the band and their performances. Lovett indicated that the name was meant to invoke the sense of an "antiquated family business name".

A handful of similar bands were increasing their visibility in West London around the same time, giving rise to the label "West London folk scene". Mumford downplays that characterisation as an exaggeration—Mumford & Sons and a few other folk acts just happened to be operating in the same general area at the time. In an interview with the Herald Sun, Marcus Mumford said, "It's not folk really. Well, some of it is, and it's certainly not a scene. Someone got over-excited about a few bands who live in a hundred-mile radius and put it in a box to sell it as a package. It's a community, not a scene. It's not exclusive." Having developed in the same musical and cultural environment, Mumford & Sons' sound has been compared to that of artists such as Noah and the Whale, Johnny Flynn and Laura Marling, whose backing band had included Marshall, Mumford, and Dwane.

In early 2008 the band began working with manager Adam Tudhope, who, as part of management company Everybody's, also represents Keane and Laura Marling. It was through Tudhope's connection that Mumford & Sons were exposed to their future A&R at Island, Louis Bloom, who began monitoring the band. Bloom told HitQuarters that they were still at a fledgling state and not yet ready for a label deal: "There was no one there for it, just a few friends, and they needed time to develop. Over the next six months I kept going to see them and they were literally picking up fans every time."

In February 2008, the band completed an extensive UK tour with support from Alessi's Ark, Sons of Noel and Adrian, Peggy Sue and others. June 2008 marked the band's first appearance at the Glastonbury Festival. They also toured Australia with Laura Marling, whose disinclination to interact with audiences encouraged Mumford into the spotlight. The experience helped inform his attitude towards Mumford & Sons audiences, which is to interact frequently and to try to create a comfortable, casual atmosphere. Mumford & Sons' first project was an EP entitled Love Your Ground which took a year to complete and was released in November 2008 on Chess Club Records.

The band began by using bluegrass and folk instrumentation, with the core instruments of acoustic guitar, banjo, piano and a double bass, played with a rhythmic style based in alternative rock and folk. In the documentary Big Easy Express, Marcus Mumford recognizes the Old Crow Medicine Show influence: "I first heard Old Crow's music when I was, like, 16, 17, and that really got me into, like, folk music, bluegrass. I mean, I'd listened to a lot of Dylan, but I hadn't really ventured into the country world so much. So Old Crow were the band that made me fall in love with country music." Mumford acknowledges that "the band inspired them to pick up the banjo and start their now famous country nights in London." Ketch Secor, Old Crow front-man, concurs: "Those boys took the message and ran with it.

Much of Mumford & Sons' lyrical content has a strong literary influence, its debut album name deriving from William Shakespeare's Much Ado About Nothing. The track "Sigh No More" includes lines from the play such as Serve God love me and mend, For man is a giddy thing, and One foot in sea and one on shore. The title of the song "Roll Away Your Stone" is an allusion to Macbeth; the song includes the line Stars hide your fires/ And these here are my desires which borrows and pares down Macbeth's line in act 1, scene 4: Stars, hide your fires,/ Let not light see my black and deep desires. Additionally, "The Cave" includes several references to The Odyssey, in particular the sirens that Odysseus encounters on his journey home. The song also contains many references to G.K. Chesterton's book, St. Francis of Assisi, in which Chesterton uses Plato's Cave as a way of explaining how St. Francis views the world from God's perspective. "Little Lion Man" appears to be a retelling in dramatic monologue form of Chretien de Troyes' Yvain, the Knight of the Lion, which is the story of a knight who goes mad after betraying a promise to his wife to return to her. Both "Timshel" and "Dust Bowl Dance" draw heavily from the John Steinbeck novels Of Mice and Men, East of Eden and The Grapes of Wrath.

The band's change in sound on their third album was described by Lovett as a "natural departure." At the end of the Babel tour Winston Marshall traded his banjo for electric guitar in sound checks and Mumford started playing more drums as the band jammed on heavy instrumentals and even some Radiohead tunes. Banjo does not feature on the record, an instrument that had become synonymous with the band. NME reported that the band's sound is "More expansive than ever and decidedly heavier, thanks to the shift in instrumentation." The group also employed a full drumkit instead of kick drum. "We've had our standard line-up of instruments for the last six years and we felt like that was our palette, [but] we started picking up other stuff," said Lovett. "It's a very natural departure from some of that rootsier stuff."

Lovett told NME that working with James Ford for Wilder Mind was part of trying something new. "We felt a need for change. Not from Markus [Dravs], but he was so closely attached to those first two records that as we had taken that time off, we wanted to try doing something new. It felt like, if we do our third record with Markus, does that mean we do our ninth and 10th records with Markus? At some point you have to try different things, as we collectively felt like it was time to try other stuff. Markus knows that we might well make the next record with him. We definitely haven't broken up [with Dravs], we're just playing the field!".

The band have won a number of music awards throughout their career, with Sigh No More earning the band the Brit Award for Best British Album in 2011 and six overall Grammy Award nominations. The live performance at the 2011 Grammy ceremony with Bob Dylan and The Avett Brothers led to a surge in popularity for the band in the US. The band received eight total Grammy nominations for Babel and won the Grammy Award for Album of the Year. The band also won the Brit Award for Best British Group in 2013.
Genre not found
Artist not found
Album not found
Search results not found
Song not found
Jump to: Overall Meaning | Line by Line Meaning
Love was kind for a time
But now just aches and it makes me blind
This mirror holds my eyes too bright
But I can't see the others other in my life

We too young and heads too strong
To bear the weight of these lovers eyes
I feel numb beneath your tongue
Beneath the curse of these lovers eyes

But do not ask the price I pay
I must live with my quiet rage
Tame the ghosts in my head
That run wild and wish me dead
Should you shake my ash to the wind
Lord forget all of my sins
And let me die where I lie
Beneath the curse of these lovers eyes

There is no drink or drug I've tried
To rid the curse of these lover's eyes
I feel numb beneath her tongue
Her strength just makes me feel less strong

But do not ask the price I pay
I must live with my quiet rage
Tame the ghosts in my head
That run wild and wish me dead
Should you shake my ash to the wind
Lord forget all of my sins
And let me die where I lie
Beneath the curse of my lovers eyes

I walk slow
I walk slow
Take my hand help me on my way, ha
Overall Meaning
The lyrics to "Lovers' Eyes" by Mumford & Sons speak to the pain and burden that comes with being in a difficult and tumultuous relationship. The song starts by acknowledging that love was once kind, but has now become a source of aching pain that blinds the singer. The mirror is too bright, and the singer can't see the others in his life because he's so consumed by this one lover's eyes. The weight of this burden is too much to bear, but they are both too young and their heads are too strong to break free.
The chorus repeats the phrase "beneath the curse of these lovers eyes" and speaks to the feeling of being numb and weakened by the relationship. The singer is haunted by ghosts in his head that wish him dead, and he must tame them and live with his quiet rage. The final verse suggests that nothing has helped to rid him of this curse, and he feels less strong beneath her strength. But he accepts that he must live with the curse of his lover's eyes and that he will take it to the grave.
Overall, the song is a powerful meditation on the pain of being in a difficult relationship and the burden of carrying that weight on your shoulders every day. Despite its melancholy tone, it's a beautifully written and deeply moving song that is sure to resonate with anyone who has ever been in an emotional or difficult relationship.

Line by Line Meaning
Love was kind for a time
At one point in time, love was good to me
But now just aches and it makes me blind
However, now it just causes me pain and clouds my vision
This mirror holds my eyes too bright
I cannot see clearly, perhaps due to my own stubbornness
But I can't see the others other in my life
I am unable to truly see and appreciate the other people in my life
We too young and heads too strong
We were once young and foolish, thinking we could handle the intensity of love
To bear the weight of these lovers eyes
But the emotional weight of our relationship is too much for us
I feel numb beneath your tongue
I am emotionally detached from my lover's words and actions
Beneath the curse of these lovers eyes
I am haunted by the intensity of our love and its effects on our relationship
But do not ask the price I pay
However, I cannot reveal the true cost of this love to anyone
I must live with my quiet rage
I am consumed by a silent anger within myself
Tame the ghosts in my head
I must learn to control my negative thoughts and emotions
That run wild and wish me dead
Thoughts that are destructive and self-loathing
Should you shake my ash to the wind
If I were to die, scatter my ashes to the wind
Lord forget all of my sins
I hope to be forgiven for my past mistakes
And let me die where I lie
Let me be at peace where I am
Her strength just makes me feel less strong
My lover's strength makes me feel weak in comparison
I walk slow
I am struggling to move forward
Take my hand help me on my way, ha
Please give me support and guide me on my journey
Lyrics © Universal Music Publishing Group
Written by: BENJAMIN WALTER DAVID LOVETT, EDWARD JAMES MILTON DWANE, MARCUS OLIVER JOHNSTONE MUMFORD, WINSTON AUBREY ALADAR MARSHALL

Lyrics Licensed & Provided by LyricFind
To comment on or correct specific content,
highlight it