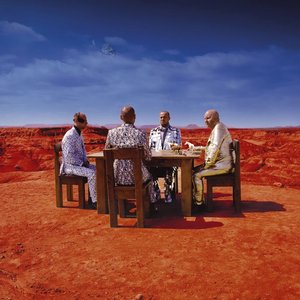 Black Holes and Revelations
Black Holes and Revelations is the fourth studio album by English alternative rock band Muse, released on 3 July 2006. Recording was split between New York and France, and it was the first time Muse had taken a more active role in the album's production. The album was a change in style from Muse's previous albums, and the band cited influences that included Queen, Millionaire, Sly and the Family Stone, Depeche Mode, Franz Ferdinand and music from southern Italy. The album has political and sci-fi undertones, with the lyrics covering topics as varied as political corruption, alien invasion, New World
Read Full Bio
Black Holes and Revelations is the fourth studio album by English alternative rock band Muse, released on 3 July 2006. Recording was split between New York and France, and it was the first time Muse had taken a more active role in the album's production. The album was a change in style from Muse's previous albums, and the band cited influences that included Queen, Millionaire, Sly and the Family Stone, Depeche Mode, Franz Ferdinand and music from southern Italy.

The album has political and sci-fi undertones, with the lyrics covering topics as varied as political corruption, alien invasion, New World Order conspiracies as well as more conventional love songs.

The album sold 115,144 copies in its first week in the UK, which was more than the first week sales of Muse's previous album, Absolution. The album is also a BPI double platinum album, and was nominated for a Mercury Prize. Five singles were released in the UK, of which three were released in the US. A world tour followed the release of the album that included dates in the UK, the USA, Canada, Australia and most of Europe and Asia.
Genre not found
Artist not found
Album not found
Search results not found
Song not found
Take a Bow
Muse Lyrics
Corrupt
You corrupt
Bring corruption to all that you touch
Hold
You'll behold
And beholden for all that you've done
And spell
Cast a spell
Cast a spell on the country you run
And risk
You will risk
You will risk all their lives and their souls
And burn
You will burn
You will burn in hell
yeah You'll burn in hell
You'll burn in hell
Yeah you'll burn in hell for your sins
An our freedom's consuming itself
What we become is contrary to what we want
Take a bow
Death
You bring death
And destruction to all that you touch
Pay
You must pay
You must pay for you're crimes against the earth
Hex
Feed the hex
Feed the hex on the country you love
Yeah and beg
You will beg
You will beg for their lives and their souls
Yeah and burn
You will burn
You will burn in hell
yeah You'll burn in hell
You'll burn in hell
yeah You'll burn in hell
You'll burn in hell
Yeah you will burn for all your sins
Lyrics © Warner Chappell Music, Inc.
Written by: MATT BELLAMY, MATTHEW JAMES BELLAMY

Lyrics Licensed & Provided by LyricFind
To comment on specific lyrics,
highlight them