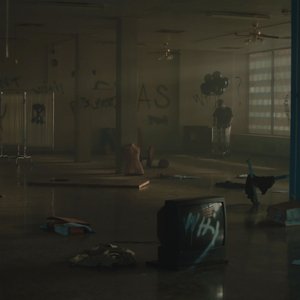 NF is the stage name of rapper and composer Nate Feuerstein from Gladwin, Michigan. Feuerstein endured a hardship-filled childhood in which his parents divorced, his mother's boyfriend physically abused him, and his mother eventually killed herself. Music was his escape, and he began recording songs on a karaoke machine, with instrumentals on one microphone and his raps in the other. Placing second in a nationwide Fine Arts Festival rap competition in 2008
Read Full Bio
NF is the stage name of rapper and composer Nate Feuerstein from Gladwin, Michigan. Feuerstein endured a hardship-filled childhood in which his parents divorced, his mother's boyfriend physically abused him, and his mother eventually killed herself. Music was his escape, and he began recording songs on a karaoke machine, with instrumentals on one microphone and his raps in the other. Placing second in a nationwide Fine Arts Festival rap competition in 2008, and first in Michigan the following year, he independently released a debut album, Moments, in 2010. The album attracted the attention of Xist Music, which signed him to a recording deal in 2012, by which time Feuerstein had taken on the stage name NF. The label announced the release of an EP that same year, but it never appeared, and NF and Xist parted ways. NF spent the next two years looking for a label and working with local producer Tommee Profitt in his studio; they came up with the song "Wake Up," which convinced Capitol Christian Music Group to sign him. CMG released a six-song (including a Manny Marroquin remix of "Wake Up") self-titled EP late in the summer of 2014. His debut album, Mansion, was released in early 2015 and reached number 62 on the Billboard 200 while topping the Christian Albums chart. The aptly titled Therapy Session followed in 2016 and also topped the Christian Albums chart with its raw emotions and honest lyrics. The following Summer saw the release of the singles "Outro" and "Green Lights", in anticipation of the arrival of his third studio long player, Perception, whch dropped later that October.
Genre not found
Artist not found
Album not found
Search results not found
Song not found
WHY
NF Lyrics
Too many faces, too many faces, too many faces
Yeah, what's your definition of success? (ay)
I don't trust the thoughts that come inside my head (woo)
I don't trust this thing that beats inside my chest
Who I am and who I wanna be cannot connect, why?
Don't think I deserve it? You get no respect (woo)
I just made a couple mil', still not impressed
Let You Down goes triple platinum, yeah, okay, okay, I guess (ay)
Smile for a moment then these questions startin' to fill my head, not again!
I push away the people that I love the most, why? (woo)
I don't want no one to know I'm vulnerable, why? (woo)
That makes me feel weak and so uncomfortable, why? (ay)
Stop askin' me questions, I just wanna feel alive
Until I die, this isn't Nate's flow (woo)
Just let me rhyme, I'm in disguise
I'm a busy person, got no time for lies, one of a kind
They don't see it, I pull out they eyes, I'm on the rise!
I've been doin' this for most my life with no advice (woo)
Take my chances, I just roll the dice, do what I like
As a kid, I was afraid of heights, put that aside
Now I'm here and they look so surprised, well so am I, woo!
They don't invite me to the parties but I still arrive
Kick down the door and then I go inside
Give off that "I do not belong here" vibe
Then take the keys right off the counter, let's go for a ride
Why do y'all look mortified? (ay)
I keep to myself, they think I'm sorta shy, organized
Let You Down's the only song you've heard of? Well then you're behind (woo)
Story time, wish that I could think like Big Sean does, but I just can't decide (aah)
If I should stick my knife inside of Pennywise
I, I don't care what anybody else thinks, lies (haha)
I do not need nobody to help me, lies
I kinda feel guilty 'cause I'm wealthy, why?
I don't understand, it's got me questionin' like, "Why?
Just tell me why, not back to this flow
Inside I feel divided
Back when I ain't had a dime, but had the drive
Back before I ever signed, I questioned life, like, "Who am I, man?" Woo!
Nothin' to me's ever good enough
I could be workin' for twenty-four hours a day and think I never did enough
My life is a movie but there ain't no tellin' what you're gonna see in my cinema (no)
I wanna be great but I get it in the way of myself
And I think about everything that I could never be
Why do I do it though? Ay, yeah
Why you always lookin' aggravated?
Not a choice, you know I had to make it
When they talk about the greatest, they gon' probably never put us in the conversation
Like somethin' then I gotta take it
Write somethin' then I might erase it
I love it, then I really hate it
What's the problem, Nathan? I don't know
I know I like to preach to always be yourself (yeah)
But my emotions make me feel like I am someone else
Me and pride had made a pact that we don't need no help
Which feels like I'm at war inside myself but I forgot the shells
I hold my issues up for all to see, like show and tell
A lot of people know me, but not a lot know me well
Hold my issues up for all to see, like show and tell
A lot of people know me, but they don't know me well
Too many faces, too many faces, too many faces
Lyrics © Universal Music Publishing Group, Capitol CMG Publishing, Warner Chappell Music, Inc.
Written by: Nate Feuerstein, Tommee Profitt, Cole Walowac

Lyrics Licensed & Provided by LyricFind
To comment on specific lyrics,
highlight them