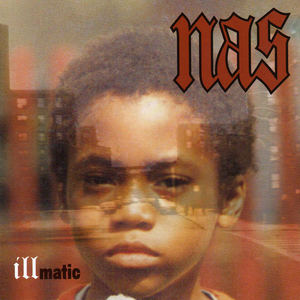 Illmatic is the classic debut studio album by American rapper Nas, released on April 19, 1994, by Columbia Records. After signing with the label with the help of MC Serch, Nas recorded the album in 1992–1993 at Chung King Studios, D&D Recording, Battery Studios, and Unique Recording Studios in New York City. Since its initial reception, Illmatic has been recognized by writers and music critics as a landmark album in East Coast hip-hop. Its influence on subsequent hip-hop artists has been attributed to the album's production and Nas' lyricism. It also contributed to the revival of the New York City
Read Full Bio
Illmatic is the classic debut studio album by American rapper Nas, released on April 19, 1994, by Columbia Records. After signing with the label with the help of MC Serch, Nas recorded the album in 1992–1993 at Chung King Studios, D&D Recording, Battery Studios, and Unique Recording Studios in New York City.

Since its initial reception, Illmatic has been recognized by writers and music critics as a landmark album in East Coast hip-hop. Its influence on subsequent hip-hop artists has been attributed to the album's production and Nas' lyricism. It also contributed to the revival of the New York City rap scene, introducing a number of stylistic trends to the region. The album remains one of the most widely celebrated albums in hip-hop history, appearing on numerous best album lists by critics and publications.

Its production was handled by Nas, Large Professor, Pete Rock, Q-Tip, L.E.S., and DJ Premier. Styled as a hardcore hip hop album, Illmatic features multi-syllabic internal rhymes and inner-city narratives based on Nas' experiences in Queensbridge, New York.

The album debuted at #12 on the U.S. Billboard 200 chart, selling 59,000 copies in its first week. However, its initial sales fell below expectations and its five singles failed to achieve significant chart success. Despite the album's low initial sales, "Illmatic" received rave reviews from most music critics, who praised its production and Nas' lyricism. On January 17, 1996, the album was certified Gold by the Recording Industry Association of America, and on December 11, 2001 it earned a Platinum certification after shipping one million copies in the United States.
Genre not found
Artist not found
Album not found
Search results not found
Song not found
The Genesis
Nas Lyrics
And you're sitting at home doing this shit?
I should be earning a medal for this
Stop fuckin' around and be a man
There ain't nothin' out here for you
Oh yes, there is, this
Yo Nas
Yo, what the fuck is this bullshit on the radio, son?
Chill, chill, that's the shit God, chill
Ayo, yo, pull down the shade, man, let's count this money, nigga
Ayo, yo Nas, put the Jackson's and the Grants over there
You know what I'm sayin? 'Cause we spending the Jackson's
You know how we get down, baby
True, true
Yo Nas, yo Nas, man, shit is mad real right now in the projects
For a nigga yo, word to mother
All them crab ass rappers
Be coming up to me, man, word to mother, man
I think we need to let them niggas know it's real, man
True indeed, you know what I'm saying?
But when it's real you doing this
Even without a record contract, know what I'm saying?
No question
Niggas doing this since back then
I'm saying regardless how it go down, we gon' keep it real
We tryna see many mansions and, and coupes kid
True, true
Ayo, yo, man, where's Grand Wizard and Mayo at man?
Taking niggas a long time, man
Who got the Phillies? Take this Hennessey
Ayo Dunn! C'mon, c'mon, man stop waving that man
Stop pointing that at me Dunn, take the clip out
Nigga alright, but take this Hennessey man
I'm saying take the clip man
C'mon, take it out
Light them Phillies up, man
Niggas stop fuckin' burning Phillies, man
Light some Phillies up then
Pass that henrock, nigga , act like you know
Yo, we drinking this straight up with no chaser
I ain't fucking with you nigga
I'm saying though, man
What is it, what is it baby?
What is it son, what is it?
You know what time it is
I'm saying man, ya know what I'm saying?
Niggas don't listen man, representing
It's Illmatic
Lyrics © Universal Music Publishing Group
Written by: Fred Braithwaite, Nasir Jones

Lyrics Licensed & Provided by LyricFind
To comment on specific lyrics,
highlight them